As Dilan gets older he is starting to enjoy baking more and more, and really likes to take the lead when we are making things, so I'm having to come up with simple ideas for him to create. This month we've come up with five super simple and super quick Valentine's Day baking with kids ideas, for you to bake with your toddlers and young children. We've used lots of shortcuts here like ready rolled fondant and pastry so don't worry if you're not a master baker – but if you've got more time or more expertise then feel free to make it all from scratch. Everything below happens to be dairy, soya and egg free, but I promise you won't notice!
Valentine's Day Baking with Kids
Easy Valentine's Jammy Dodgers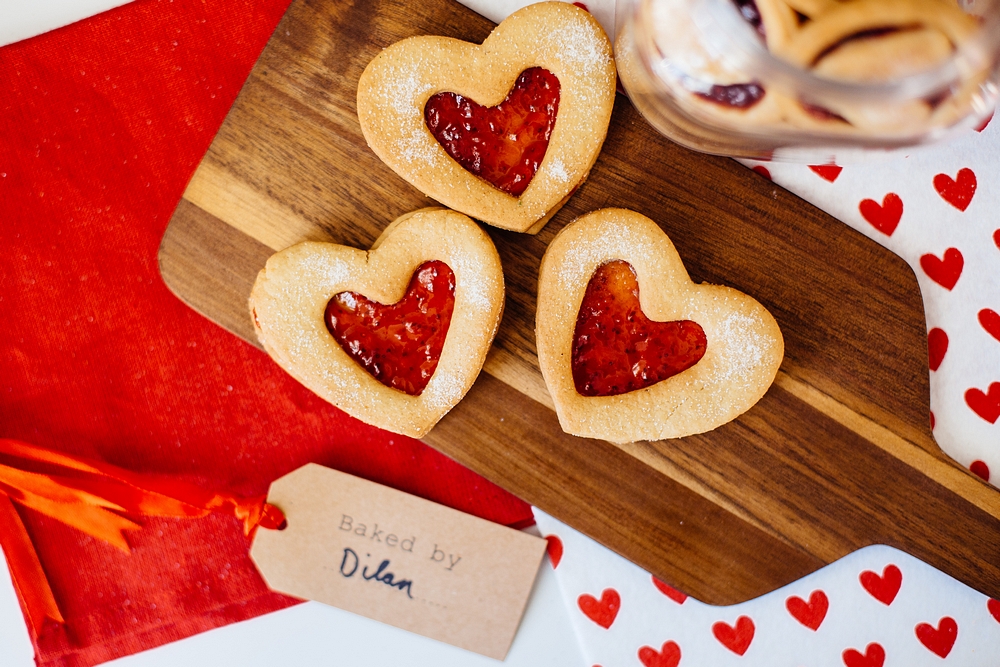 These Jammy Dodgers are a firm favourite here, they are really simple to make so perfect for kids to get involved and they are really delicious. You could try making different colours by using different jams! Use our Favourite Biscuit recipe, then cut holes in half of your hearts. Sprinkle the ones with a little sugar half way through the cooking time. Once they are cool spread the bottoms with your favourite jam and stick together! You could even try these with chocolate spread! Our cutters are from our brilliant 101 piece set.
Effortless Valentine's Cupcakes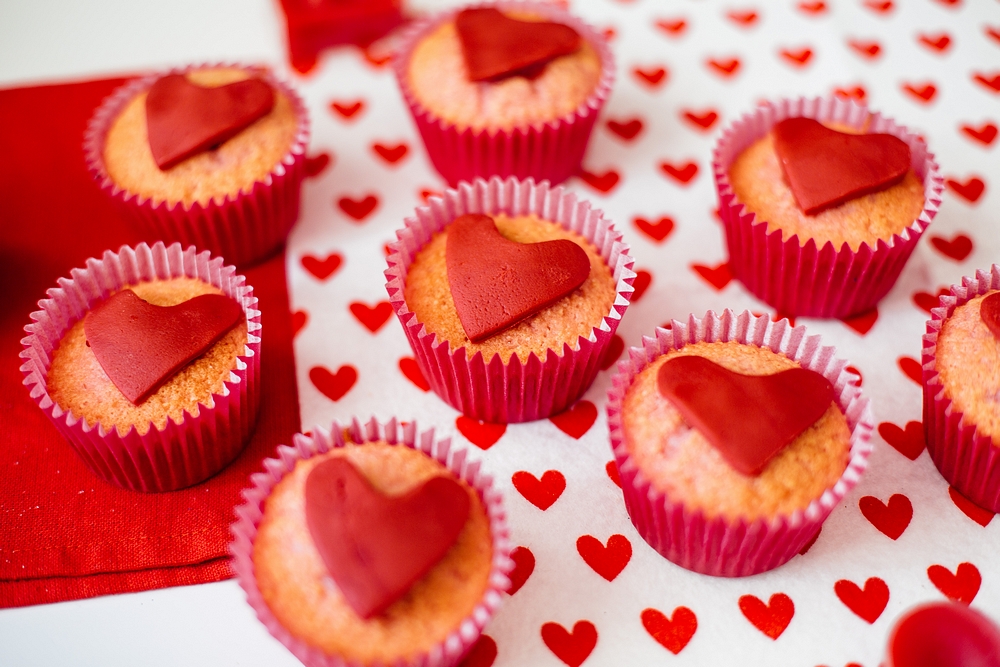 Here's one for even the most novice of bakers, or perfect for younger toddlers. You can use any method to make your cupcakes but we were feeling pretty lazy so we grabbed a sponge mix from Sainsbury's and followed the instructions. Once we had finished mixing we added some pink food colouring to make them extra Valentine's! If you're baking with food allergies most sponge mixes are dairy and soya free, even Betty Crocker! To make it vegan use the boxed mix and add one can of any fizzy drink – trust me it works! If you'd rather make your own sponge try our Vegan Crazy Cake recipe or our Vegan Sponge Cupcakes.
To decorate we simple used some Ready to Roll fondant in Red (free from top 14 allergens) and a food cutter to stamp out hearts which we stuck on to our cakes with a little jam. Dil always has loads of fun cutting shapes with our cutters so this was great fun for him – obviously getting to eat the cakes after went down well too! Perfect Valentine's baking with kids activity.
Super Simple Love Heart Biscuits
For this one you will need some biscuit dough using our usually recipe and some food colouring. I like using Wilton Gel Pastes as you get an amazing colour with a tiny amount of product, I seem to have temporarily lost mine and I had to use a whole tube of normal food colouring for these are the colours still aren't as good as they would've been, but they still taste good!
After cutting out our shapes we used a stamping kit to put our Love Heart messages on top.
Quick Valentine's Rice Krispy Treats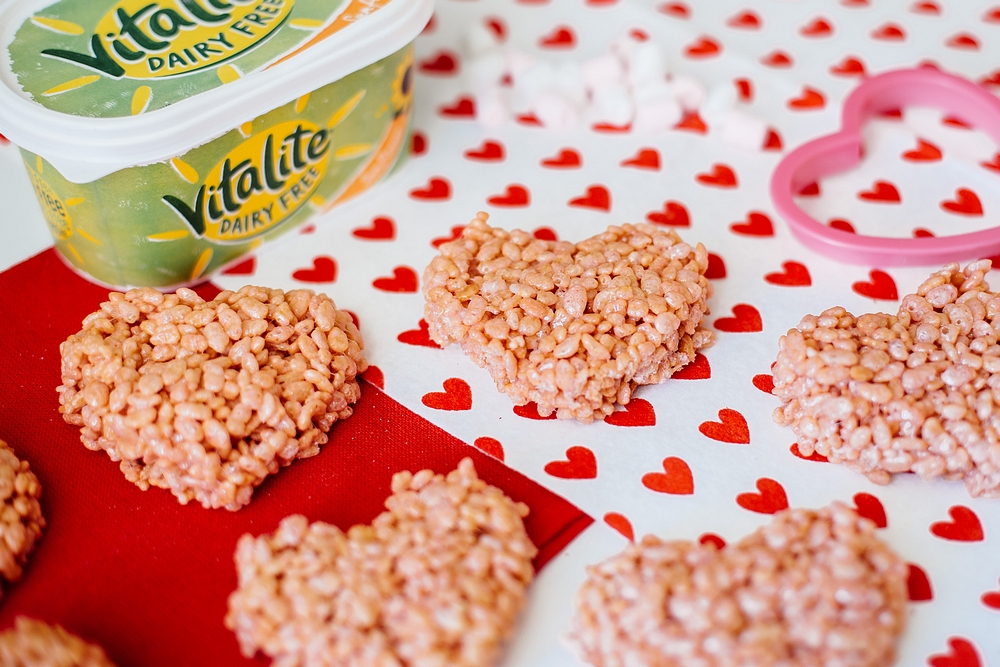 How cute are these! We melted 3 tbsp of Vitalite (any butter or dairy free substitute would work) in a saucepan and added 180g of pink and white mini marshmallows and melted over a low heat. Once melted add a few drops of pink or red food colouring and mix in 150g of Rice Krispies. Spread out onto a baking tray and let cool for about 5 minutes before cutting out your heart shapes. Let cool properly and enjoy!
Shortcut Valentine's Heart Jam Tarts
Jam tarts are definitely Dilan's favourite thing to bake lately and that's because he can do most of it completely on his own so these are brilliant for toddlers and young children. We use Jus Roll shortcrust ready rolled pastry (happens to be dairy and soya free) so all we have to do is cut out our circles, fill with a teaspoon of jam, and top with a pastry heart. Sprinkle with a little sugar and pop in the oven for about 12-15 minutes! These make really lovely presents, if you can manage to not eat them all!
So there we go, five easy ideas for Valentine's Day Baking with kids. Let me know if you have a go!
*This post contains affiliate links, so if you buy via the link I may get a percentage of how much you spend. This won't cost you anything extra, and it will help me fund more pastry for Dil's jam tarts!*