In this post pandemic world a lot of us are feeling understandably wary and hesitant about stepping back out into the world. I'm finding it difficult to balance the desire to get back out there and have some fun with Dil, with the anxiety of staying safe while things still seem pretty unnerving. Days out have always been a huge part of our lives so staying home for so long has felt strange, but after months of that it feels a little scary to return to any kind of 'normal' life (even if it is a new masked and sanitiser soaked type of normal). Recently we braved our first day out to Roarr! Dinosaur Adventure, and I was pleasantly surprised with the measures they've put in place and how safe we actually felt. We've now been twice, and I thought I would share some info with you all in case you're feeling tempted to give Roarr! a visit.
Roarr! Dinosaur Adventure
If you're local or you've followed us for a while you'll probably be familiar with Roarr! Dinosaur Adventure (previously called the Dinosaur Park). It is the largest day out in the country and includes loads of fun for the whole family including a dinosaur trail, large dino themed play area, splash park, high ropes, animal farm, maze, mini golf, dinosaur fossil dig and more. There is also a brand new attraction open from this month – Dippy Raceway, which is a fun race track complete with motorised cars for the kids to drive around.  The park is based on a huge estate so everything is generously spread out, mostly outdoor and spacious, making it fairly easy to maintain social distance from others.
The entrance price is £16.50 for everyone over 90 cm (anyone under 90 cm is free) so it's not cheap, but one of the best things about Roarr! is that all of these activities are included in your entrance price, no extra costs once you're in. They also have a great deal on currently and you can get an unlimited Discovery pass valid from now until 1st November for £35 (or £17.50 for registered disabled adult/child/carers). A pass also gets you 20% off in the gift shop, and 15% off food and drink purchased inside.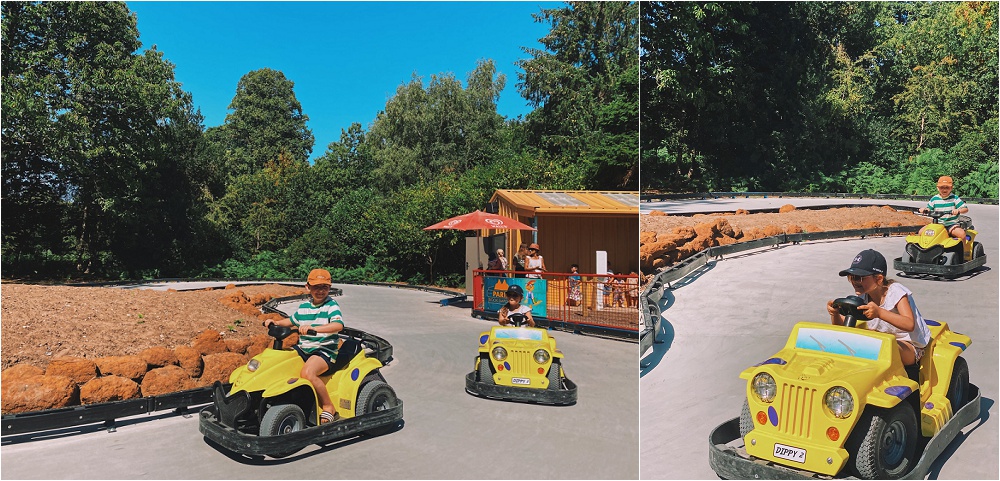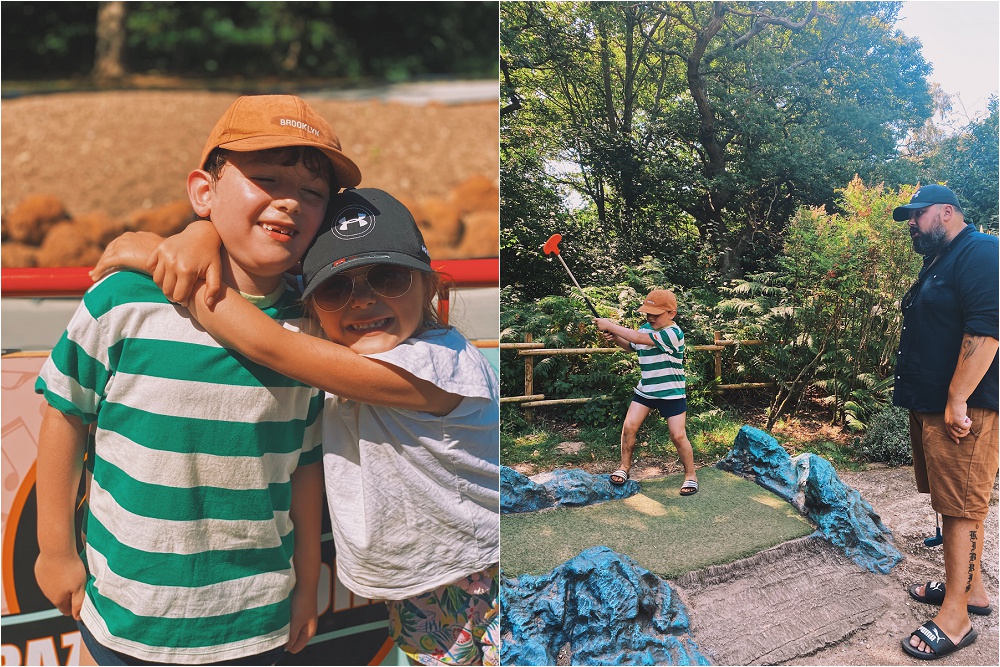 Covid19 Changes
Season ticket extension – Roarr! have decided to extend everyone's season tickets for the amount of days they were closed. Ours actually expired during lockdown, but have been extended until September which is great.
Book your entrance time – In order to limit how many people are entering the park at once, you must book a 30  minute entrance slot online before you arrive, even if you have a season ticket. You'll then get emailed a booking reference which you'll have to quote at the gate. If you have a season ticket you select the relevant adult/child options which are free, and then type in each membership card number. They will also scan your card on arrival. There is no limit on how long you can stay once you're in, and you're free to leave and re enter the park if you need to.
One way system – A one way system is in place in parts of the park. As you enter you'll follow the footsteps around to the left and walk around to get to the play area. Everything is well sign posted and blocked off where necessary.
Hand wash stations – You have to use hand sanitiser on your way in, and there are plenty of sanitiser stations around the park to use as you walk around. There are also hand washing stations the animal garden.
Splash Park – You now have to book a time slot for the splash park, to allow them to limit the amount of people in there at one time. When we first visited the time slots were 30 minutes each, but on our second visit (a *very* hot day) they were down to 15 minutes. I'm not sure if this varies depending on how busy it is, or if this will now stay at 15 minutes. We were able to book a second slot after our first one so we got to go in twice – just ask the staff member at the gate. The splash park slide is closed, and the lockers are out of bounds.
Secret Animal Garden – There is now a one way system in place around the animal garden and waterside garden, and they ask you not to touch the railings or animals. The signage is very clear and easy to follow.
Closures – Some areas of the park are closed for safety. This includes both of the indoor soft play areas, Billy Goats Bluff, deer safari and dinosaur slide. You can now enter the outdoor Pterodactyl Tree house play area without going through the soft play building which is great.
Food & Drink – Both indoor restaurants are closed, but you can purchase food from any of the three snack shacks (they have pizza, hot dogs, fish and chips, ice creams). Queues for the food were quite long at times, but there are markings on the floor to help everyone socially distance. There are screens in place at order points and they ask for contactless payment where possible. You can also bring your own food of course, and there are plenty of spaced out picnic benches as well as lots of open space to sit down.
Eat Out to Help Out – Available from all of the open food outlets, Monday – Wednesday within August. You'll automatically get 50% off all food and drink excluding alcohol, maximum £10 discount per person.
Face Masks – Face masks are compulsory in the gift shop and animals encounter barn. There is now an outdoor exit so you can avoid going in to the shop if you want to.
Gift Shop – They are limiting the amount of people in the shop to 5 groups. When you enter there will be a basket outside which you must take. If there's no basket then the shop is at capacity – wait until a member of staff brings the basket back out. There is a one way system inside and as above face masks must be worn.
Medals – They have removed the stamping activity that is usually dotted around the park for safety, but kids can still receive a medal at the end of the day. They have now been placed outside and you can grab your own on your way out.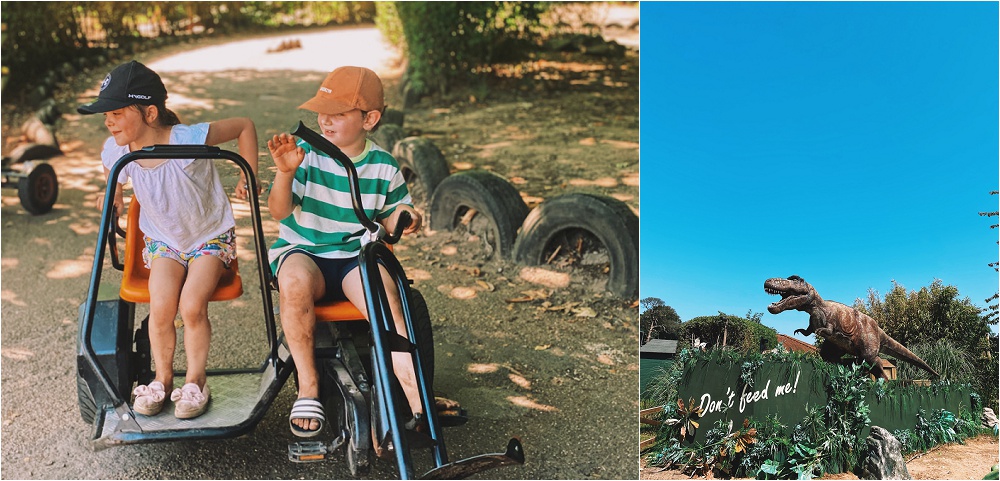 Top Tips
Make sure to book your time slot before you arrive to save any disappointment. We've booked it the same morning both times and been fine.
As soon as you arrive go book your splash park slot, these do seem to get booked up fast. Once you've been in, speak to the staff to see if they have space to book you in again (it's good fun in there and a great way to cool down if it's warm).
Take your own hand sanitiser for extra reassurance.
Consider taking your own food if you want to avoid queuing, or visit Mon-Wednesday in August to make the most of the Eat Out to Help Out scheme.
Something I always forget – if you or the kids want to do the Predator High Ropes you must have closed toe shoes.
Roarr! is also home to the epic PrimEVIL Halloween event. Look out for updates on their website to see if/how the event will be going ahead this year, because it really is a brilliant spooky night out.
If you're visiting Norfolk to check out Roarr!, there are some other great days out around here too including our beautiful Norfolk beaches (our favourites Holkham and Wells are about 25 minutes from Roarr!).