*This is a collaborative post with ThamesLink*
London is such a brilliant place to head for a family day out, and it's obviously full of so many great places to visit with kids. I've written before about some of our favourite London days out; including London Zoo and the brilliant (but unfortunately not currently running) London Duck Tour, but sometimes it's nice to head somewhere further out of the city. London itself is great, but it can be intimidating, busy and expensive, so heading somewhere further out can offer a more relaxing day out. There are great transport links all around the area so whether you need to grab a train to Bedford to Luton or to somewhere further afield there are so many places to explore. Here are a few of our favourite family days out outside of London.
Family Days Out Outside of London
Woburn Safari Park
One of the places I used to visit as a child, and somewhere that I love to take Dilan to is Woburn Safari Park. You'll need the car for this one as you actually drive through the park, seeing the animals as you go. You'll get an incredible up close view of the animals, and it is a pretty unique experience compared to traditional zoos as you literally drive through enclosures filled with lions, rhinos and monkeys (who won't hesitate to climb onto your car by the way!).
You are welcome to drive around the park as many times as you wish during the day, and there is also a smaller area to explore on foot at the end of the drive which has a beautiful bird house, as well as penguins, seals and elephants. It really is a fun day out, and a little different to anything you'll find in the city!
Harry Potter Warner Bros Studio Tour
Somewhere I haven't actually taken Dil to yet, but a place I loved when I visited pre child, is the Warner Bros Studio Tour, which immerses you in the incredibly magical world of Harry Potter. The Warner Bros Studio tour includes really amazing sets, costumes and props, as well as offering brilliant interactive experiences, a taste of that delicious butter beer and tonnes of photo opportunities.
It's really the perfect place for any Potter fans and definitely somewhere I will take Dil soon. He's still a little young to sit through the films, so I'll wait until he can appreciate the magic a little better. The last time I visited was actually a birthday treat and I was heavily pregnant with Dil at the time, so it will be lovely to return with him! Laura from Dear Bear and Beany reviewed the tour a few years ago with her little girl and had a great time.
ZSL Whipsnade Zoo
We love ZSL London Zoo, so visiting their partnered zoo ZSL Whipsnade is definitely on our to do list. The zoo showcases beautiful animals including white rhinos, elephants and tigers, and they have just opened a new aquarium which houses some of the rarest and most critically endangered fish in the world. Much like London Zoo there are a number of opportunities to experience being a keeper for the day or meeting some of the zoo's animals, and you can even stay overnight in the zoo.
Kirsty from The Mummysphere has reviewed the new aquarium at ZSL Whipsnade, and has some great tips for visiting the zoo.
Paradise Wildlife Park
Paradise Wildlife Park, based in Hertfordshire just outside of North London is another brilliant place for a fun filled family day out. It is a brilliant zoo but it's so much more than that – we adore the various play and park areas, and their new World of Dinosaurs area is a lot of fun and perfect for dino fans. It's honestly one of my favourite attractions to visit. We recently revisited Paradise Wildlife Park to check out the new area, you can read a full review of our visit here, and find a video from our first visit on YouTube.
Diggerland Kent
Around the other side of London is another of our favourites – Diggerland Kent. Dil enjoyed visiting here so much, and it is definitely one of the only times you'll get the opportunity to operate real diggers and construction vehicles at three or four years old.
Diggerland is full of actual, real, full sized machinery that you can drive/operate/play on. For kids who love diggers, dumper trucks and tractors this is the place to head. There are games and rides set up, as well as dodgems and go karts. Diggerland has done a great job of including rides and attractions for kids of all ages, and once they are over 80cm they can go on quite a few of the rides (kids under 90cm enter for free). They also have a decent cafe and an indoor play area to explore – highly recommend this one! You can find a full review of Diggerland Kent over on my YouTube channel.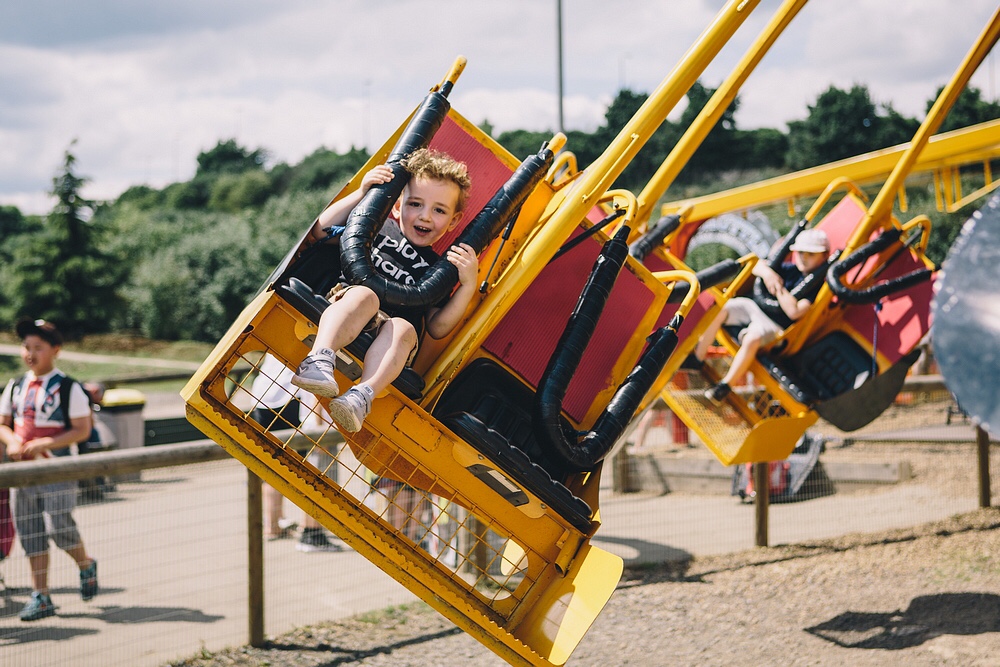 So there are a few ideas for family days out outside of the capital – do you have any more to add? Have you been to any of our faves? Next time you're looking for day out ideas around London, it's worth considering travelling a little further away from the city!