Once I became a parent I really started becoming aware of how important it is to pay attention to the products you buy, and what's hidden inside them. Particularly once Dilan was diagnosed with allergies I felt like avoiding products that were full of chemicals, and sticking with more natural ingredients should be a priority. Lots of babies with CMPA suffer from dry skin and eczema so choosing gentle and natural, but still effective products, is so important.
I know lots of families really struggle to find soaps and detergents that don't aggravate their family's sensitive skin, and there's such a fine line between a product being gentle but still strong enough to clean up the messes and remove the stains that young children so often create. So when Seventh Generation got in touch and offered to send me some of their product range to try I was really excited.
Their 4x Ultra Concentrated Washing Liquid is totally free from fragrances and dyes meaning it's hypoallergenic – a great choice for sensitive skin. It's also made from plant-derived ingredients and comes in fully recyclable eco-packaging which makes it really appealing. I've been using the detergent for about a month now and I have no complaints. I really like that its free from overpowering floral fragrances, and it seems to tackle stains just as well as the previous detergents we've used. It's also great knowing I'm using a safer product, which is produced by a company with great ethics.
None of the Seventh Generation products contain any animal products, and as a company they are against animal testing of any kind. They also believe that consumers have the right to know exactly what is in the products they are purchasing, so the labels on their product range are designed to be easy to read and understand. This is great for an allergy parent, because lots of us have learnt the hard way that allergens can often be hiding in complicated product labels if it isn't a food product.
As well as the detergent, we've also been trying out some more products from Seventh Generation's wide range. The All Purpose Cleaning Spray has been great in the kitchen and perfect for cleaning up sticky spills on our laminate floor. It's important to remember that anti bacterial cleaners or sprays may not remove cow's milk protein from surfaces – meaning you could end up with contamination if you have an allergen in the house. This spray should remove the proteins, meaning you can relax knowing your surfaces are safe from both allergens and harmful chemical ingredients. The Natural Toilet Cleaner has also been working really well in the bathroom. It's so nice to know that I'm using products which are just as effective as other popular brands but I'm keeping my home free from potentially harmful chemical ingredients, harsh fumes and solvents.
My favourite product is definitely the Seventh Generation Natural Washing Up Liquid, which comes scented with lavender and mint. Like the other products it's totally free from dyes and synthetic fragrances, and it's still as effective as products I've used previously. It soaps up well and seems to be working well on all of our washing up. My favourite bit about it is the fragrance. It has a really lovely scent without being over powering, and I love knowing that it's totally natural and was created with essential oils and botanical extracts. Definite thumbs up from me!
Overall I genuinely really rate the Seventh Generation products that I've been trying, and as an allergy parent I think the range is perfect for families who are conscious about ingredients and worried about irritating sensitive skin. The company's ethical stand point is also impressive, making their products also great for anyone mindful of purchasing environmentally friendly goods and supporting sustainable brands.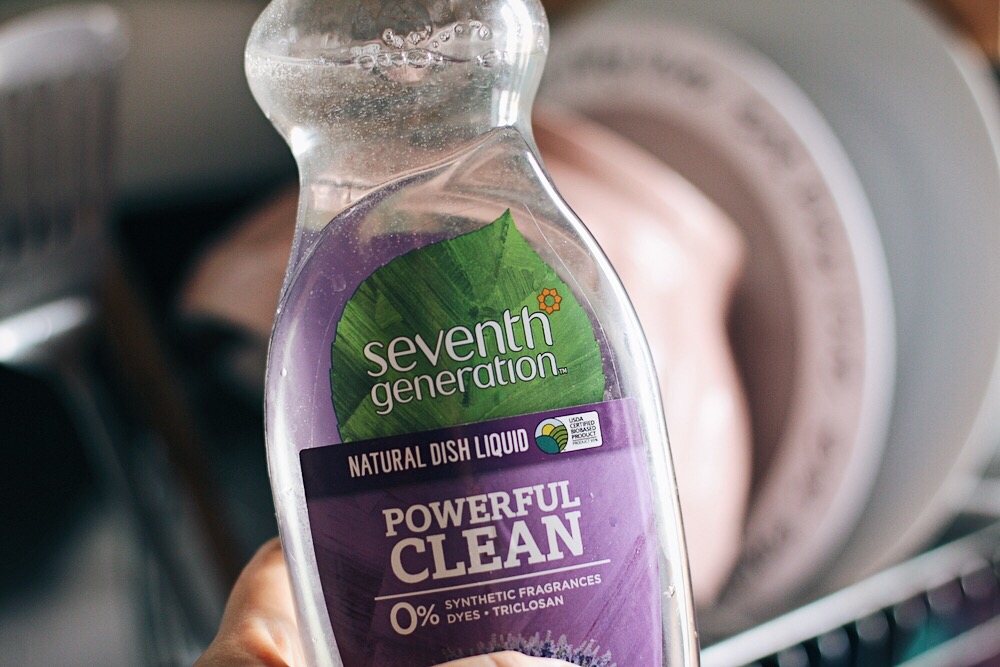 If you'd like to give Seventh Generation a try you can now find their products stocked in Tesco, or keep reading for a chance to win some for yourself!
I've teamed up with Seventh Generation to give THREE lucky readers the chance to sample all the products mentioned above, by winning a Seventh Generation hamper full of full sized products. To enter simply click the link below! Good luck!
Terms and conditions – Giveaway closes 1200am August 31st. Open to UK residents aged over 18 only. The prize entitles each winner to one Seventh Generation hamper which will include a variety of their products. No cash alternative. The winners will be contacted via email within 24 hours and will have 28 days to respond, after which time a new winner will be chosen if they have failed to make contact. The prizes will be sent directly from the brand within one calendar month.
*This is a collaborative post – the items above were sent to us for review, but all opinions expressed are our own*