*The following K'Nex products were sent to us in exchange for an honest review*
When it comes to buying new toys and activities I always like to try and choose things that tick a couple specific boxes – I like things that encourage open ended, imaginative play, I like things that help foster creativity thinking, and I like things that can be played with for many years – so things that are high quality and suitable for a wide range of ages. Lego is something that ticks all of these boxes for me and so we've ended up with a lot of it, but I'm always keen to discover new toys that meet this kind of criteria. K'Nex is a product I've looked at before but we've never played with any, so when they got in touch about sending us some to review I was excited to see what Dil thought.
Kid K'Nex Dino Dudes
In a similar way to Lego and other building toys, K'Nex has a variety of different product ranges suitable for different ages and abilities. The first product we tried was their Kid K'Nex Dino Dudes set. The Kid K'Nex range is aimed at children aged 3+, and includes pieces that are larger and softer than normal K'Nex, making it great for smaller hands or more limited ability. The pieces still click together in the typical K'Nex way, and toys like this are great for working on fine motor skills which are important to develop before learning to write. This type of play also helps with problem solving skills, spatial awareness and encouraging creativity.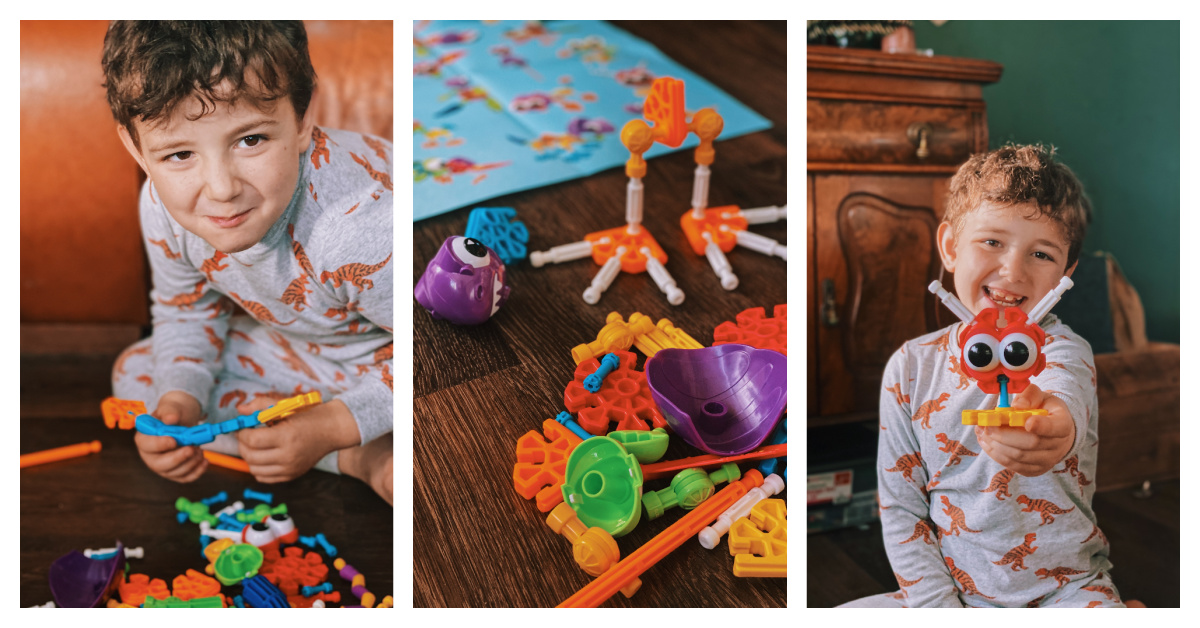 The Kid K'Nex Dino Dudes box includes over 100 pieces, enough to create 30+ different dinosaurs. Dilan is nearly 7 and at first glance I thought this set would be a little too young for him, but he was excited to give it a go. Once we opened the box we found plenty of brightly coloured building pieces, and some design ideas instead of actual instructions. At first Dil was slightly disappointed by the lack of instructions, but I think this is actually the perfect way to encourage more creative thinking. He was able to build several of the dinosaurs pictured by looking at the images, but soon began to combine designs and come up with his own ideas which I loved.
Since having this kit it's definitely been one of our most played with toys and I actually think it's a great choice for kids 4-8 – especially ones with younger siblings as it would be safe to share.
This set is currently on offer for £25 in Argos, and I think that's a reasonable price for something like this.
K'Nex 10-in-1 Building Set
The next item we received was the K'Nex 10-in-1 Building Set, which is from the core K'Nex range aimed at children aged 5+. Again these toys are a fun way to build on fine motor skills, problem solving, design skills and improving hand-eye coordination. This small set says it has 130 pieces, and instructions to build 10 different designs.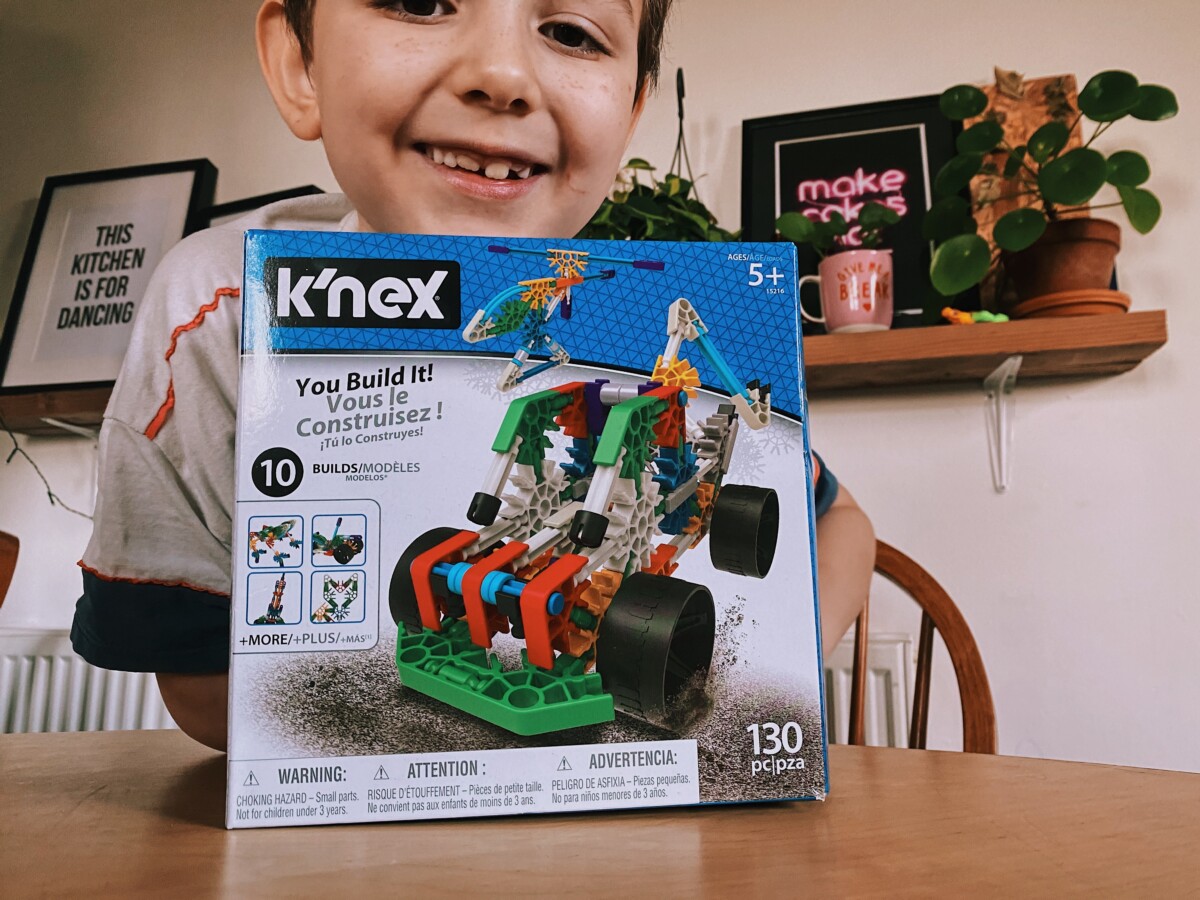 Inside the box we found the pieces were smaller than the Kid K'Nex, but Dil found them just as easy to click together. The instructions are more thorough, breaking each build down into a few steps, and Dil found these helpful and easy to follow independently. Each design is also given a star rating to show its difficulty level – ranging from beginner, intermediate and advanced. Although Dilan started with the easier builds he was able to complete them all easily with no help from me.
Despite the box stating it contains 10 builds, the instructions only cover 5. The other 5 building ideas are online which I find quite irritating. This means they'll need to use a phone or tablet to access them, and if your child doesn't have their own tablet and you need to use your own phone then this could be inconvenient. I'm not sure why they can't include instructions for all 10 builds within the box.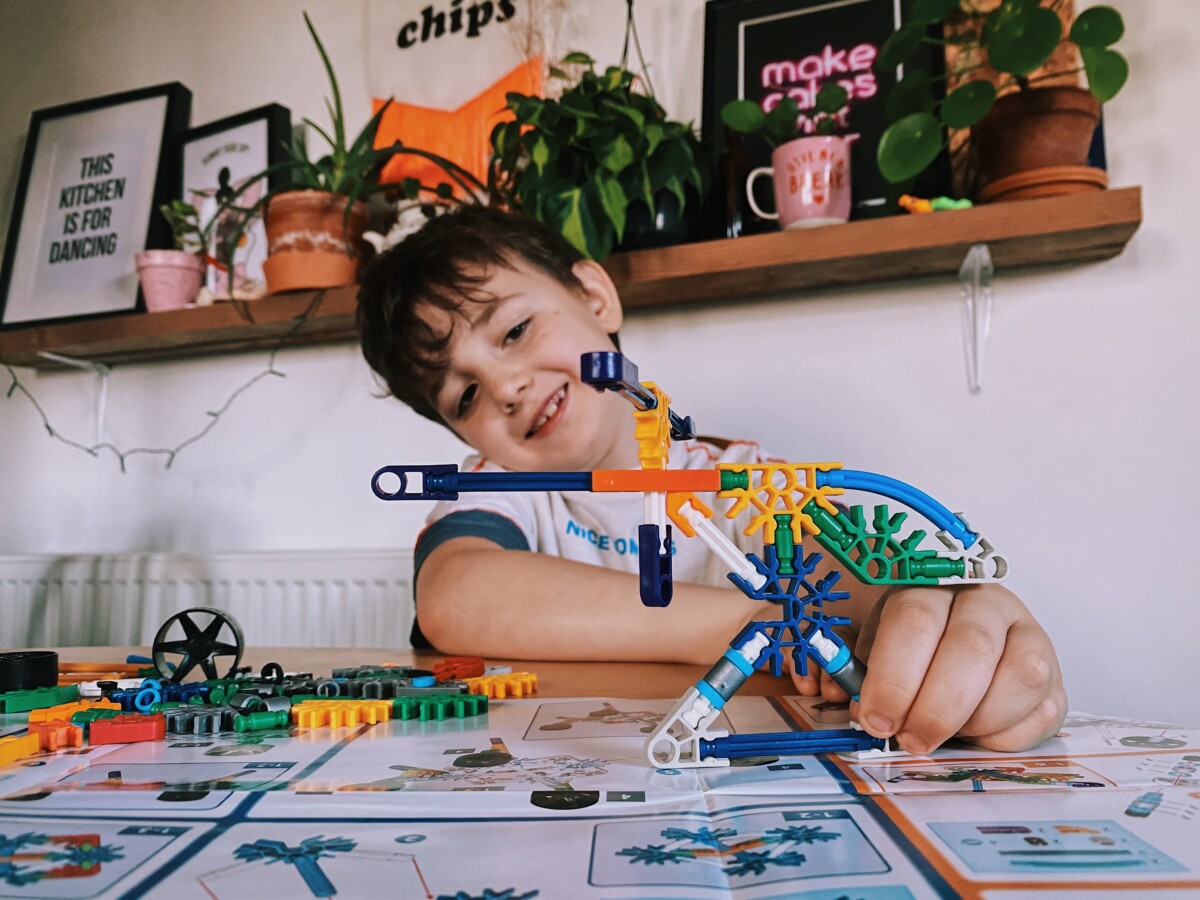 Overall Dil did really enjoy building with this set, but we've only built the first 5 designs. He seemed more inspired by the Kids K'Nex set which showed a huge amount of designs and ideas, and this one possibly feels a bit more limited. I would really like to get him a larger set of the core K'Nex, because I think it's a brilliant product and I really like how different it is from the things we already have.
The K'Nex 10-in-1 Building Set is £10, and is included in Argos' 2 for £15 offer. I think this is a really great price, and a great way to find out if your child would enjoy some of the bigger K'Nex sets. Definitely worth a tenner in my opinion, I was really surprised by this price.
K'Nex Architecture London Eye
The final product we were sent was the K'Nex Architecture London Eye building set. The K'Nex Architecture range is K'Nex newest range of products, aimed at children aged 9+ and I think it's something older children and adults will really enjoy – in a similar way to the large Lego build sets. The Architecture range is based on real world architectural designs including the Eiffel Tower and the Golden Gate Bridge, and is great fun for older kids whilst building on important STEM skills. These pieces are big and require a lot of concentration, so they'd be a great project for a child and adult team.
Inside the box you get comprehensive step by step instructions to help you build the 60cm piece. It also comes with motorised parts so the London Eye will really spin – very cool. All the K'Nex pieces are also compatible with the core K'Nex range, so once completed you'll be able to use the extra parts to work on other builds too. Also included is some information on the London Eye, great for anyone interested in architecture or the history of these landmarks.
As this is a large set and aimed at older kids it's not something Dil would be able to complete alone, so this one will be an ongoing project for him with some help. He's looking forward to continuing the build with his Grandad once lockdown lifts.
The K'Nex Architecture London Eye currently £59.99 from John Lewis, which seems inline with large build sets from similar toy brands.
I've been pretty impressed with all the K'Nex products we tried, and apart from them not including instructions for all the builds I have absolutely no negatives. I think Dil will definitely be adding K'Nex to his Christmas list, and I look forward to trying some bigger K'Nex builds with him soon.