Scroll down for a full review of the Wickey Multiflyer with Wooden Roof swing and slide set, which was kindly gifted to us in exchange for this honest review. 
Ever since we moved into this house I've been looking forward to getting organised outside and making it into a really nice space for Dil to play in. We are incredibly lucky to have such a big garden, and I wanted to maximise the potential out there. I had big plans – vegetable patches, chickens, a play house house, beautiful decked area… but of course life happens and we've been busy doing inside plus surviving general life stuff, so outside has been neglected. Lockdown was really the first time we spent that much time out there (due to the lovely weather and not being allowed out anywhere else…), and we had loads of fun with some garden games, the paddling pool and hammock. Now that the weather is much colder we've packed that stuff away, but with another month of lockdown happening I wanted something we could enjoy outside all year round. Dil is a forest school kid so a bit of cold or wet weather doesn't bother him, so I knew if I got us something fun to play with out there he'd get plenty of enjoyment out of it – even in the Autumn and Winter months.
I've been looking for some play equipment for a while now, and knew that I wanted something high quality that would last for a long time. I wanted it to have lots of opportunities for imaginative play, and something that Dil and his friends would get years of enjoyment out of. I first discovered Wickey when Lyndsay over at Me, Him, the Dog and a Baby got their climbing frame, and I loved the look of the play set designs as well as the high quality finish. After speaking to Wickey we chose the Multiflyer with wooden roof – a climbing frame complete with swings, slide, and space for a large sand pit.
Ordering and Delivery
The ordering process seems to be very straightforward. After choosing which Wickey swing and slide set you'd like, you can also customise by selecting the colour of certain accessories. We had the option of several colours for the slide, and went with the dark green. You can also opt to add extras such as the anchor points for additional safety, and accessories like baby swings, a rope ladder or a mailbox for more imaginative play.
Delivery was quick and easy, especially considering the items are produced in Germany. The courier called me the day before delivery to check we would be home which was great, and the whole thing arrived on quite a small pallet which the delivery driver placed onto the drive way for us. Once it arrives you do need to unwrap the wood immediately, which might need to dry out for a few days before assembly.
Assembling the Wickey Multiflyer
I had already seen a few reviews online that said assembly was a bit tricky for some of these play sets, but Dil's Dad is pretty handy with a drill so I wasn't too worried. When we initially read through the instructions I did find them quite hard to understand, but I soon realised that you needed to find which version of the Multiflyer you had and then follow the steps in the listed order. The instructions are similar to IKEA's, and are made up of only pictures – I assume to eliminate the need to translate into multiple languages. We did make a few mistakes due to misunderstanding the diagrams, but nothing that couldn't be easily rectified.
All the wood is pre cut for you (except one piece that you will need to trim after assembly), and all the screws and bolts are provided, but nothing is pre-drilled so you will need a drill, a screwdriver, a tape measure, two adults and some patience to build this. It's a little fiddly and you need to make sure your measurements are spot on so it all fits together, but it's not difficult and I think it's fine for DIY beginners. The whole thing took us just over 4 hours to build altogether which meant we had it finished for when Dil got home from school, so not to bad at all.
My top assembly tips would be to look over the instructions thoroughly before rushing in as I think that's where our mistakes were made, and to make sure you pre-drill the holes (as per the instructions) to avoid the wood splitting. We have left the caps off of the larger bolts for now, and will tighten everything up again in a few weeks before putting them on. Be aware that we were left with a really large amount of spare parts which is always a bit concerning, but I guess it's great that they provide extra incase you lose any while building. Accessories like the steering wheel, telescope and handles can be placed wherever you like, and this is a nice way of letting kids customise the build a little bit.
Something I didn't realise was that the slide comes with a water attachment option underneath which I love, that will be great for when it gets warmer! We plan to bark this area completely over the next few weeks to make a nice and safe play area for the kids, and I'll add the sand into the sandpit in the Spring.
Wickey advise that you use their ground anchors to secure the play equipment to the ground. These will need to be purchased separately, but if used Wickey guarantees the wooden equipment for 10 years which is great.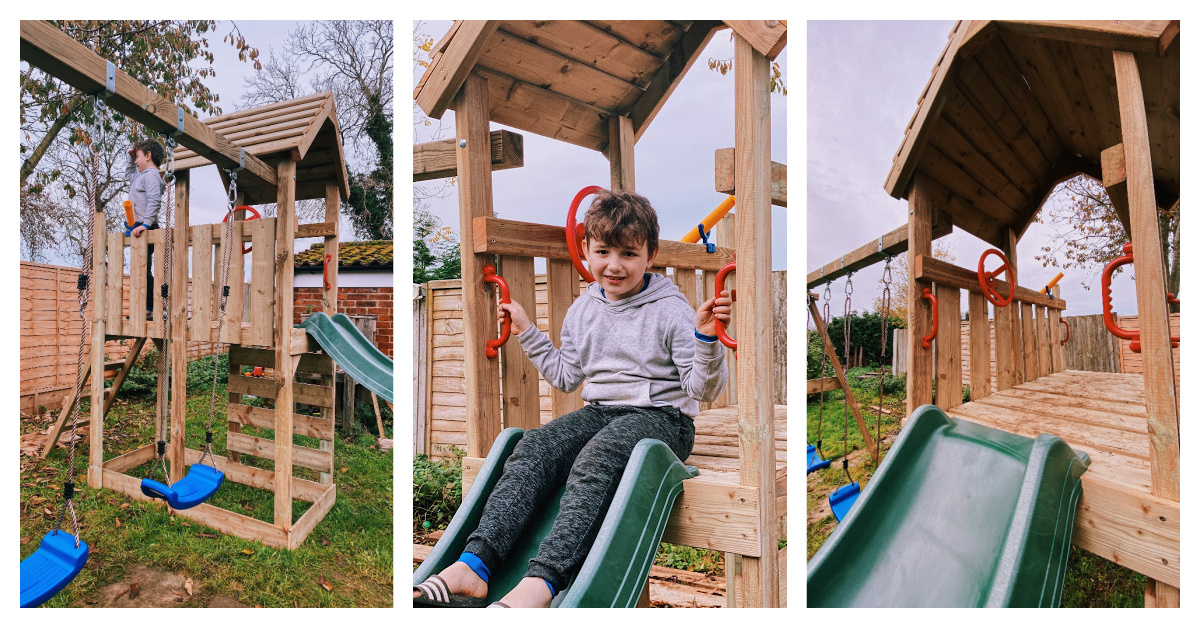 Plenty of fun for everyone
We've had it up for about a week now and as predicted it's been a lot of fun for Dil – especially since we aren't able to go to the park at the moment. Who needs the park now that we've practically got one in the back garden! It's brilliant fun swinging and sliding, and there's also so much open ended and imaginative playing – so far the climbing frame has been a ship, a race car, a fire truck and a desert island. Once we can have friends over again I know they'll be out there for hours having lots of fun.
All of the Wickey climbing frames have been thoroughly safety tested, and as the wood is pressure treated it's weatherproof and maintenance free which I love! There are so many different products and designs available, so it would be easy to find something to suit any family. The swings can also be swapped out for all different types of seats including baby seats and double swings, so it can really adapt and grow with your kids. They also sell kids beds which look absolutely amazing!
Overall I'm really impressed with the functional design of the climbing frame, as well as how relatively straightforward it was to put it together ourselves. It felt like quite an accomplishment once it was up, and it's lovely hearing Dil laugh as he plays out there now. I'm really happy with the aesthetic of it too – it looks really nice in the garden and I absolutely sure that Dil and his pals will have plenty of years of fun with it. Now just to deal with the rest of the space!