*This is a collaborative post*
So many of my thoughts are taken up by decorating at the moment, and it's been that way since we got the keys for this house. It's felt so overwhelming because there has been so much to do, on top of everything else that I've been dealing with, but we are making progress and I am SO excited at the prospect of having every room almost done (maybe in 2023 or something…). So far I've agonised over flooring decisions, window dressings, and I've spent hours pouring over Pinterest looking for bathroom ideas. The last room we are planning on renovating, and the one that I'm dreading the most because it comes with the most decisions – is the kitchen.
All of the renovations we've done have been on a tight budget, and redecorating a kitchen can get expensive really fast. I don't have the funds to replace the kitchen entirely, and I wouldn't want to invest that kind of money in what is essentially a rental property anyway, so I'll be renovating and updating the existing kitchen in a few clever ways. There are lots of simple things you can do to change the look of your kitchen – to add colour, to change the feel of the room, and to make it a more practical space for your needs. Here's a few ideas for transforming your kitchen quickly and easily, without spending a fortune.
Transforming Your Kitchen Easily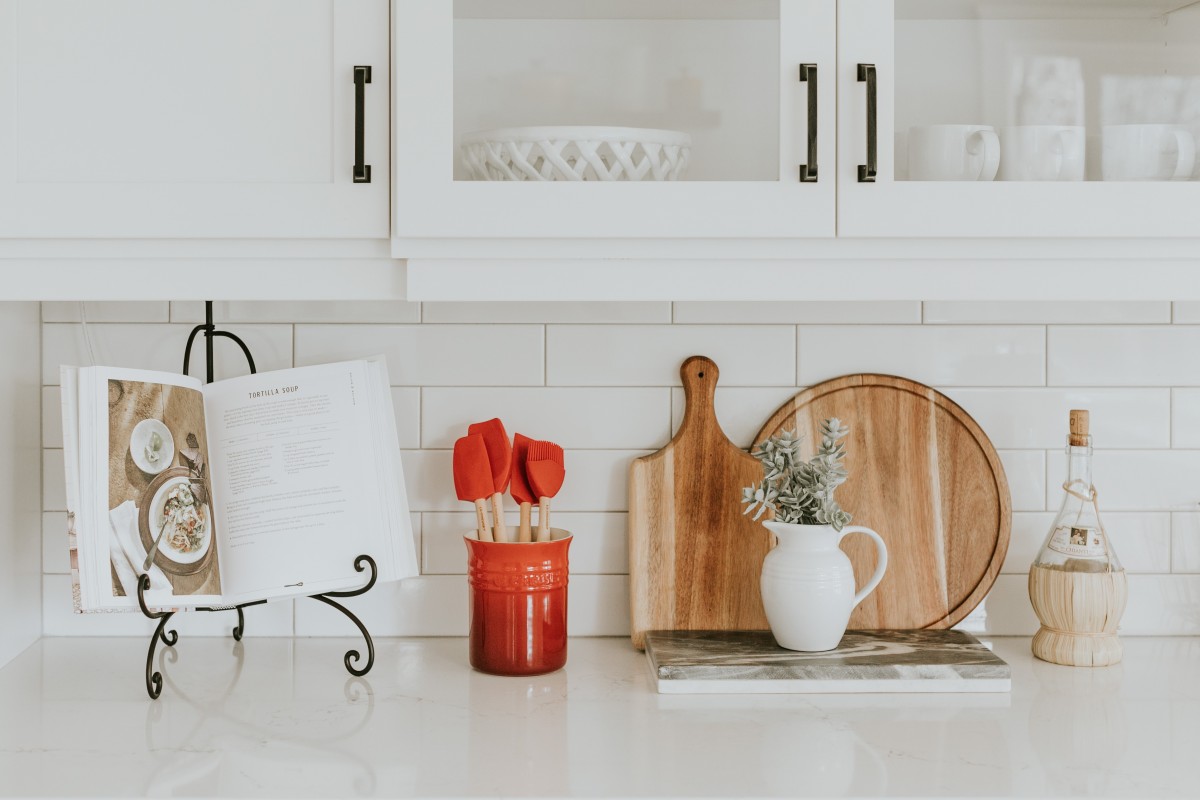 Photo by Toa Heftiba on Unsplash
Transform Your Kitchen Units
Whether you rent or own your home will determine how many changes you can make to your home. Sometimes tenants are allowed to paint walls and make reversible changes, providing they are put back to how they were previously when you leave. People who own their homes or live in social housing will have more freedom to make whatever changes they want. If you're able to then painting your kitchen units is a really brilliant way to update your whole kitchen on a budget. Giving the doors and drawers a fresh lick of pain will completely transform the look of your room, and all you'll need is some paint, a roller, a screw driver and a day or two to get it done. Stores like Wilko sell really reasonably priced cupboard paint and I've heard great reviews from other people, or for a wider range of colours check out Frenchic furniture paint (this is an affiliate link). Remove the doors from the cupboards and take off any handles and hardware, and paint on thin coats using a roller to avoid brush marks.
If you aren't able to paint your cupboards there are other ways to temporarily transform your kitchen units. You could cover the doors and drawer fronts in a self adhesive plastic like Fablon or D-C-Fix – check out a few YouTube tutorials before having a go at this! You can also use this to cover work tops and change the look of your kitchen even more. You could also change the handles on your units which is quite a quick way to change the look of your kitchen, and you can even purchase tile stickers or similar, to temporarily update the walls.
Add Colour With Accessories
The fastest and easiest way to change the feeling of any room is to introduce accessories that fit with the look you want to achieve. If you aren't able to or can't afford to paint then adding various accessories and decoration can still really change the look. Consider adding prints and posters to the walls, or you could get new kitchen equipment – kettle, toaster, microwave etc. You can also add colour and warmth to the room by adding new curtains or blinds. You can choose blinds in a whole range of colours and patterns, and blinds also add privacy to the room by being able to open and close them when required. Direct Blinds have a huge range of blinds including Venetian, roller, and vertical blinds, available in a wide choice of colours and patterns so you can choose something perfect for your new room. Little, easy changes like this will definitely help change up the feel of your kitchen and make it feel fresh and new.
Other ideas for adding some more colour to a kitchen – paper garlands or bunting hung on the walls or around door ways, plants and flowers added to window sills or kitchen tables, or adding a magnetic chalkboard section to a wall to make a place for some fun magnets and art work.
You could also consider changing your furniture – by either buying new or updating what you have. Look on Pinterest or YouTube for ideas on updating your kitchen table and chairs or quirky shelving ideas, and browse Facebook Marketplace or Gumtree for inexpensive new stuff.
Photo by Becca Tapert on Unsplash
Reorganise Your Stuff
The easiest way to change the look of your kitchen, especially if you're unhappy with it or if it's not working for your family, is to reorganise and change things up. Reorganise cupboards, move the contents elsewhere, and get rid of the stuff that you don't need to make room for other stuff. Clear off the counter tops as much as possible, to make the room feel bigger and tidier, and move your table and chairs around until you find a space that works. Add shelving, hooks or extra storage where necessary so that everything has a place, and so that all the things that you love can be neatly displayed. Simply reorganising and rearranging the furniture and accessories you have can be a really satisfying way to give your kitchen a new look.
We often feel most like redecorating when we are unhappy or unsatisfied with the current space, so by taking some time to reorganise and de-clutter you might find yourself enjoying your kitchen again. By adding a few new things, or by updating or re purposing things we already have, you can really change the look and feel of the room, and it'll feel brand new in no time!