*The items included in that post were gifted to us for inclusion*
Lots of us are looking for new ways to keep the kids entertained right now, and one of my favourite things to do now that Dil is a little older is to play board games. I love introducing Dil to the classic games I played as a kid, and we love trying out new games or new versions too. There are so many great games out there that are loads of fun, but also really good at helping kids develop new and important skills so it's a great way to tick the home schooling box too while we are living our new normal. I've already shared some of my favourite resources for learning from home, but games are another great way to entertain your little ones. Spin Master recently sent us over a little package to keep us busy while we are staying home, here are some of our favourites!
Check out these and more of our favourite games and activities on my Amazon storefront (contains affiliate links).
Baby Shark Let's Go Hunt… Fishing Game
Great one for younger kids, a nice way to work on fine motor skills and absolutely perfect for your Baby Shark fans. Baby Shark Let's Go Hunt is a classic electronic fishing game – as the game spins around the fish mouths open and close. Hook a fish with your rod to add it to your pile, whoever hooks the most fish wins! This version also plays Baby Shark music as it goes around, which you'll either love or hate I guess! Great for kids 3+, up to 4 players.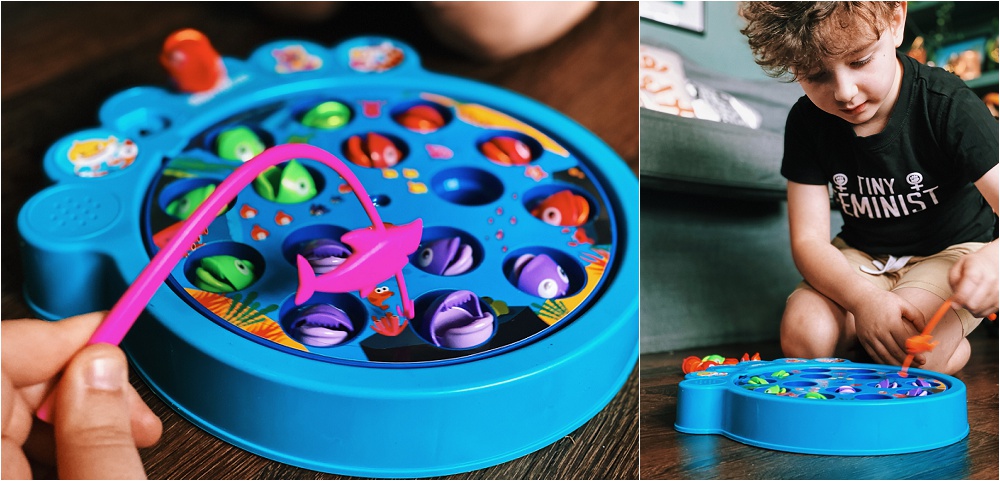 HedBanz
This one is really good fun and great for building logic and problem solving skills. Similar to the phone game Heads Up and other versions like that it's a classic 'What Am I?' game. On their turn each player tucks a card into their headband and gets to ask the other players closed questions (yes or no answers only) to try to figure out what they are before the timer runs out. Get it right and you can add a scoring badge to your headband – first to get 3 badges wins! The cards include animals, foods, and things, plus some suggested questions to help you get started.
HedBanz is recommended for ages 7+, but I think it's suitable from around age 5 – although we do play without the timer and sometimes give a few extra clues. Suitable for 2-6 players, adults will love this one just as much as the kids. There is also HedBanz Junior for younger kids which is animals only and includes clue cards, but I think this one would be fine for all ages if you adapt it like we do.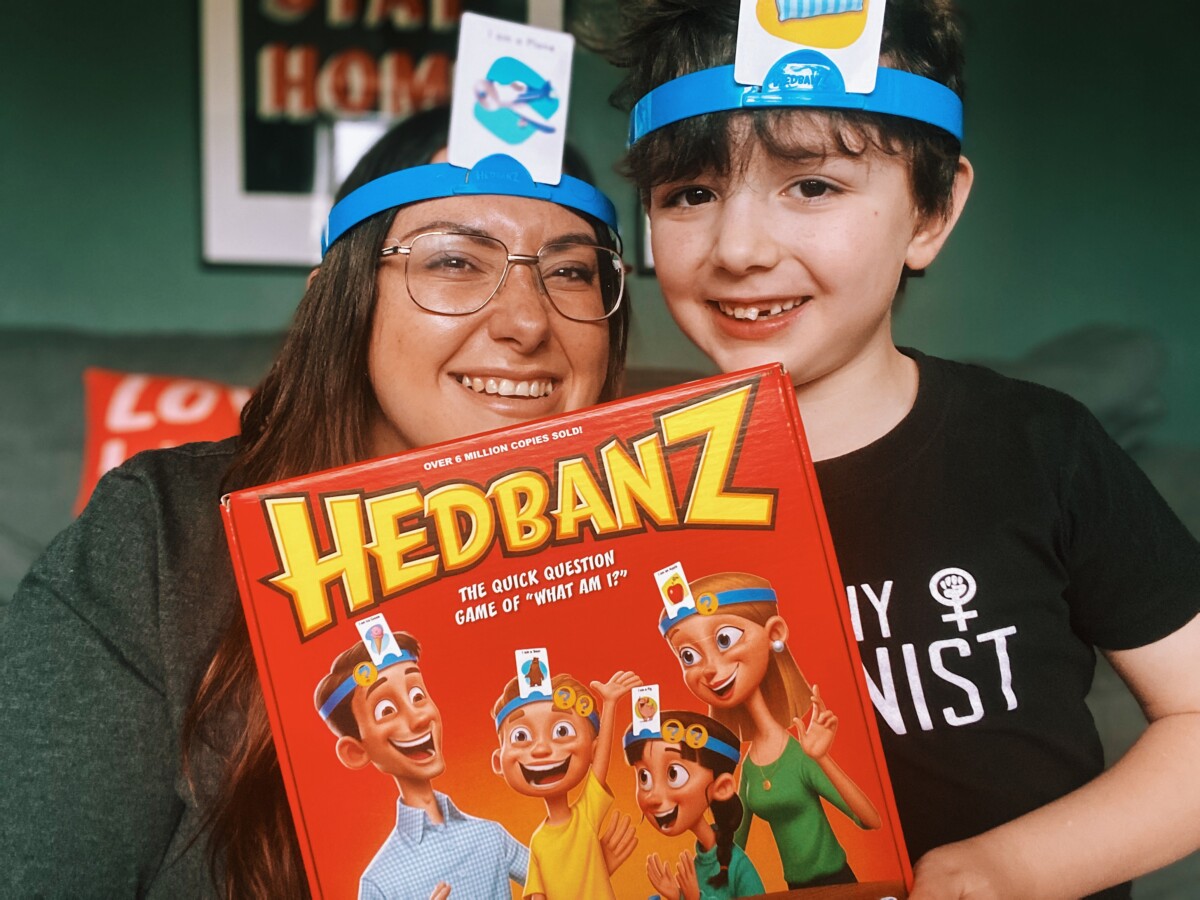 Jumanji – The Next Level
Dil is a big fan of the films so we were excited to give it this one a go, but I think he's still a little too young for something this complex and he lost interest before we could really get the hang of it. It's recommended for ages 8+ so might be great if you have older kids. Dil really wants to try the retro 90s version which is for 5+ and looks more like the game version in the movie, so I think we'll give that a go next! Up to 4 players can play this one.
Otrio
I had never heard of this game before but it's quickly become a firm favourite here. It's a simple concept once you get the hang of it (kind of similar to tic tac toe/noughts and crosses but there more ways to win), but it's a brilliant strategy game to get kids (and adults!) thinking. From the box – "Otrio stretches your working memory and keeps your frontal cortex nimble as you keep on the lookout for 3-in-an-"O"!" There are three different ways to win on the board (and if you're playing the two player version you both control two colours each) – so it requires a lot of concentration and critical thinking skills, but the rounds move fast enough to keep kids engaged.
I've lost count of how many times we've played Otrio now and we're definitely not bored of it yet. We've enjoyed it so much that I'm going to order the travel version too, which will be great when we are out and about and Dil needs to be entertained. It's recommended for 8+ but Dil is 6.5 and able to play really well after a bit of practice. For 2-4 players, this is another one that kids and adults will love, and something we'll be getting out to play time and time again.