Finding decent childcare for your children can seem really hard sometimes. Lots of parents are able to rely on family and friends to help out, but not everyone has that choice. Parents often still have to work, and they definitely deserve the occasional break too – but where can you find reliable childcare that you can trust? I'd heard of Childcare.co.uk before, but they recently asked me to take a closer look at their website and I was pretty impressed.
Childcare.co.uk
Childcare.co.uk is the UK's largest online community of parents, childcare providers, household helpers, schools and private tutors. You can use it to search for childminders, baby sitters, nannies, private tutors and more – all within a few mile radius of your home or work. They also have loads of help and advice on how to choose childcare too, including how to decide which option is best for you, how to build a good relationship with your chosen provider, and how to tackle things like summer holidays and emergency childcare. The site is completely free to access and use, although they do also offer a paid membership.
Choosing a provider
Childcare.co.uk makes it really easy to search for the type of childcare you need, and compare the providers that come up in your search. You'll be able to view each childcare provider's profile and check their DBS status, fees, availability and relevant experience/skills/qualifications, then you can easily contact whoever interests you the most.
It's important to note that Childcare.co.uk don't make any specific checks themselves, so make sure you verify any necessary qualifications for yourself.
Advanced Search
If your search yields lots of results, or you have specific child care needs, you can make use of the sites advanced search function. Narrow down results by using specific key words, ruling out smokers or searching for providers who have the availability you want. You can also order your results by nearest to you, top rated, or newest profiles first.
Reviews
I think the review section is one of the best parts of the database. Leaving your young child with someone new is a really big deal, and it's not unusual to feel anxiety and worry when leaving your little one whether it's for the 1st or the 51st time. Being able to read reviews from other parents can really help to ease some of those concerns and can also help you get a better feel for a childcare provider.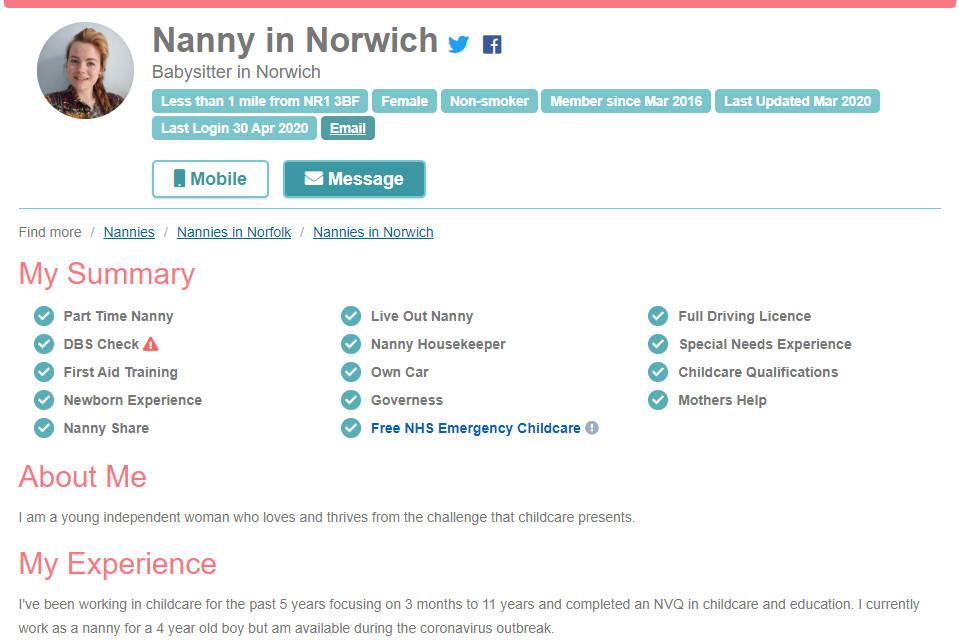 More Uses
As well as finding childminders, baby sitters and nannies, you can also use childcare.co.uk to find doulas, independent midwives and household help – someone who can come help out at home if you need a little extra support. You can also search for private tutors which could be great for older children or home educators. It looks like a great place to find someone who could assist with subjects like Maths, English, Science, a variety of different foreign languages, or GCSE/A Level support.
Covid-19
Our childcare needs are probably vastly different to usual right now with the current Corona crisis, so Childcare.co.uk has also added sections for keyworkers and NHS staff looking for urgent childcare. Lots of childcare providers, nannies and teachers have temporarily increased availability, and they are aware that lots of key workers may be in need of extra help. Some providers have also opted to offer free adhoc emergency childcare for NHS workers, which is amazing and will be really helpful for lots of families.
Many of the tutors are also offering virtual tutoring sessions to help support children (and parents) while the schools are closed, which is brilliant if you're attempting to home school older children or if you're working from home and need some support to keep the kids entertained.