I've been promising you all a post on skincare for over a year and guess what – today is finally the day! I'm going to film an IGTV video to go along with this post so if that's more your thing keep an eye on my Instagram, but below is a list of my favourite products and a bit more detail about everything. Once I started writing I got a bit carried away so there's a lot of detail in this post, if you just want to know what products I use daily check back for the next skincare post soon.
This post contains affiliate links
My Skincare
For most of my life my skincare routine has been minimal. Very minimal, like a baby wipe and a bit of moisturiser if I was feeling extravagant kind of minimal. I was lucky enough to have pretty clear skin and so I never gave it much thought. Once I had the miscarriage but skin went to absolute shit. Hormones were all over the place and I experienced some extreme acne – which to be honest felt like a brutal kick when I was already down. I threw myself into researching skincare and developed a complicated routine while trying to find products that would help. I think because it was hormonal products didn't help entirely, but I did find some things that I really felt help to improve the situation.
Now we are two years down the line things have really improved, but I still get hormonal breakouts just before my period. I have really simplified by skincare routine now (mostly because I'm lazy) and have a few products I can add in when I feel my skin needs it. I think understanding which ingredients work for which need means you can adapt your skincare routine to work for you throughout the month.
I'm going to ramble below about my own skin care routine and how you can choose the best skin care products for your skin, but the best thing you could read if you want to find out more about skincare routines is Caroline Hiron's routines cheat sheet and The Ordinary's (my number 1 recommendation for skincare products) website. Head there after here or head there and then come back if you want to know what products I personally recommend.
Basic Skincare Routines
This is how you would put together a fairly simply skincare routine. I'm a bit lazy, and my skin is often dehydrated but not dry, so I tend to adapt it for my own skin type. Keep scrolling for some of my favourite products for each step.
Morning Skincare Routine
Cleanse
Exfoliating toner
Hydrating toner
Any treatments you use would go here
Oil
Moisturiser (I just can't find one that I like, so I usually skip this step and find my oil is hydrating enough)
SPF
Evening Skincare Routine
First Cleanse
Second Cleanse
Exfoliating toner
Hydrating toner
Treatments
Oil
Moisturiser
Favourite Skincare Products
Cleansers
Whenever my skin is starting to look dull, grey or dehydrated – it usually means I'm skipping on my cleansing. After just a day or two of proper cleansing my skin looks way better. Double cleansing is honestly the best change I made in terms of skincare and it's so simple. Double cleansing at night means I can make sure all my make up and SPF is removed and the products I apply after can actually work. No point applying super expensive serums if you've just used a baby wipe to wash your face first! Read more about double cleansing from my favourite skincare expert Caroline Hirons – her cheat sheets are fantastic for learning about skincare.
Finding a cleanser you like is a bit trial and error, especially if you have sensitive skin. Try a few different types (balm, oil, milk, etc – avoid anything foaming!) and see which you prefer. I like to have a few different ones in my drawer and change it up depending on how I/my skin is feeling. Here are some that I have repurchased several times and strongly recommend.
My faves
The Body Shop Camomile Cleansing Butter – £11 (love, love, love – if you can only buy one then get this one!)
The Body Shop Camomile Cleansing Oil – £12 (love this too, so great after a day of heavy make up as first cleanse)
Boots Botanics Hydration Burst – usually £4.99 but on offer all the time
Boots Botanics All Bright Cleansing Cream – £5.49 usually but again often on offer
Toners
Firstly – physical exfoliants (products often called 'scrubs' with grit in them designed to exfoliate your face) are out as far as I'm concerned. Bin them. The grains/ground nuts/whatever in your scrub are causing micro tears on your face, and there's a new, better way to exfoliate – acid toner.
I use two types of acid toners – exfoliating toners which help encourage skin cell turnover to remove dead skin cells, to brighten and smooth out your skin, and hydrating toners which, well they hydrate… They act as humectants which is a sciencey term meaning they attract moisture, and can help the skin look more plump, reducing the look of fine lines and wrinkles. There are two types of exfoliating toners and you should choose based on your skin type – AHAs work on exfoliating the surface of the skin, BHAs do this and also work on pore congestion so are great for acne prone skin.
When it comes to toners focus on ingredients. Exfoliating toners usually contain glycolic or lactic acid (both AHAs) or salicylic acid (BHA), and come in different strengths. Always start with a milder option and work your way up to something stronger if you need it. For your hydrating toner look for hyaluronic acid or glycerin. Here's some of my favourites:
Exfoliating Toners
Use one of these in your routine, a few times a week or every day depending on your skincare needs. *Very important to note that if you start using these acids (and/or Retinol) you will need to make sure you're wearing SPF every single day as it will increase your sun sensitivity.
Pixi Glow Tonic – £18 (which is 5% Glycolic Acid so milder than the TO one below – I've got through several bottles of this but it is pricey compared to other options)
Nip+Fab Glycolic Fix Pads Extreme (5%) – £14.95 (Aldi does a good copy of these)
The Ordinary Glycolic Acid 7% – £6.80 (this is what I'm using currently)
The Ordinary Salicylic Acid 2% Solution – £4.20 (I use this when the acne is bad)
Paula's Choice Skin Perfecting 2% BHA Liquid Exfoliant – £28 (this one is really expensive BUT it made a HUGE difference to my skin when my acne was at it's worst so I would definitely recommend it if you're suffering)
*Eucerin Hyaluron Filler Night Peeling & Serum – £38 this one is a combination of AHAs (exfoliating) and Hyaluronic Acid (hydrating) so a great product if you want to try them out but still keep it really simple. It is pricey though. *gifted as part of an ad collaboration several months ago
Hydrating Toners
You can layer these if you want to. I usually go with a spray then a liquid toner. Have a look at 7 skin method for even more hydration.
The Ordinary Hyaluronic Acid – £5.90 (my personal fav – can't beat that price. I also like the Marine Hyaluronics but be warned, it smells fishy)
Superdrug B. Hydrated Hyaluronic Acid Facial Spray – I can't find this one online right now but it's under a tenner and almost always on BOGOF (I've bought this about 20 times now – love it)
Hadalabo Hyaluronic Acid – currently £9.50 on Amazon *good for 7 skins
Pyunkang Yul Essence Toner – £12.99 (technically an essence not an acid toner I think, but has the same function and I'm trying to keep this simple!) *good for 7 skins
Sukin Hydrating Mist Toner – £7.95 (next on my list to try)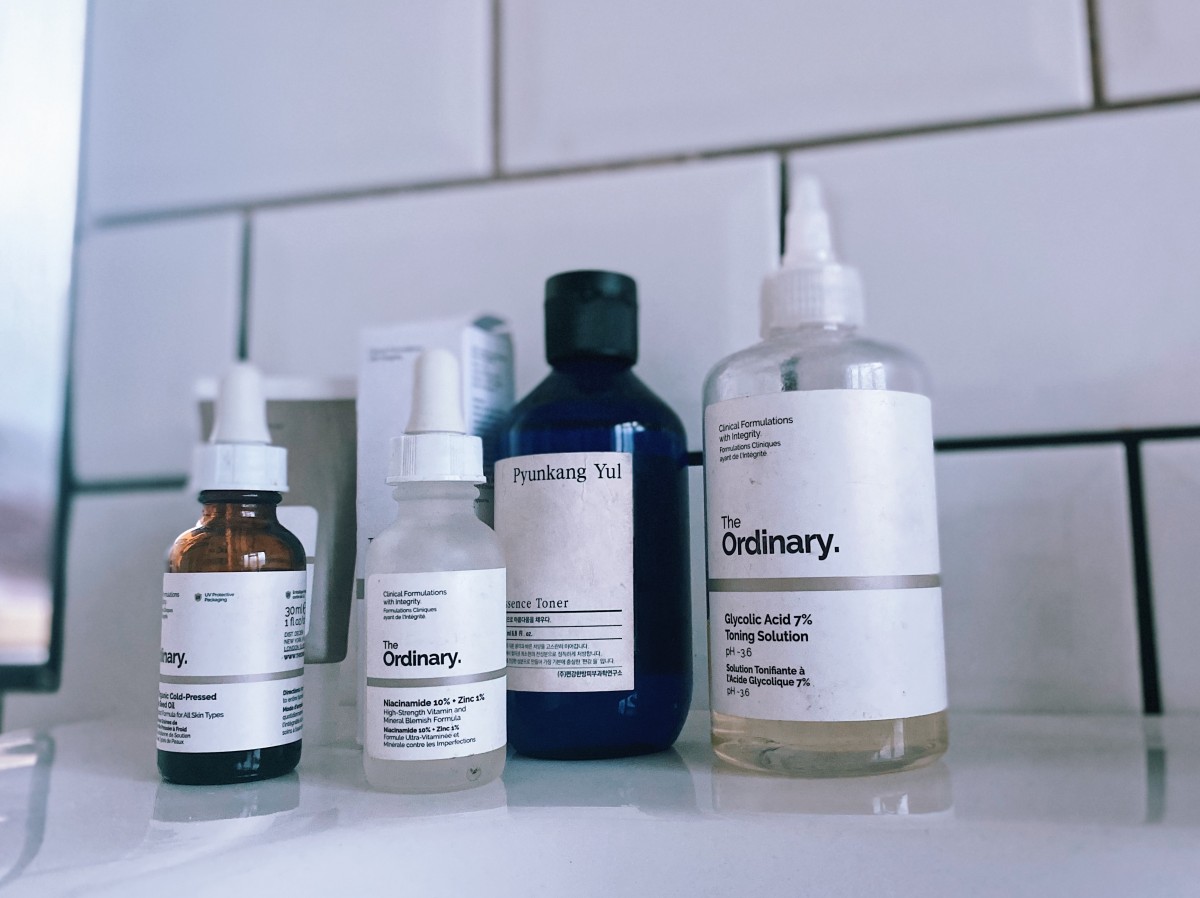 Treatments
I'm going to tackle this one on another post – this one is already very long! This includes things like retinol, peptides, vitamin C… lots of these can't be used with other products (like acids) so it's definitely worth getting a basic skincare routine down first before complicating things.
While my skin was really bad I found the addition of Niacinamide and Azelaic Acid really helped. Nadine Baggott has a great video on Retinol for beginners if you're interested in learning more.
Several people asked about how to improve dark circles or bags under your eyes – the answer is often more sleep and more water but I know those things aren't easy. Try adding TO Caffeine Solution to your skincare routine.
Oil
My favourite step! I find facial oils make your face feel so lush and hydrated, really enjoy using them and they definitely really improve my hydration and glow. I like to have a few in the draw and grab whichever one I fancy each night.
Sukin Rose Hip Oil – £19.95 (Pricey I know. I was GIFTED a bottle of this one and LOVED it. It lasted me ages too. Once it was finished I bought the TO one mentioned below, but I definitely prefer this one)
The Ordinary Cold-Pressed Borage Seed Oil – £4.20
The Ordinary Cold-Pressed Rose Hip Seed Oil – £9.00
Moisturiser
As I said above I really haven't found a moisturiser I like. Currently I have The Ordinary's NMF and a few other ones from Boots and Superdrug, but I rarely use them. I'm sure skincare experts would be very disappointed but it seems to work for me! I'll update this post if I find one I love.
SPF
Like with moisturisers, I just haven't found any that I love and would recommend/repurchase, but SPF is a vital part of your skincare routine. The number one cause of ageing skin and wrinkles is sun damage, so it's absolutely essential that you protect your face from the rays. This becomes even more important if you do start using acids and Retinol. That means SPF every single day (not just during the summer), and covering up with a hat or staying in the shade whenever you can. More on SPF from Caroline.
And there you have it! My accidentally very in-depth simple guide to how I approach skincare. Hopefully it's helpful! As always, if you have any questions or anything to add leave a comment below or send me a message on social media!