It's been quite a while since we returned from Santorini in October. Poor Adam has been catching up with wedding season editing and all the other jobs he's had going on, so editing the pictures from our trip took a backseat. Thankfully he's all caught up now and has sent me some gorgeous shots of our holiday that I want to share. Plus cold and wet December seems like the perfect time to reminisce about our beautiful beach getaway. I'll be posting some more of my favourite photos from the trip next week.
Santorini is one of the Cyclades islands and is a breathtakingly beautiful place. If you've ever seen pictures of Greece and its iconic blue and white houses you will have definitely looked at pictures of Santorini. Originally one large island, the landscape was altered by one of the largest volcanic eruptions in recorded history, splitting Santorini (officially known as Thira) into several parts and sinking the middle deep into the sea. It's often suggested that this is what started the story of Atlantis. The end result is the iconic caldera we now associate with the beautiful island, along with all the pretty Greek buildings clinging to the cliff side.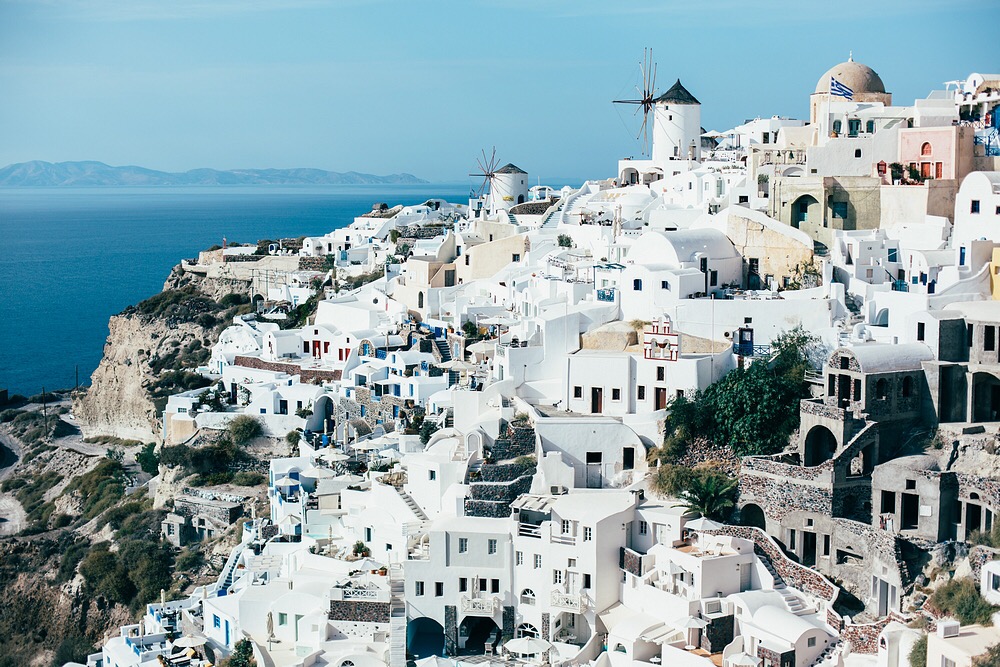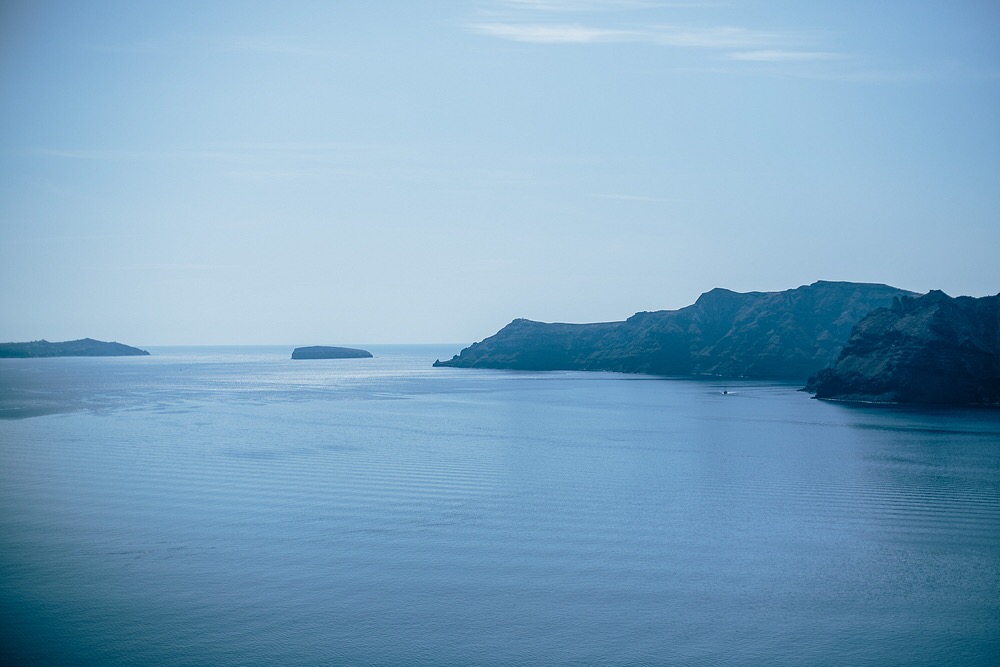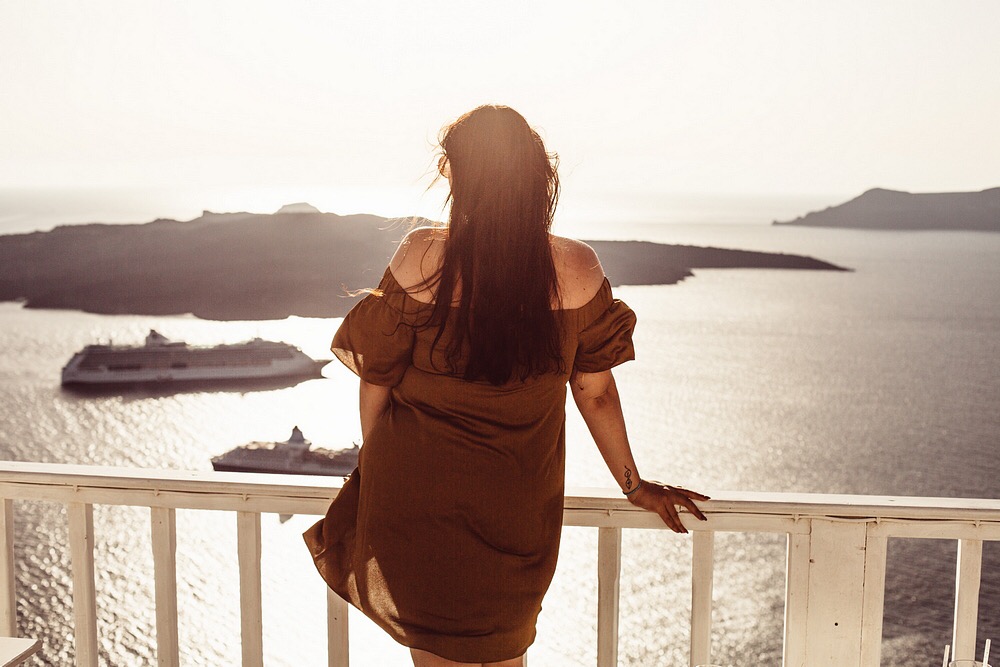 We stayed at the gorgeous Cavo Bianco boutique hotel in Kamari, which is on the east coast of the island, furthest from the caldera. This was my second time in Santorini and I have stayed in Kamari both times. It is a really affordable way to explore the island, and the beach location is a nice base for any exploring or excursions you might fancy. It's very easy to catch a bus or a taxi to other towns as the island is quite small.
Kamari itself is a charming beach resort with plenty of restaurants and bars, sun loungers and local shops and supermarkets. From here you can also book plenty of boat tours and trips as well as water sports. Due to the volcano the beaches along the east coast are black sand. Further towards the southern end there are beautiful white and red beaches to adventure on.
Cavo Bianco is a few minutes walk from the beach and the main strip of restaurants which meant it was quieter and more private than some of the hotels directly opposite the beach. The hotel itself is very modern and minimalistic in design, and offers two swimming pools, a bar and a large seating area. My favourite pool was overlooked by serveral gorgeous day bed style sun loungers covered in white linen, which felt very luxurious. The hotel also hosts a gym and spa although we didn't make use of these facilities. We stayed on a bed and breakfast basis and really enjoyed the buffet style breakfast that was on offer, which featured a variety of cooked items, cold cuts, cereals and pastries. We were even told that if we had any special breakfast requests they would prepare them for us.
The rooms at Cavo Bianco are outstanding. During our stay we were lucky enough to be upgraded twice, so we got to sample several different rooms and were very pleased with each of them. Our stay started in a Senior Suite which was mezzanine style living with a private outdoor jacuzzi. We were then very lucky to be offered a night in the honeymoon suite which features a stunning four poster bed, indoor hot tub and a double shower. After that we were upgraded again to the pool suite which was by far my favourite room. A large mezzanine style room with its own private veranda and decent size swimming pool with sun loungers and gorgeous cushions to relax on.
As beautiful as the surroundings are, Cavo Bianco's true assets are its staff, who made us feel totally welcome the whole time we were there. Nothing is too much trouble for them and they regularly went out of their way to make sure our stay was perfect. Small touches like arranging taxis and boat tours for us, and the 'pillow menu' shown to us when we first arrived, show how much thought has gone in to really personalising their service for each guest's needs. I would recommend Cavo Bianco to anyone looking to visit the island for this reason.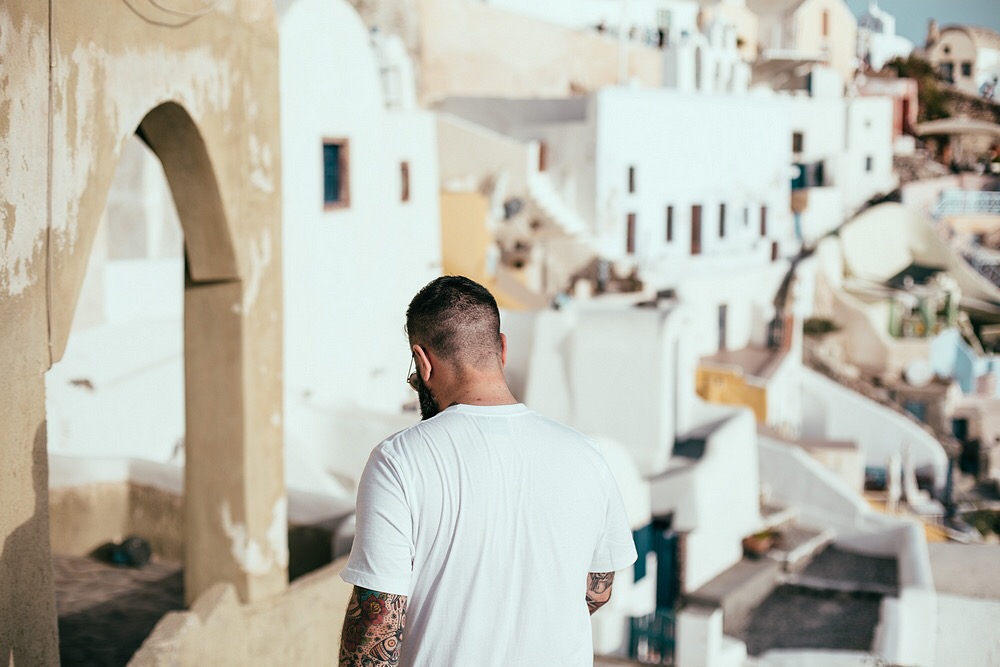 Whilst in Santorini we spent a lot of time relaxing by the pool, but did manage to explore some of the island. From Kamari you can catch a bus to Fira (the capital) for €1.80 each. Once in Fira you can then get on a bus to most other places on the island.
Fira is a stunning town, with breathtaking caldera and sunset views as well as so many delicious restaurants and cafes, trendy bars, upmarket hotels and quaint shops. We also visited Oia which is in the north of Santorini, which is a €30 taxi ride from Kamari and the most iconic place to watch the most photographed sunset in the world. It's easy to see why it's been awarded this title but the photos simply don't do it justice, especially when you're surrounded by others watching with you and applauding once the sun has gone down. There are lots of restaurants and bars offering front row seats for the sunset but it gets very crowded very quickly. We found a quiet corner tucked away slightly and enjoyed the views and the atmosphere from there.
The other recommended way to enjoy the sunset is by boat, so we booked a gorgeous sunset cruise via Caldera Yachting. We boarded a luxurious catamaran which took us on a tour of the white and red beaches, the hot springs and then gave us a front row seat for the beautiful Santorini sunset. Unfortunately sea sickness got the best of me and I spent most of the sunset with my head hanging overboard, but it was still an amazing experience. I'm not usually one for jumping into the ocean, but I would've done anything to get off that boat and actually it was a fun experience. The hot springs felt significantly warmer than the rest of the sea, although the water was a slightly off putting brown colour. Again the staff aboard our boat trip were excellent and really went above and beyond, especially for me as I was so poorly.
This trip was truly luxurious and a once in a lifetime experience for us, especially as a lot of it wasn't child friendly. However if you want to explore Santorini on a smaller budget it is definitely possible and just as incredible. There are a large amount of self catering apartments and rooms available in Kamari which would make an excellent base for exploring the island no matter what your budget may be. Our next plan is to sample some more of the Greek islands but Santorini will always have a special place in my heart, and we will almost definitely visit again.
Our favourites
For eating out in Kamari Meli & Thymari is a must try. Slightly away from the beach it's a hidden gem with the best Greek food. Definitely try the hummus and the souvlaki. Also worth trying is Kings Cafe on the beach purely for their cocktails and gorgeous sun loungers, and grab some pistachio ice cream from either of the ice cream shops.
In Fira we visited a really special cafe called Porto Carra with the most amazing caldera views from their terrace. Sit back and enjoy the sites with their special Sangria or a Freddo cappuccino. For dinner I'd recommend Volcano Blue Seafood restaurant, their calamari and saganaki were the best we found on the island.
If you visit Oia try the first cafe on your left as you get to the caldera from the bus station. One of my favourite things about Santorini was definitely the pistachio ice cream milk shakes and theirs plus the incredible view is amazing!