I've already outed myself several times as a seriously big Halloween fan, and you know how much we love to visit a pumpkin patch (or three). We usually end up with a few pumpkins and Dil really enjoys carving them, but I do worry about all of the food waste. Every year we toast the seeds which make a delicious snack and last for ages, but this year I really want to make an effort to use as much of the pumpkin waste as possible. I asked a few blogger friends what they do with their pumpkin insides, and put it out on my Instagram stories so today I'm sharing all the great ideas I got from everyone! If you're planning on carving some pumpkins this Halloween make sure you scrape out as much of the insides as you can – you'll want it all for all the delicious recipes below. Once Halloween is over check out the ideas below for what to do with your jack-o-lantern.
According to One Planet Norwich in the UK alone, 18,000 tonnes of pumpkin are thrown away each year at Halloween. That's the same weight as 1,500 double-decker buses! Let's do more to make use of all those gorgeous pumpkins.
If you're local to me in Norfolk and interested in more ways to make the most of the pumpkins you carve then check out the Norwich Pumpkin Rescue on Oct 20th, run by One Planet Norwich as part of Norwich Science Festival 2018.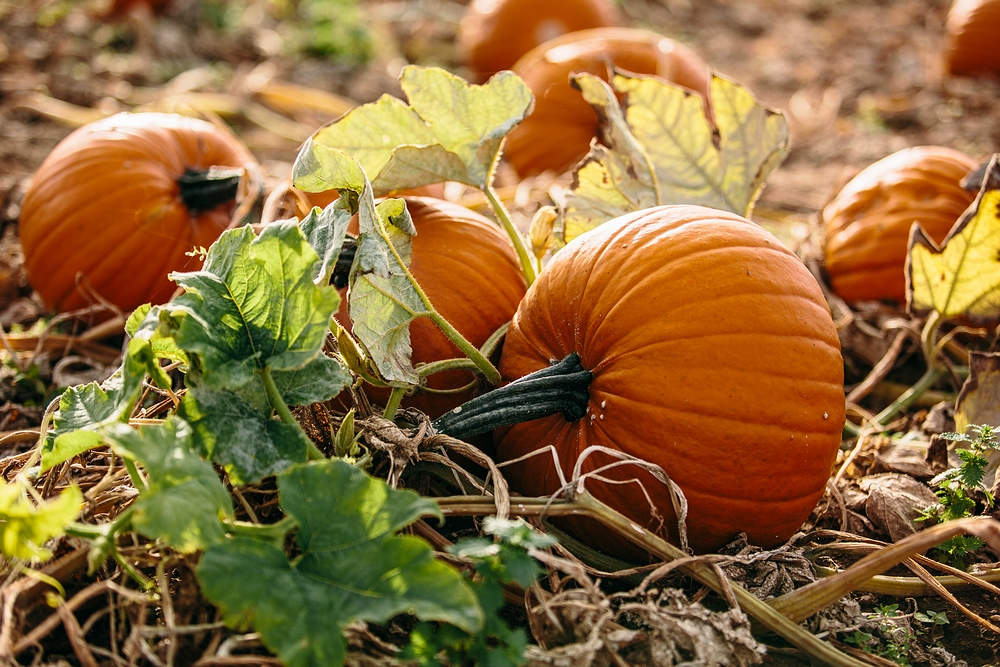 Ideas For Your Pumpkin Waste
Eat it!
Pumpkins are part of the squash family, and are a really easy and versatile autumnal food. Nutritionally they are pretty good for you, offering high levels of vitamin C, vitamin A and fibre, and the seeds are also high in zinc and magnesium. The seeds are really great to roast, and the flesh works really well in a variety of sweet and savoury dishes. Lots of the dishes below call for pumpkin puree which you can make by boiling/steaming/roasting your pumpkin chunks then whizzing up with a blender or pushing through a sieve. If you want to make it in bulk check out this method for making pumpkin puree in a slow cooker.
Spiced Pumpkin Cake
Nigella's recipe for Pumpkin Bundt Cake comes highly recommended and is already completely dairy free! Love this Pumpkin Spice Cake recipe from Someone's Mum too which includes a latte drizzle icing – yum.
Pumpkin Brownies
You know I love an easy baking method, so I LOVE this idea from The Cookie Rookie – use a boxed brownie mix to help make delicious pumpkin brownies! Simply pour half the brownie batter (made as per the box instructions) into your tray, spoon in the pumpkin mixture, then top with the rest of the batter. I'm going to be trying this ASAP using violife creamy to make them dairy free – I'll let you know how it goes! The Peachicks Bakery also has a great vegan pumpkin brownie recipe which is free from the top 14 allergens.
Pumpkin Pie
An autumnal classic! This BBC Good Food recipe looks good – nice and simple ingredients, and this Ultimate Pumpkin Pie sounds great too – I love the idea of roasting the pumpkin in large pieces then scooping out the softer pieces which sounds much easier than battling with raw pumpkin which can be quite hard to cut! Hodge Podge Days has a great Honey Spiced Pumpkin Pie recipe, and a good tip for making sure the pie doesn't crack!
Pumpkin Muffins or Scones
Someone on Instagram suggested Pumpkin Scones and I was genuinely excited because that is a combination of two of my most favourite things. I've found a few easy sounding recipes but let me know how you make yours! Best recipes Pumpkin Scones and these from Veggie Desserts should work fine with a dairy free butter. I made the incredible Carrot Jam from Veggie Desserts a few years ago (gave it out as Christmas presents too – winner!) and I bet it's the perfect topping for a pumpkin scone.
Laura from Dairy Free Kids has a great recipe for Pumpkin Muffins that I want to try, and it looks easy enough for Dil to take charge of too!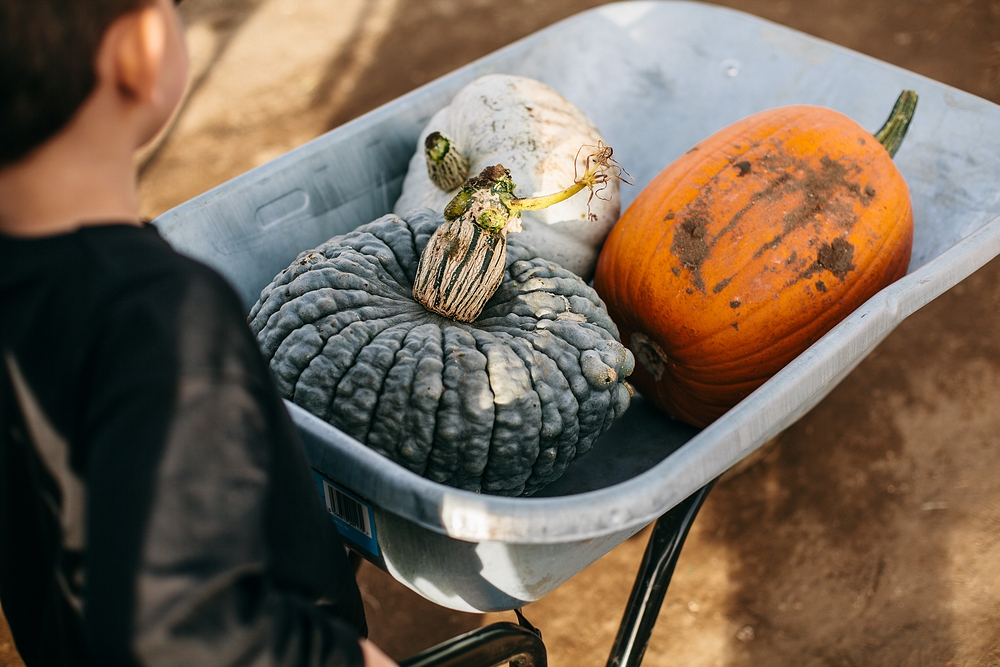 Pumpkin Bread
I adore these pumpkin bread rolls from The Healthy Tart, they look brilliant! We are lucky enough to have a bread machine at home, so I went looking for pumpkin bread recipes to put in it and found these – The Spruce Eats Pumpkin Bread and Pilsbury Cranberry and Pumpkin Bread.
Pumpkin Soup
This Pumpkin Soup recipe from Mummy Lauretta seems really easy! Try using Oatly cream instead of double cream if you need to make it dairy free. This Jamie Oliver recipe sounds really good. The Hello Fresh blog has some great ideas for pumpkin soup toppings – love the idea of garnishing with some toasted pumpkin seeds for a little added crunch.
Roast or mash
As simple as it sounds! Treat pumpkin as you would a butternut squash and roast in wedges or boil and then mash for a perfect side dish.
Pumpkin Risotto
A deliciously comforting dish, you can add chunks of roasted pumpkin to your choice of risotto recipe. This pumpkin risotto recipe from Sainsbury's sounds great if you need some inspiration.
Pumpkin Houmous
Easy and delicious – who doesn't love houmous? I love this idea for pumpkin houmous that I found on BBC Good Food. They have pages an pages of pumpkin recipes to explore. The possibilities are actually endless, no need to waste it!
Freeze it
If you're not sure what to do with it, or you don't have the time to bake right now then you can always freeze it! Freeze chunks of pumpkin flesh and use them in any of the above recipes when you have time.
Play with it
Sensory Play
Carving a pumpkin and scraping out the insides is a brilliant sensory activity in itself, and Dil always really enjoys getting stuck in and running his hands through all the gunk – brilliant fun. Pumpkin is safe to eat raw (although not particularly tasty) so it makes great sensory play for little ones who are likely to put it in their mouths. If you'd prefer to keep things mess free you could add some to a sensory bag, like Little Bins For Little Hands. Babies will love to push the seeds and pulp around the bag, and hands stay clean!
I also found a great edible pumpkin play dough from Conservamom on this list of pumpkin activities from Me & B Make Tea, and a pumpkin slime recipe here.
Science Experiments
Hollowed out pumpkins make a great base for several science experiments. You can pour in all kinds of different ingredients to make potions or volcanoes, and watch out for reactions. Try combining things like bicarbonate of soda and vinegar to create oozing and exploding pumpkins. Love this fizzing fairy potion from The Imagination Tree which could be easily adapted on a larger scale to make inside a pumpkin cauldron.
This pumpkin toothpaste experiment caught my eye on Facebook last week, but it's probably a better one for older children as it uses hydrogen peroxide.
I also love the idea of using a small carved pumpkin to observe the rotting process and learn all about mould. Little Bins for Little Hands have loads more pumpkin STEM ideas, learning activities and Halloween science ideas.
Plant it
Why not plant a few seeds? You can start them off in the ground, or in small plant pots if you prefer. With any luck next year you'll be able to carve your very own home grown pumpkin!
Feed it to the animals
Chickens
If you know someone with chickens you might like to give some of your pumpkin waste to them – apparently it makes a great snack! Once Halloween is over check over your carved pumpkin for any mould or rotten parts, break the rest in to chunks and let them go wild. According to Countryside Daily it's great for them!
Wildlife
A few followers said that they take theirs to a local forest after Halloween, and apparently the squirrels really enjoy it! If you leave the seeds out on a flat surface you'll find local birds enjoy eating them too.
Obviously don't feed animals any pumpkins you've used during the science experiments above, or anything you've painted.
Compost it
If you've still got pumpkin left over and you're not sure what else to do with it, then why not compost it instead of putting it into your normal bin. Pumpkin waste is a great addition to your compost heap – just make sure you remove the seeds first. If you don't have a compost heap you could even ask around and see if any local gardeners or allotments might be able to make use of it.
And there you go! 16+ ideas for your pumpkin waste and a whole bunch of ways to have fun this half term too. So, what are you going to do with your pumpkin's insides??