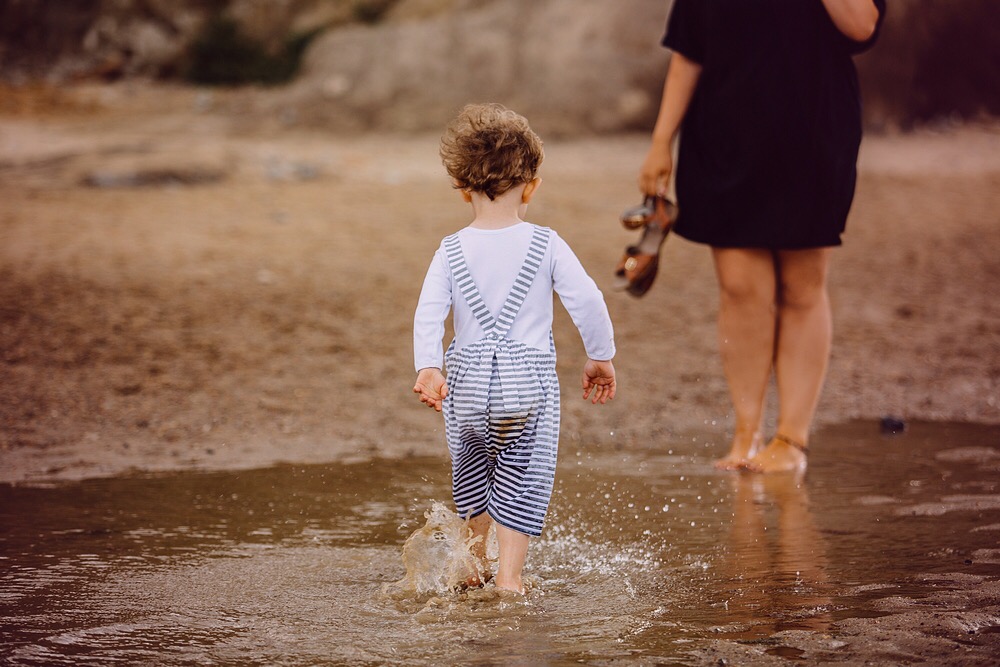 It feels silly to complain about feeling lonely when you haven't peed solo in nearly three years, but somehow a little person acting like your shadow doesn't quite feel the same as real adult company. Or to complain about feeling bored when you rarely get a chance to even sit down. Don't get me wrong, for the most part I love spending my days entertaining my toddler. Who doesn't enjoy preparing meals that get turned down in favour of chocolate biscuits, thinking up fun activities that hold their interest for all of 5 minutes then spending the rest of the afternoon cleaning up the subsequent mess, or planning fun days out that require you to bribe your small person into clothes before you can leave the house. As fun as all of that truly is, it gets to 9 o'clock, you finally relax after the bed time battle and it dawns on you. You realise that you're wearing the same thing you've worn for the past two days. That the most intelligent conversation you've had today was about which Paw Patrol character you most associated yourself with (Marshall FYI – I'm just as clumsy). You realise that the highlight was a trip to the shop and actually the most exciting thing in your house in the iPad which is playing surprise egg videos on loop, and you wonder what your life has become.

I was one the first in my friendship group to have a baby, so I have plenty of friends who don't have children. You know the ones you constantly say "we should catch up soon!" to, but never do. I'm constantly envious of what they are getting up to: the days and nights out, the travelling and exploring the world. The posh dinners and the fancy cocktails, the pretty dresses and the gorgeous shoes. I really miss the dresses. It all looks like so much fun, and here I am with my three outfits on repeat, heading to the zoo to feed the goats, again. It's actually possible that I've forgotten how to socialise in a "normal" adult setting. Unless there's a ball pit or a slide I'm a little out of my comfort zone these days. I'm not sure I'd even know how to act in a bar, or in fact anywhere that doesn't serve Fruit Shoots. Plus I would bore whoever I was with to death with stories about my child, because what else is there to talk about?
Motherhood can feel very isolating. It feels isolating at 3am when you're up feeding your newborn, it feels isolating at lunch time when your toddler doesn't want to leave the house. I bet it still feels isolating mid morning on your way home from the school run, and at 10pm when you're waiting for your teenager to get back home from a friend's. Motherhood never stops. It consumes you, becomes a part of you and takes over you in such a way that you sometimes feel swallowed by it. You look at the lives of your other friends and it almost seems like a "here's what you could've had!" moment. But who knows who's looking at your life that way?
It's so easy to take moments for granted; little moments that feel like nothing, but will mean the world to you one day. Zoo trips and park runs, baking and painting, mess making and cleaning it all up again. Shopping trips, soft play trips, early mornings and late bedtimes. The laughter and giggles, the tears and the stress, all these moments become the sweetest memories and I'd take any of that over a drunken night out. Yes, in a lot of ways my life is nowhere near as exciting now as it used to be. In fact, I'm not sure old me would even recognise the person I am now, but that's ok. I have come a long way since those days and actually I've achieved more now than I ever thought was possible back then. My life has changed because my priorities have shifted – from my own needs to those of the little person I'm trying to raise. And that is all the fun and excitement I need. That alone is far more fulfilling and rewarding than anything I've done previously. That alone pushes me to do better and try harder every single day, because whilst raising my child I've also been improving myself.
My friendship group has changed significantly over the past three years. I don't have much in common with many of my old friends, even though I love them dearly, and my best friends now are the ones who know what entertaining a toddler on two hours sleep feels like. We might not see each other often because we all have our own commitments to juggle, but they are there and they can sympathise in a way others can't. They are the ones who understand when you cancel last minute because you just can't face leaving the house, and they are the ones who show up at your door with biscuits because you don't have the energy to cook real food. They are the ones who hold you up when you feel like you might fall and the ones who remind you to keep going when you feel like you can't. They are your village, and even when you're feeling at your most isolated, even when you're feeling so alone – they'll remind you that you're not. When you become a mother you enter a club. You get a life time membership, and you will never be alone again (not just because of the baby now stuck to you).
Photography by Mr. Adam Robertson