Recently we were very kindly invited down to Mill Farm Eco Barn in Winterton-on-Sea, Norfolk. If you read my blog you'll already know that I adore the Norfolk coast, and one of our favourite winter days out is heading out to the beach so we were very excited to enjoy a little midweek family break. Scroll down for more of my thoughts on our stay at Mill Farm Eco Barn, and check out the little video from our stay below.
Mill Farm Eco Barn
We arrived at the barn a little later than the scheduled check in and Emma had left the barn lights on for us. We were welcomed with freshly home baked bread, some Mill Farm apple juice and some delicious (and dairy free) lemon meringue cupcakes. Emma also left us some locally made jams and chutneys, and some carrots for Dilan to give to the horses who live in the field opposite.
Mill Farm Eco Barn is a really stunning space. The downstairs has an open plan layout with a large fully equipped kitchen, breakfast bar with stools, dining table, living area with sofas, TV & DVD player, a lovely fireplace with guard, and a small children's table with two chairs. There are also shelves filled with books for adults and children, DVDs, and plenty of toys for children most suited for under 5s.
The accommodation sleeps 8 plus infants. There is a large double bedroom with en-suite off of the living area, and also a twin bedroom downstairs and a toilet and wet room. Upstairs there are two more large double bedrooms, one with a gorgeous balcony, and another bathroom with separate shower and bath. Two of the double rooms also have large, sturdy cots in the rooms for little ones which is just the start of the amazing family friendly touches at Mill Farm Eco Barn.
There is also a utility area with washing machine, plenty of coat hooks and space to leave your muddy wellies. Outside there is a courtyard garden, and a BBQ is available for use in the summer. The barn also has free WiFi for guests. Opposite Mill Farm Eco Barn is a PYO vegetable allotment and two lovely horses living in the field.
Family Friendly Touches
As a parent, finding accommodation that is family friendly is really important. Often I'll find myself packing toys, books, DVDs, potties, high chairs, plastic cups and plates, plus baby carriers, push chairs and more just to make sure we have everything we could possibly need.
Mill Farm Eco Barn is family run, and because of that they know exactly what you need for a relaxing family getaway. Inside the barn you'll find plastic cutlery, plates, bowls and cups, plus toys, books and DVDs. Inside the wardrobe of the twin room there are high chairs, toddler toilet seat and potty, baby bath, an extra travel cot and more. A stair gate is fitted to the stairs and there is a robust guard around the fire so the space is safe for young children, and the extra equipment definitely makes for a more relaxing stay.
We are a co-sleeping family, and if you are too (by choice or otherwise) then rest assured that the size of the beds at Mill Farm Eco Barn are perfect for any little night time bed invaders. It's actually convinced me that we need to get a bigger bed at home!
The Local Area – Winterton-on-Sea
Winterton is somewhere we have visited before and really love. There is a large sandy beach to explore and play on, as well as an excellent local park. The village has a post office and shop which both sell a variety of groceries, an excellent fish and chip shop and a lovely pub.
Nearby to Winterton is Horsey, which is the best place to spot the Norfolk seals if you're visiting between October and February.
We were a little unlucky with the weather during our visit, but we did manage a quick walk to the beach (takes about 10 minutes from Mill Farm Eco Barn) before the rain came down and we got soaked. Luckily we were able to warm up back at the barn with a lovely crackling fire, and enjoy some of the games like Twister and Jenga. Dil also really enjoyed feeding the ponies their carrots.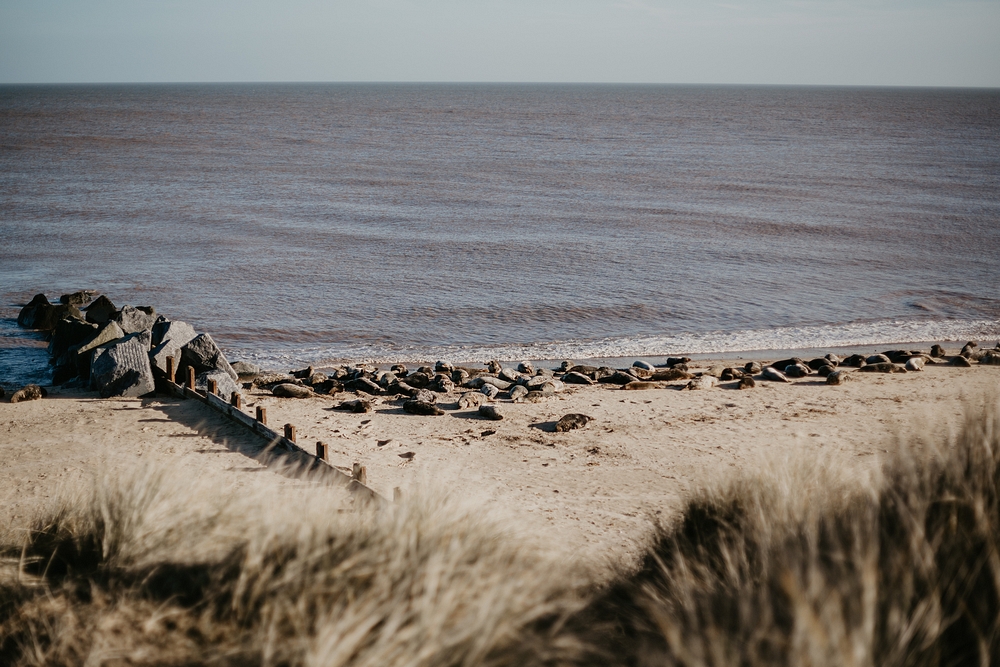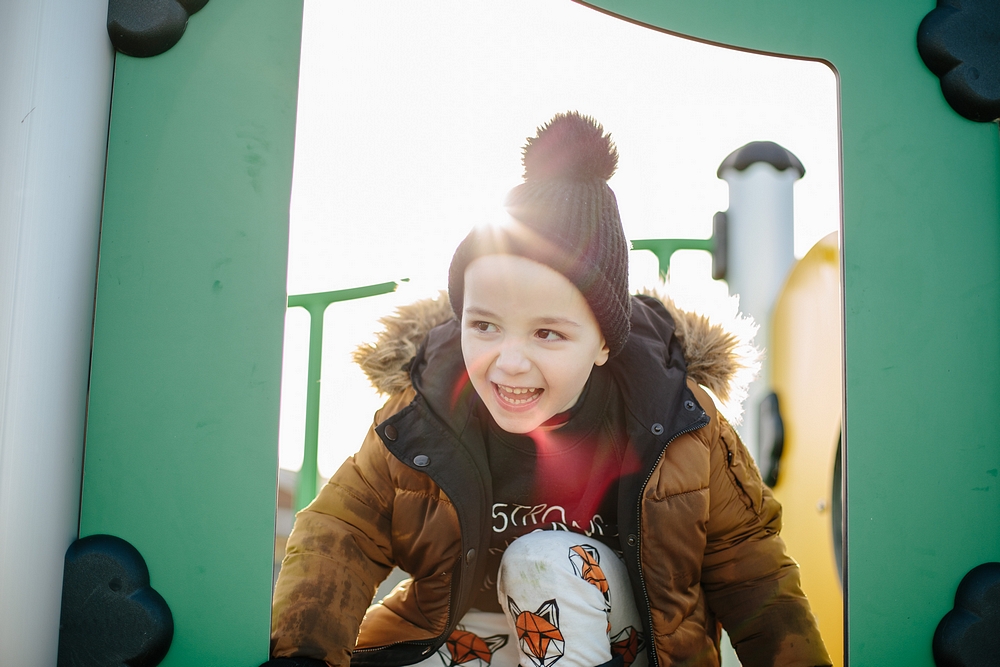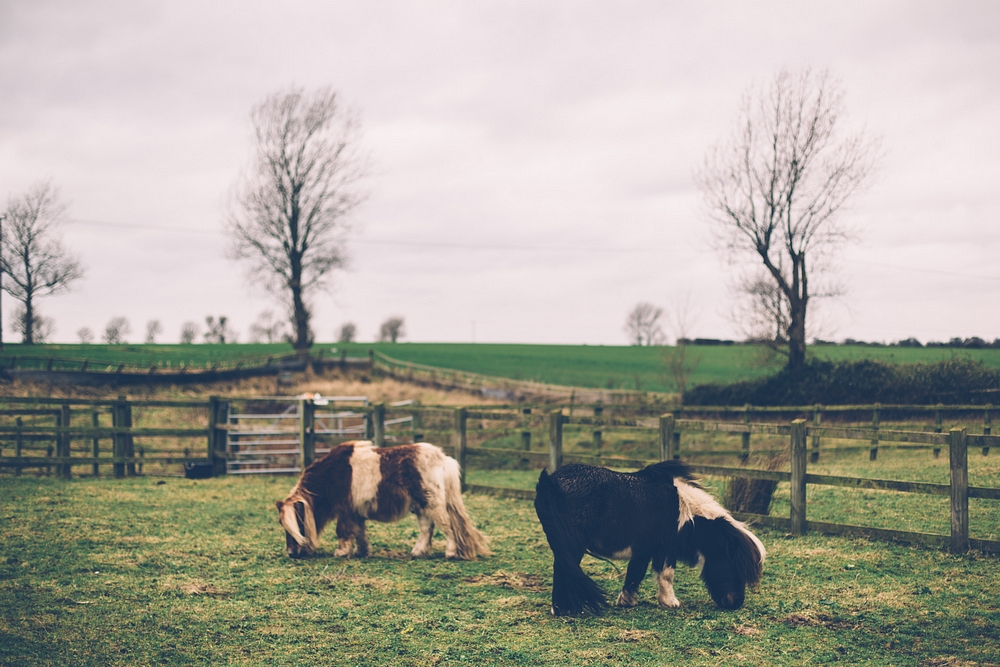 Food Allergies & Eating Out
I know many of my readers are dealing with food allergies in their family, and I would always recommend self catering options in those situations so that you have full control of what you eat. Our stay at Mill Farm Eco Barn was amazing from a food allergy perspective. Without me even having to ask, Emma contacted me to let me know she would order a dairy and soya free cake for our arrival. She also went to the extra effort of confirming again with the cake baker that evening to give me some peace of mind. That type of kindness honestly brings tears to my eyes, how incredible to arrive to some delicious treats that we could all enjoy. There was also freshly baked bread, and again Emma confirmed with me personally exactly what was in it so I didn't need to worry.
The kitchen was really really well equipped, so if you plan on cooking your own meals you won't need to bring anything but food. There were drawers full of utensils, plastic bowls, glass dishes, sauce pans and more, plus the cupboard is also stocked with some basic herbs and spices, salt and pepper and flour and there is sugar, tea and coffee.
Eating out was also really, really easy for us during our stay. On our first night we arrived late, so decided to order a takeaway. There was actually already a Chinese food menu on the bookcase in the barn, which had allergens marked for each dish – hurray! If you aren't keen on Chinese there are several other takeaways on Just Eat who delivery to the barn and you can give them a call to discuss allergies before ordering.
On our second night we decided to try the local pub, the Fishermans Return. I was very very excited to find vegan options on their main menu (always a good sign that there will be dairy free options), and Dil was able to get his first choice from the kid's menu. They also had a vegan lemon sorbet for dessert, so that was pretty perfect for us.
We didn't eat at the fish and chip shop during this visit, but we have had dinner from there previously with no issues so I'm absolutely sure you'd find it very easy to stay in Winterton and be dairy free.
Our Stay
We honestly had an incredible time at Mill Farm Eco Barn. It was so nice to be in a beautiful environment, to relax and slow down, and to really enjoy some quality family time together. I can't think of a better way to enjoy a rainy afternoon than to be near a warm fire drying off after a walk to the beach, playing Jenga with the ones you love. We also chose to announce our little news whilst at the barn, which made it a bit more special and exciting.
Truthfully I am fairly hard to impress, but I really can't think of anything negative to say about Mill Farm Eco Barn. We had a really brilliant time, and both Dilan and I are already desperate to go back. While we were there I was already sending the link to family and friends, telling them they absolutely had to book a stay. The dream for me would be to spend an incredible Christmas here with our family, breathing in the sea air and warming up by the fire afterwards.
Emma and her family were amazing hosts and made sure that we had everything we needed for our stay. She even drew me a map to the park because I had mentioned that I'd previously found it very hard to find. I would recommend Mill Farm Eco Barn to anyone. If you like the sound of this but are looking for something a little smaller there is also the option of The Hay Barn (sleeps 2 plus cot) or The Mill Farm Cottage (sleeps 6). For more info head to Mill Farm Eco Barn, and check out their Instagram and Facebook page too.