After what feels like a very rough winter I'm trying to focus on self care a little more. Don't get me wrong – sometimes over the past month or so self care has simply been getting out of bed. It's been eating – anything, or at best sitting down for a rest. But I'd like to start finding time for something that fills my cup a little more. Reading a book just for me, taking time to enjoy a hot bath or looking after myself with some nice skincare. Savouring the sea air and listening to the coastal waves, or an afternoon of wandering around the shops, buying pretty flowers and reading a magazine whilst savouring a hot drink. Taking time, pausing, anything that helps me feel refreshed, recharged and looked after.
Each month I'm going to share some of my current favourite things, which will be a total mixture of all the lovely stuff filling my cup. It will be a round up of the things I've been using, buying, reading, visiting or even eating over the past few weeks, and may hopefully introduce you to a few new things to try for yourself. It will be my little space to share some little things that are bringing me joy, because we all definitely need some more of that.
March Favourites – Skincare

This month was full of new skincare for me! I've been into skincare for a while now, researching different products and active ingredients and developing a nice routine. I usually have pretty clear, combination skin but since the miscarriage my skin has completely changed, I assume thanks to the crazy hormones that go along with that. I now have the worst acne I've ever had in my entire life so I've had to rethink my whole routine. Here are some of the products I've been loving for a while now, and some new ones I've introduced this month in order to try and get my skin back to the way it was.
The Ordinary
If you've looked into skincare lately you will have undoubtedly heard of The Ordinary. Beautiful packaging, strong active ingredients, vegan, cruelty free and all at an incredibly affordable price. The Ordinary is taking a new approach to skincare and a lot of people (myself included) are hooked! Don't be put off by the scientific sounding names, once you've done a little reading you'll soon understand what it all means.
I'm definitely not a skincare or TO expert, but I have been scouring blogs, watching YouTube videos, and stalking The Ordinary & Deciem Chat Room to find out as much as I could. If people are interested I'll do a whole post about my skincare routine, but for now here are some of my current favourites from The Ordinary.
Azeliac Acid, Salicylic Acid and Niacinamide
These products are new to my routine, and seem to most commonly be recommended for acne prone skin. The Azeliac brightens skin, improves texture and reduces blemishes, and the Niacinamide works to reduce the appearance of skin blemishes and congestion. The Saliylic is a BHA (beta hydroxy acid – stay with me!) meaning it exfoliates the skin and I use this as a spot treatment before applying my other actives. For more info on acids check out the queen of skincare Caroline Hirons.
Retinoil/Retinoid
The other thing you will definitely have heard of if you are at all interested in skincare is Retinol or Retinoid – one of the only active ingredients proven to increase the production of collagen and actually reduce the appearance of wrinkles. Retinol is a derivative of Vitamin A and comes in many forms and strengths. It can also be brilliant for acne and is often prescribed by GPs for this use. For more on Retinols take a look at Victoria Health, Caroline Hiron's Retinol Cheat Sheet and Nadine Baggott's YouTube channel.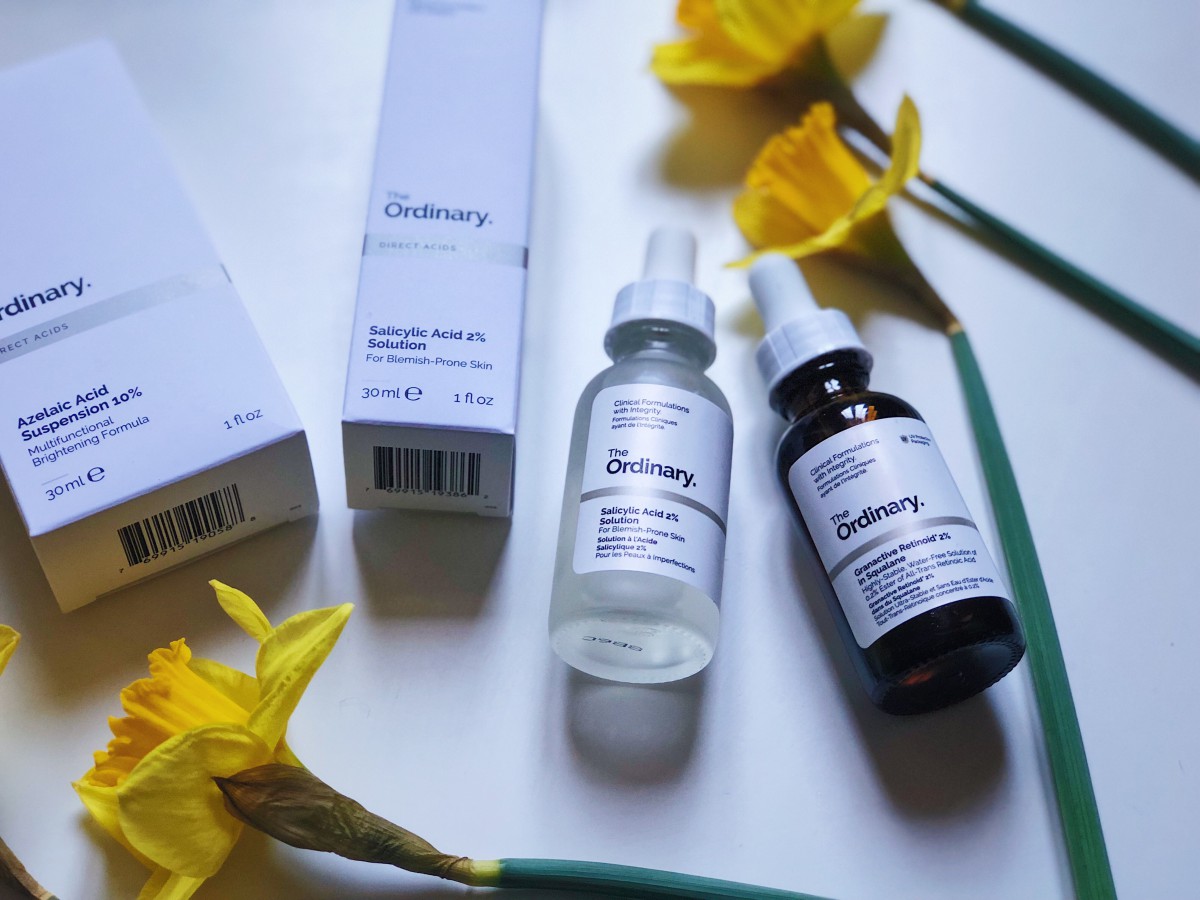 As I'm just starting out with Retinols/Retinoids, I've opted for the lowest strength and lowest irritation formula that The Ordinary offers which is the Granactive Retinoid 2% in Squalane. As Retinol can irritate the skin it is recommended to start with lower strengths and ease it in to your routine slowly. I've been using this Retinoid about every three days, and the results are striking. I'm really, really pleased with the it so far.
Angela Langford Thirsty Work
If you find The Ordinary products a little too confusing, or you're put off by the thought of layering and combining multiple products then there are plenty out there that contain the same great active ingredients and are a little easier to use.
This month I was sent Thirsty Work* which is described as a vegan and cruelty free "ultra hydrating anti ageing moisturiser" and knowing now what I know about active ingredients I can see that this stuff would really work. It contains plenty of Rosehip oil, Squalane and Hyaluronic Acid which are really great hydrators, plus Ascorbyl Phosphate (a derivative of Vitamin C) which brightens skin and reduces signs of ageing. It also contains Retinyl Palmitate which is of course a type of Retinol! Retinyl Palmitate is the lowest dose of Retinol available, so really great if you're just starting out with these types of products as it won't cause you any irritation at all.
This moisturiser is really a lovely product, and I was genuinely impressed by the key actives it contains. It feels silky and smooth on your skin, and really will do exactly what it says on the box thanks to those well blended ingredients. The only thing I didn't like personally was it's heavy fragrance, but I'm sure this will really appeal to a lot of people too. If you'd like to sample Thirsty Work for free then head over to the Angela Langford site and register your details to receive a free skincare sample pack, that will be specifically tailored to your own skin's needs.
Lacura by Aldi
Another now well known name within the skincare industry is Lacura, which very surprisingly is Aldi's own brand of skincare products. They are now offering more and more great dupes for higher end products and everyone is making a dash to the middle aisle of their local Aldi to grab them all. I got a few things whilst doing the food shop a few weeks ago, and so far I'm really impressed.
I picked up the night cream version of the Lacura Caviar Illumination Cream and I'm definitely a fan. My skin tends to be fairly dehydrated so this rich cream is perfect, and feels really nourishing and surprisingly luxurious. I've seen several beauty bloggers comparing it to La Prairie Skin Caviar Luxe Cream, which will set you back over £300, so for £7 the Aldi one is definitely worth a go!
I also picked up their Glycolic cleansing pads for £2.49 (a great dupe for the Nip + Fab pads which are £12.95) and the Lacura Charcoal Mud Mask – £5.99 which is apparently a perfect budget friendly alternative to the Glamglow mud mask. I haven't tried either of these yet so they may well feature in next months favourites!
More Hydrating Products
Now that I'm using more actives I've really had to focus a lot on hydrating my skin, to keep it healthy and creating a good base to be able to properly absorb the actives I'm using. Two of my favourite products, and ones that I've been using for several months now are the B. Hydrated Hyaluronic Acid Spritz and Sukin Organic Rose Hip Oil*.
I absolutely love how rich and hydrating this oil is, I really feel like it's absorbed by my skin which is instantly softer and more plump. I usually use it AM and PM, but that may be too much for those with more oily skin. Rose Hip Oil has quite a unique natural scent, but I don't think it's particularly off putting. You really only need a few drops at a time so it lasts well – I was sent this bottle a few months ago by Sukin and there's about half a bottle left despite me using it twice a day most days.
Another bargain for you, and a firm favourite here – I've got all the empties to prove it! As mentioned above Hyaluronic Acid is an excellent hydrator, and I love it in this spray bottle form. I use this spray after my cleanser and acid toner, and I also layer it between actives and serums for extra hydration. It's also great to spray over make up throughout the day whenever you need a refreshing lift. I get through a lot of this, so I always stock up when it's on offer like it is now – £3.95 instead of £7.99, only from Superdrug.
Olverum Bath Oil
Technically still skincare but for your body instead of your face this time. I was sent the Olverum Bath Oil* about a month ago and it's been making my bath (and my body) smell amazing ever since. You've probably noticed before that I'm completed obsessed with all thing eucalyptus so the gorgeous scent of Olverum is perfect for me.
It's filled with beautiful natural essential oils creating the perfect atmosphere for a relaxing, stress relieving soak. As it's all natural it's safe for the whole family so it's also perfect for something a little more realistic, like 5 minutes of bliss before a small child and 50 toys join you. It smells so delicious you'll feel like you're at the spa, until the same small child bonks you on the head. As well as smelling incredible the oils are also perfect for soothing sore muscles, moisturising dry skin and even clearing the sinuses and offering some decongestant relief. The oil is also highly concentrated, so you only need a small amount per bath and one bottle will last you a long time.
The 125ml bottle is currently £29 and should be enough for about 25 baths, and is available from Liberty, Conran, Harvey Nichols and Fenwick as well as direct from their website.
So there we go, a list of my favourite products from March – sorry they are all so skincare based but healing my skin after everything we've been through lately has been high on my agenda this month. Check back next month to see what I'm loving throughout April!
*These products were sent to me for review, all others were purchased independently. All opinions are my own as always. Post may contain affiliate links*