It's finally September – the best month of the year because it's my birthday month! I've got a few things on my wish list that I'm hoping might become mine this year, mostly things from some of my favourite independent brands and Instagram makers, plus a few things that have caught my eye on the high street. I asked on Instagram earlier this week if people would like me to share my top picks and it seems that many of you would! So here is my Mama gift guide, and for those closer to me my hint-hint birthday wish list.
*None of this is advertorial, I have not been paid to promote any of the following, and I haven't been sent any of it in exchange for promotion. They are all things I genuinely love and would love to receive*
Mama Gift Guide
House Plants
May as well start with the most obvious choice, my house plant obsession is getting out of hand but at this point it's a bit can't stop, won't stop. Now that I've figured out how to keep them alive I can't fight the desire to fill the house with greenery, and I'm using my birthday as an excuse to ask for plants I can't actually afford to buy.
Top of my list currently are –
A Fiddle Leaf Fig Plant
Large Rubber Plant
Birds of Paradise Plant
A great gift for any plant lovers in your life are National Plant Gift Vouchers which can be spent in over 2000 garden centres in the UK. Means someone can put it towards a new plant, pots, compost or anything else they may need for their baby plants!
Plant Pots
To go with my new plants I'll of course be needing some new pots! Mostly I stick to traditional terracotta which I love, and which are good for the plants, but thanks to Instagram I'm now pretty obsessed with midcentury plant pots. Here's a few favourites I've found, and a few other cute choices.
Clockwise from top left: Ceramic Turtle Planter from West Elm, Bronze Plant Pot on Wooden Stand from NOTHS, Timothy Goodman Planter, Mid-Century Turned Leg Planter, Inaya Metal & Brass Planter and Stand, Florian Ceramic Pot from La Redoute
Macrame
If house plants are my first love then pretty macrame comes a close second. Fringe and Fray is a local maker who's incredibly talented, and Lyra & Atlas a fellow allergy mama with amazing skill and a heart of gold. Both of them always feature on my wish lists.
L-R: Macrame Wall Hanging from Fringe and Fray, Macrame Pot Holder from Fringe and Fray and Jupiter Ombre Wall hanging from Lyra and Atlas.
Escape Canvas from Southwood Stores
This bag has been on my wish list for YEARS. One day I will own one I'm sure, I'm just not sure how I'll ever pick a colourway! Also from Southwood Stores is my favourite bracelet – the MAMA Bangle, which I got a few years ago and have never taken off.
Clockwise from top left: Escape Canvas Utility Bag in Navy Blue, Beige, Khaki, and Summer Sky. Also comes in Olive and Black and I love them all!!
Whoopsie Daisie Mama Jumper
Whoopsie Daisie is a little brand I recently discovered on Instagram, and I instantly saved loads of her things. I'm a sucker for some mama merch and anything leopard print (who isn't), so I really love the AW18 Mama Sweater (I need allll the colours), the Mama Leopard Print T-shirt and the Mama Clutch.
I know this is a mama gift guide but I also need to mention the Wild Kid's T-shirts which I love, and the Skeleton Heart Tee that I've already ordered for Dil for Halloween!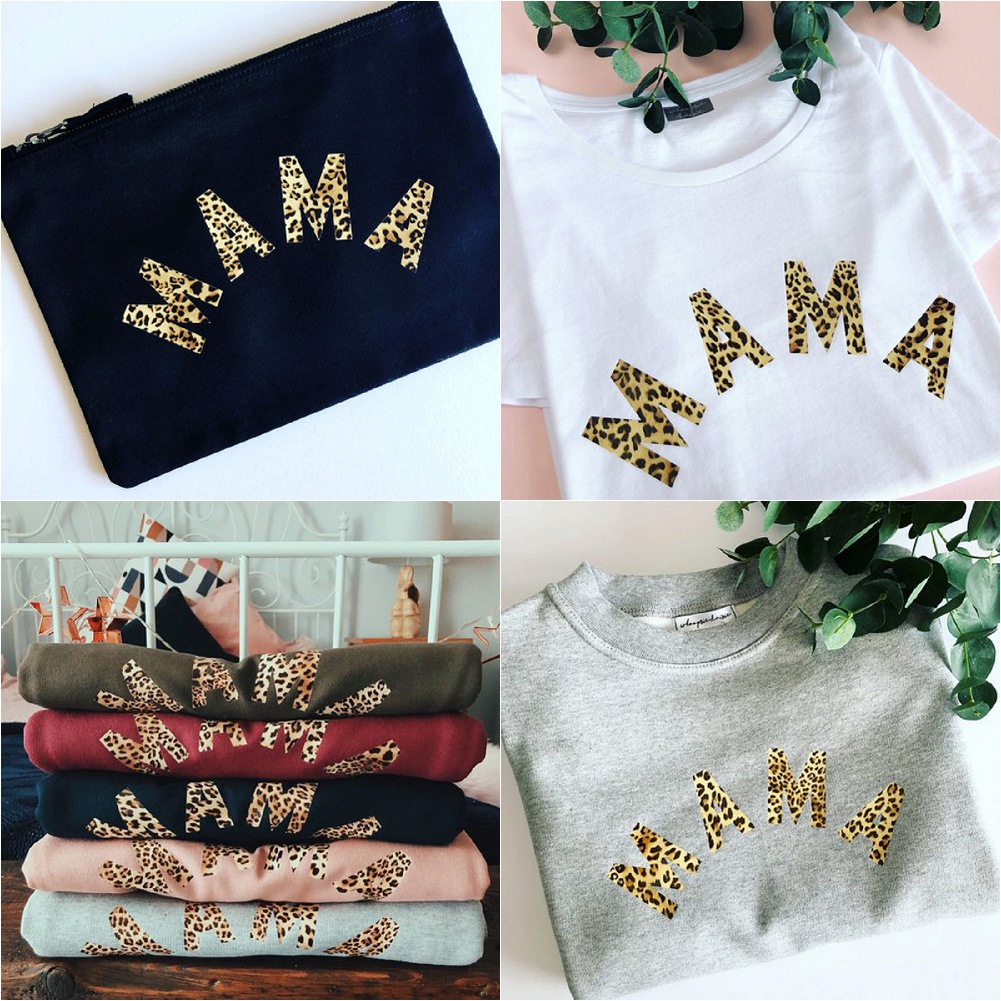 Bee and Mae Tees
I've been a fan of American brand Bee and Mae for a long time, and I'd be happy with any of the tees she sells! My favourites are: Mothers are Magic (torn between Rust or Maroon – also love the tote bag version), The Motherhood Club and Pretty Good Mother. Definitely want them all!
This Lakshmi Artwork
If you follow me on Instagram then you'll already know that my home already features quite a few pieces of Laxmi's beautiful work. I love her style, and I love the way her art celebrates the female form. She's the only person I've ever sent an Instagram nude too, and she helped me feel so much better about a body I was really starting to hate. Below are a few of the pieces I'd love to add to the house, but truly anything from her website would be a beautiful gift for someone's birthday or Christmas. I can't remember the last time there wasn't at least one beautiful This Lakshmi piece on my wish list.
Left row from top to bottom: Blue Study 12, Blue Study 3 and Blue Study 14.
I also adore Serenity (currently half price!) and Mother Blue which we have in the play room, and the Your Dreams print which is in Dil's room.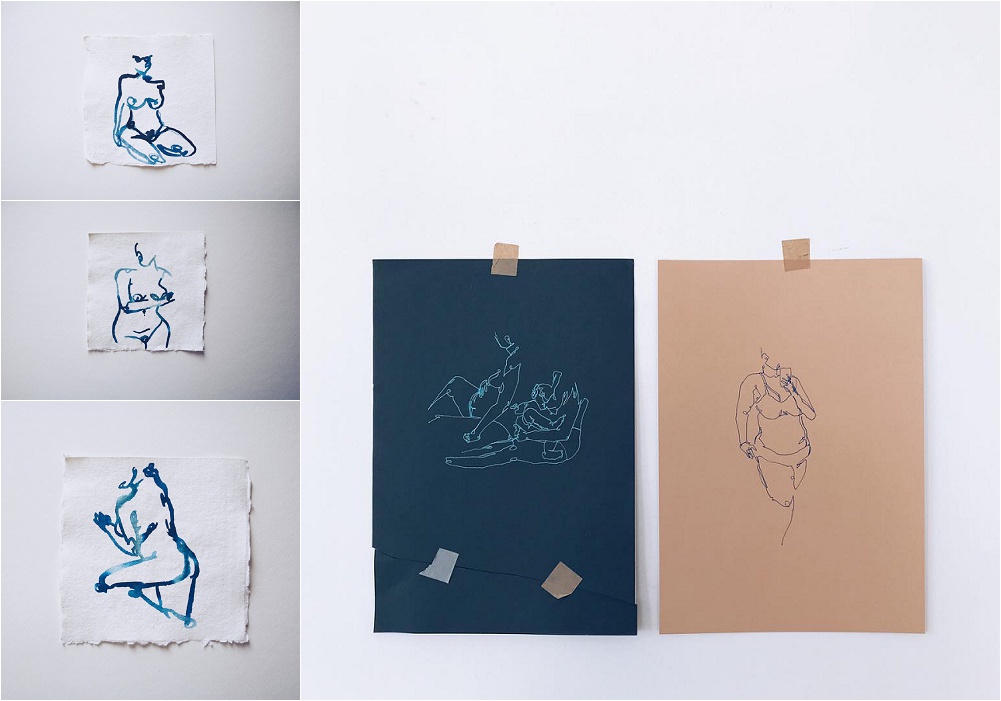 New Earrings
You might've seen that I recently had my ears and helix pierced – can you believe I didn't even have my lobes done?! So now I'm obsessed with finding gorgeous earrings to wear once mine have healed. A few favourites so far from some of my favourite brands are:
Clockwise from top left: Etta Twist Hoop Earrings in Mini from Rock n Rose (sooo much gorgeous stuff from these girls!), Resin Large Oval Earrings from A Weathered Penny, Tortoise Shell Resin Earrings from Muchalove (not currently online, DM her on instagram to order!) and Pablo Earrings in Fawn from A Weathered Penny.
I also adore the A Mini Penny kids range from A Weathered Penny, and I adore the stylish and simple necklaces and rings she stocks. Rock N Rose have some really beautiful things too, well worth having a browse of their shop or of their Insta-perfect Instagram feed.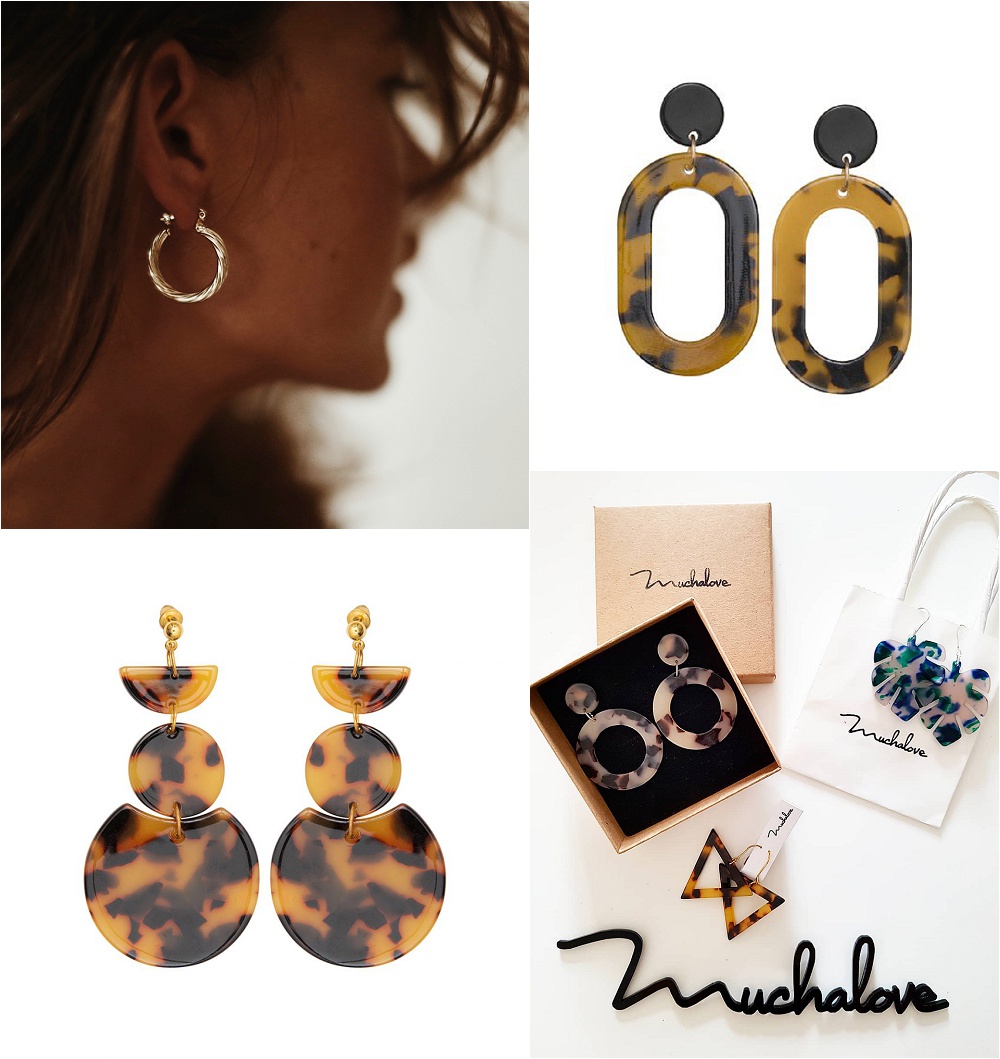 The Pelican and The Rose
I love when Dommy pops up on my Instagram feed, and I basically had to include her brand here because I adore this photo of her dad wearing one of her tees and I wanted to repost it! She's doing some great things like supporting The Red Box Project with her period pouch, and her messages really stand out to me in a sea of all the mama merch available now. The Wet Wipe pouch speaks to me on a higher level, and the new grey sweat looks so comfy for the colder months. One of each please!
Top: There is Good Tee
Bottom, clockwise from top left: Wet Wipe Pouch, More Love Tee, Sometimes the Hero Sweater
Violet & Percy Homeware
Another long term favourite of mine is Violet & Percy, an online lifestyle shop run by the totally gorgeous Flora. It's a one stop shop for pretty homeware, cool prints and cool gifts.
L-R: Let's Go To The Beach A3 Print (a must for anyone who strongly believes in the benefit of Vitamin Sea like I do), Come Together print (comes in a t-shirt too which I would also love!), and a Violet and Percy candle in Lisbon (I can't ever say no to a pretty candle. Love the branding and this smell sounds divine). Also Adam if you're ordering, grab a few of the turtle bags too if you wouldn't mind…

More Candles
On the subject of not being able to resist a pretty candle, here's a few more I would love to own.
Top: Santorini candle from Ethel & Co.
Bottom: Blomus candles in Fig, Sea Salt & Sage and Sandalwood – available from A Weathered Penny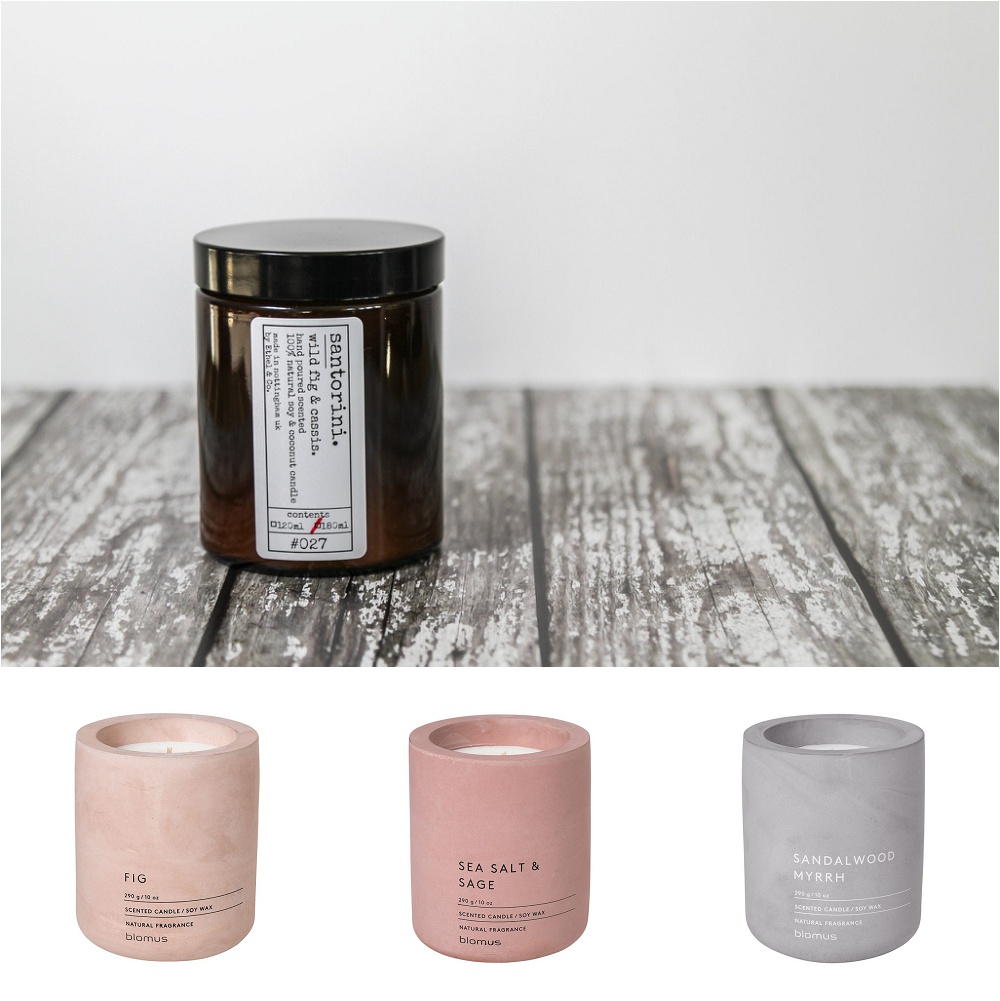 So there you go! Of course also on my list is the luxury trip around Europe, brand new car, winning lottery ticket etc, but we can't have everything we want can we?! I'm really just hoping for a couple of these lovely things and another wonderful year with my friends & family. Hopefully this might've given you a few ideas for yourself or for a loved one, let me know if you see anything you love!