It's Day 11 of our Random Acts of Kindness Advent Calendar and we've been having so much fun with the activities every day. I've been posting daily on our Instagram with what we've been getting up to and the details of our kindness activities, but I wanted to post weekly updates here to hopefully give people some more details and more ideas for each of the daily tasks. If you're following along or just fancy giving a couple of the activities a go then hopefully this will inspire you and get you started. *New* check out week 2 and week 3 kindness updates now!
Day 1
So we started our advent calendar with something really fun to spread a lot of Christmas cheer. We went out and bought 100 candy canes and "candy cane bombed" a local car park. This involved leaving candy canes on the windscreens of all the cars in the car park that morning. Dilan and I talked about how leaving these surprise sweets out would make people smile when they found them, and how kind that was to do. We were lucky enough to be included in a local news story about the increase in people being kind over the festive period, you can watch the clip over on our Facebook page.
Day 2
Since we just had Dil's birthday and Christmas is around the corner we were in desperate need of a toy sort out. We went through lots of old toys and collected a bag full to donate to a local charity shop. We talked lots about how kind it is to pass old toys on to children who might not have many, and how charity shops sell things to raise more money for their worthwhile causes.
Day 3 & 4
Pretty self explanatory! We often put change in any charity pots we find, and on Sunday we put up some Christmas lights to make people who pass our house smile. There's lots of houses nearby who really go all out with lights and decorations, Dilan gets so excited when we go passed so it's nice to get into the spirit too.
Day 5
Food banks are such an incredible and essential resource for so many people. While we were there I felt really overwhelmed by the fact that at any point any of us could end up in need of their help and generosity. We checked with our local bank before going to find out what they were most in need of and discovered they needed –
500g bags of sugar
400g tinned fruit
400g tinned tomatoes
500g packets of dried pasta
pasta sauce
tinned rice pudding
long life fruit juice
chocolate and other snacks
Other ideas for things to donate include long life milk, toothbrushes, instant coffee, toothpaste and toothbrushes, instant mash, cereal bars and toilet rolls. If you aren't aware of where you local food bank is then check on google, or look out for drop off points at your local supermarkets. Donating food or supplies to people who are really in need of them is another really simple act of kindness that could make a huge difference. We will definitely visit the food bank more often with donations.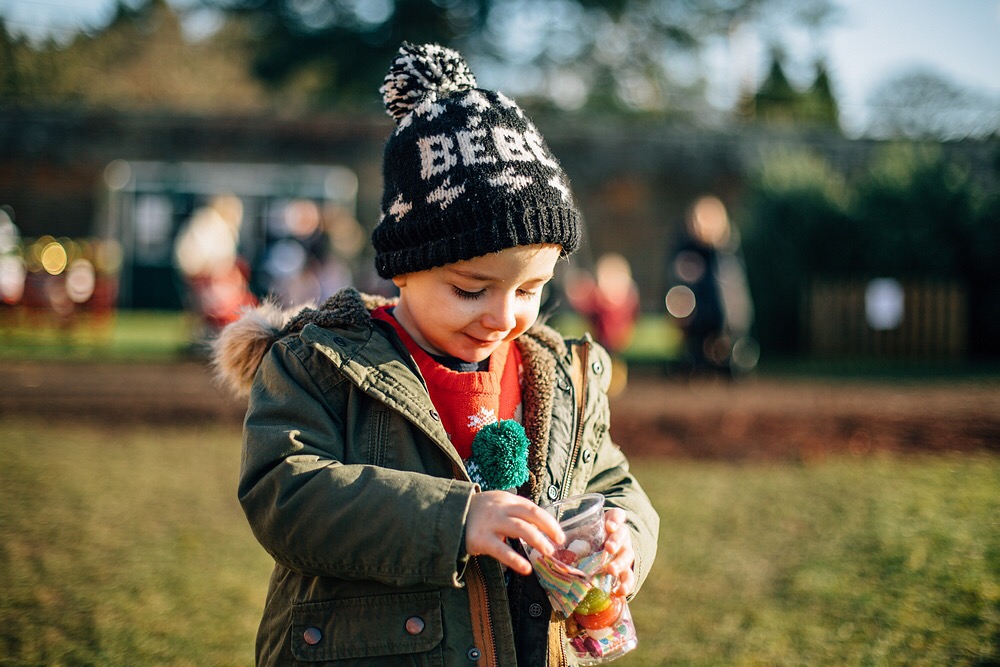 Day 6
There's something really fun about writing out Christmas cards to friends and loved ones, even if you cheat a bit with shop bought cards like we did this year. Dil also had lots of fun sticking on stamps and posting them in the post box, hopefully there will be a few smiles over the next few days as people receive his cards and messages of kindness (/scribbles!).
Day 7
A suspended coffee is basically a coffee that you've prepayed for, and left for someone who might be in need of a hot drink to come collect at a later date. It's a really lovely kind thing to do, and now the weather is so cold there are so many people who will appreciate a hot drink. Lots of independent coffee shops will do this as well as some Starbucks and other chains. If you're local to Norwich you can visit the KindaKafe on Castle Meadow where you can prepay for teas and cofffes as well as hot meals for people to come claim when they need to.
Day 8
Teaching children why it's bad to litter is a really easy way to make sure they look after the local community environment as they get older. Dil will often point at litter in the street as ask why it's there and who put it there, and now understands that it's usually silly or lazy people who litter. As long as it's safe to do so (always be careful when picking up rubbish from the ground!) I'll help him pick up the litter and put it in a bin. Picking up a few pieces of rubbish from your neighbourhood or local park will be a great way to start a conversation about litter and hopefully will inspire others around you to do the same. It's much nicer to visit a litter free clean and safe park than a dirty one so this is something kind to do that really benefits everyone.
Day 9
Our December 9th random act of kindness activity was to bake a cake for someone special. We were quite short of time so instead we made a few batches of our 3-Ingredient Peanut Butter Cookies. We sent some to Dilan's Nana who recently went into hospital and some to some family friends. Dil really enjoys baking and it was lovely to see how happy our friends were with the treats.
Day 10
Leaving out food for local wildlife is such a kind thing to do and could be something really simple like sprinkling out some seeds for the birds or taking some stale bread to a pond to feed the local ducks. We decided to make some really pretty bird seed decorations to hang outside. If you don't have any trees in your garden you could hang them from a shed or on your fence, or even put some up in your local park. Hopefully they'll attract some new birds for you and your little one to spot and enjoy.
Day 11
Today's kindness activity is to visit someone who might be lonely. Sometimes we become so busy with day to day life stuff that we forget to make time to visit people we love. It's nice to set aside an afternoon to catch up with people we maybe haven't seen for a while, and it's something that will bring lots of joy for everyone.