If you follow us on social media then you'll know that we are recently back from a gorgeous little break in Rhodes, Greece. I spent so long toying with the idea of going away – the weather was so gorgeous here and the thought of holidaying with allergies is always a daunting one, but the heatwave caused flight prices to fall and I couldn't pass up the opportunity to take Dil abroad.
I didn't really have any preference about where we went, and spent a lot of time just looking for the best deal around Europe. I always use Sky Scanner to find the best flight deals, and then I looked on booking.com for hotels and apartments. The only important things to me were a pool, and some kind of play park nearby for Dil. I looked at a few different Greek Islands because I adore Greece and Filoxenia Hotel Apartments came up while I was searching for accommodation in Rhodes. After checking them out on Trip Advisor I knew it was the perfect place for us. One of the most recent reviews for the apartments was from a lady who's daughter has food intolerances, and talked about how brilliantly Filoxenia had handled it. That plus the brilliant 5 star TA rating had me convinced. After booking I emailed the owner Nicos directly, who reassured me that they were experienced with allergies and it would be fine, which really put me at ease.
If you're looking for more tips on travelling with food allergies then check out my top tips, and I'll be sharing more ways to make it easier soon. To see more photos of our trip, check out my Instagram story highlights.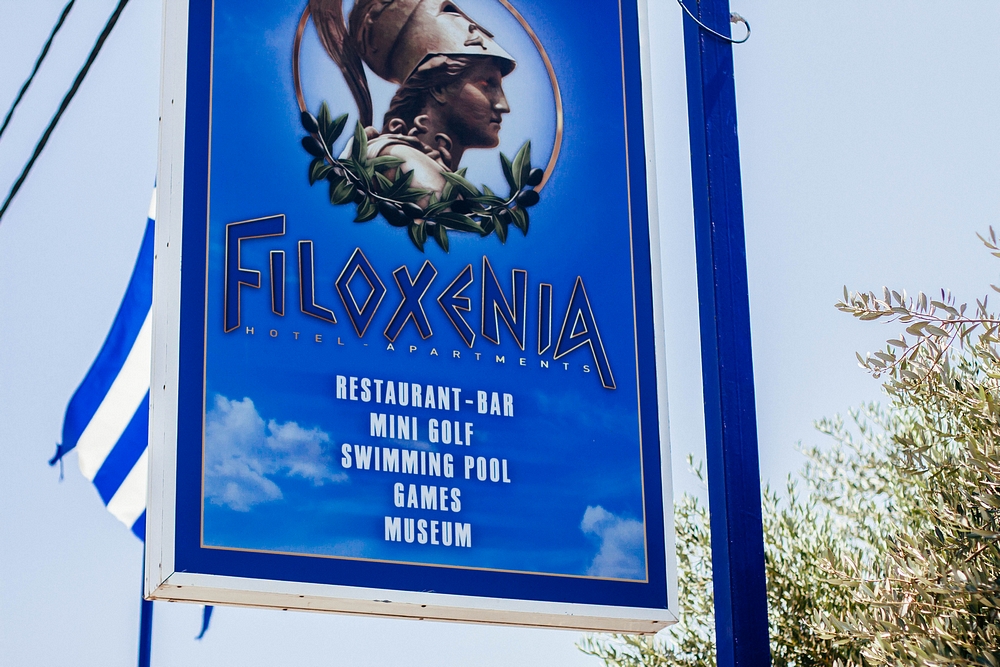 Filoxenia Hotel Apartments
Filoxenia is about 10 minutes from Rhodes airport, which is brilliant when you're travelling with young kids and don't want to face a long transfer after a four hour flight. We arrived into Rhodes at about 10pm and jumped straight into a taxi which took us to our hotel (for 15€). Nicos showed us straight to our room, and the lovely restaurant Herbs and Olives was able to make us something to eat even though it was so late. True to their word the restaurant and kitchen staff were pretty good with Dil's allergies – I'm not sure I would say they were amazing but we got on just fine. More about the food below!
The Rooms at Filoxenia
Our room (number 17) was on the ground floor, facing the hotel's pools. It had french doors rather than a proper front door which was a little bizarre. Because of the positioning of the room and the door, everyone walking to and from the pool or restaurant could see right inside, so we had to keep our curtains closed mostly which was a shame. We had a few near misses while I was fresh out of the shower and Dil was playing with the curtains…! The room itself was very typical of Greek self catering accommodation – a double bed, two bedside tables, dressing table with mirror and a wardrobe with hangers and a safe (extra charge). The kitchenette had two hobs, an under counter fridge with a small freezer box inside, and was well equipped with plates, glasses, cutlery and everything else you'd need. The bathroom was also fine, ours had a shower and the water pressure was really good. We did have to go buy from washing up liquid from the supermarket, and we used shower gel as hand soap. Towels were provided – one large towel and one bath mat each, these were changed daily.
Air con is available for an extra charge, which annoyed me slightly as that was never mentioned to me when I asked about it. It worked really well though and was definitely essential in the 30+ degree August heat. The room cooled down quickly which was great. WiFi (which the hotel offers for free) does NOT reach the rooms which was a bit of a pain for me. The rooms were cleaned every day which was really good.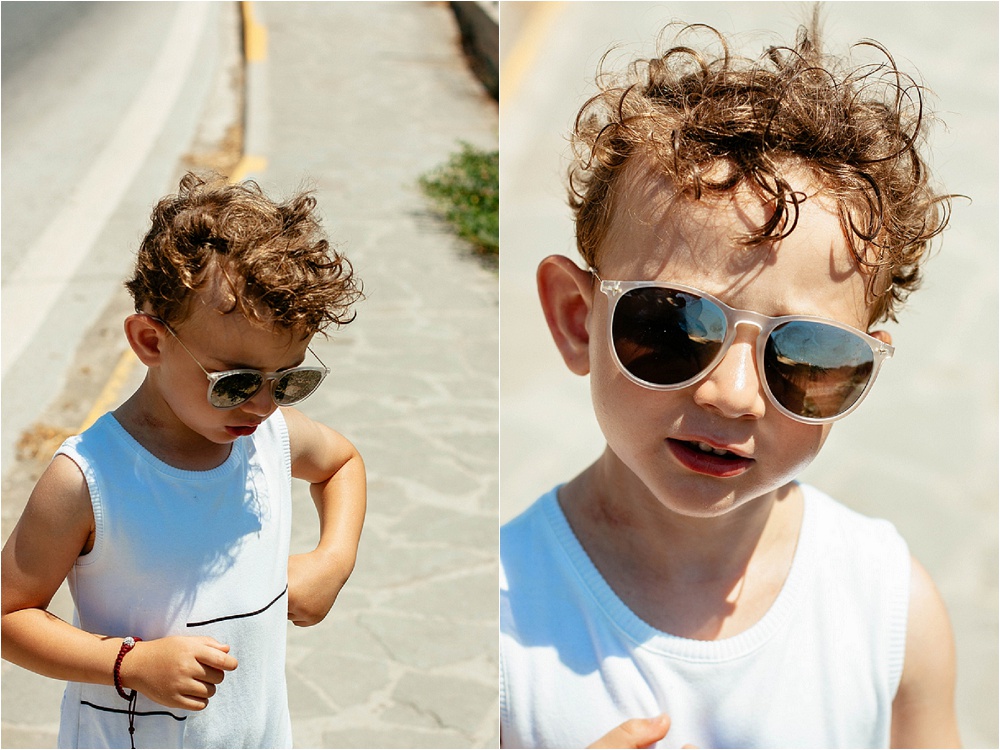 The Facilities at Filoxenia
The facilities at Filoxenia are really what caught my eye in the first place. As well as the rooms and the bar/restaurant there are plenty of things to explore and do during the day. The apartments have two pools – a large kid's pool which had a shallow end suitable for little ones to stand up in but did get much deeper at the other end, and a slightly smaller and deeper adult pool. There was also a little splash pool attached to the kids pool that I think was 0.4m, so perfect for tiny ones to sit and splash in. There were plenty of sunbeds surrounding both pools, although some of them were a little broken and you weren't able to sit them up.
As well as the pool area there was a sweet little play park for kids, right opposite the restaurant which was really handy if Dil wanted to play while we wanted for our food. It had a swing set with 3 swings (1 baby seat and 2 normal seats) and a see saw. There was also giant chess and checkers (or draughts – whichever you call it!) and a large mini golf course (extra charge). The hotel also had a small museum which we didn't visit. There was a pool table in the restaurant, and also a ping pong table which didn't seem to be in use. Filoxenia also had a very full lending library incase you fancy reading a new book, and free WiFi was available in all the hotel areas.
Food at the Filoxenia – Herbs and Olives
The food from Herbs and Olives – the restaurant and bar at Filoxenia was pretty good. The portions were very generous and the waiting staff were so nice and friendly. Nicos and Evangelia (the owners) run different themed nights each week which were great – we tried the Greek night and the Greek BBQ which were both really good with a great atmosphere – highly recommended. We ate at the restaurant a lot, because Dil had made so many friends at the hotel and he enjoyed spending his evening playing with them. For lunch I enjoyed omelettes and their club sandwich, for dinner we tried everything from pasta to more traditional plates like Stifado (a traditional stew – my absolute Greek fav!).
I found it slightly disappointing that the kids menu wasn't particularly varied – I think the options were chicken nuggets, macaroni cheese or fish fingers and chips. I would've liked to see some smaller portions of the other Greek classics, but we often shared a meal any way (as the portions were so big!) so it worked out okay. They were also happy to box up our leftovers so we could take them back to our room so that was good. On our last night Evangelia was happy to make Dil a half portion of pasta with prawns which was nice, I wish they'd been able to be as flexible as that for the whole week. I was also surprised to find there was no hummus or halloumi on the menu, these are Greek classics to me!
From an allergy perspective they were pretty good as I said, there was just a little too much guessing going on for me and I sometimes had to push for them to actually go check. When we did the themed nights Evangelia was great at telling me which bits weren't safe for Dil (most was though), and they would bring things like feta (for the Greek salad) on the side so Dil was able to share which was great. Dil adores olives which Evangelia was more than happy to provide, since the whole hotel is set within an olive grove and they produce lots of their own things. They had a chest full of ice creams, but there were ice lollies for Dil and I also noticed a gluten free Cornetto type thing which is always nice to see. Overall it was good, better and easier than I expected it to be.
Also they had delicious house white wine, 7€ for half a litre so that's a big tick!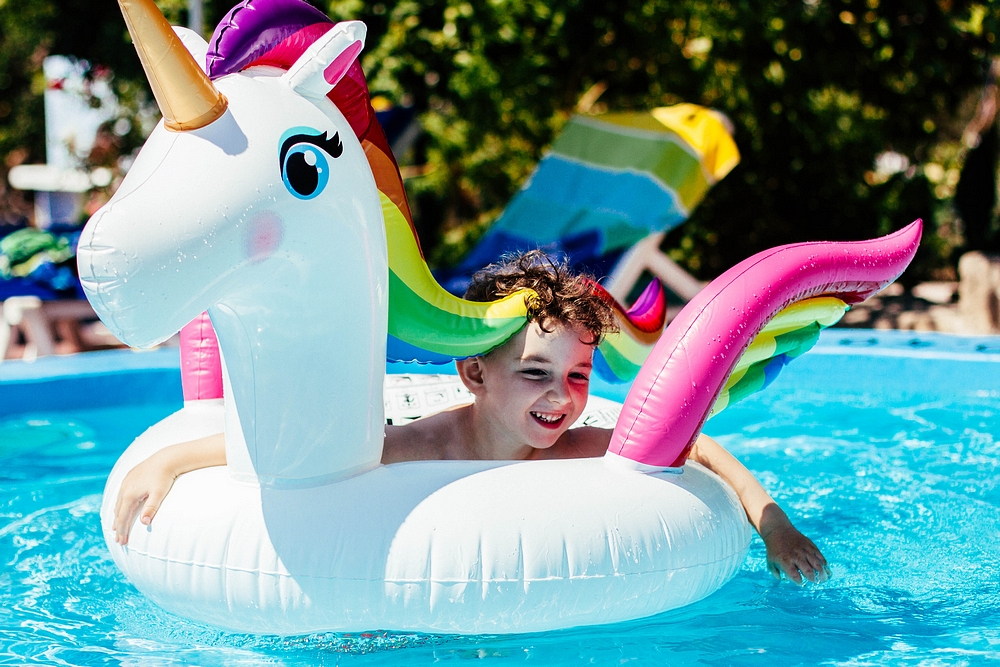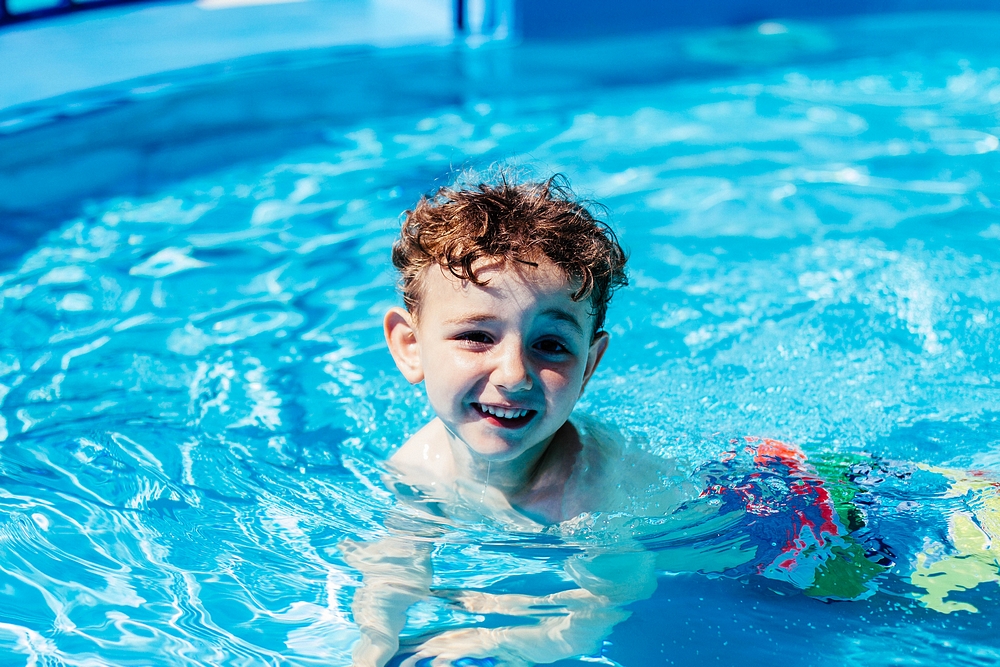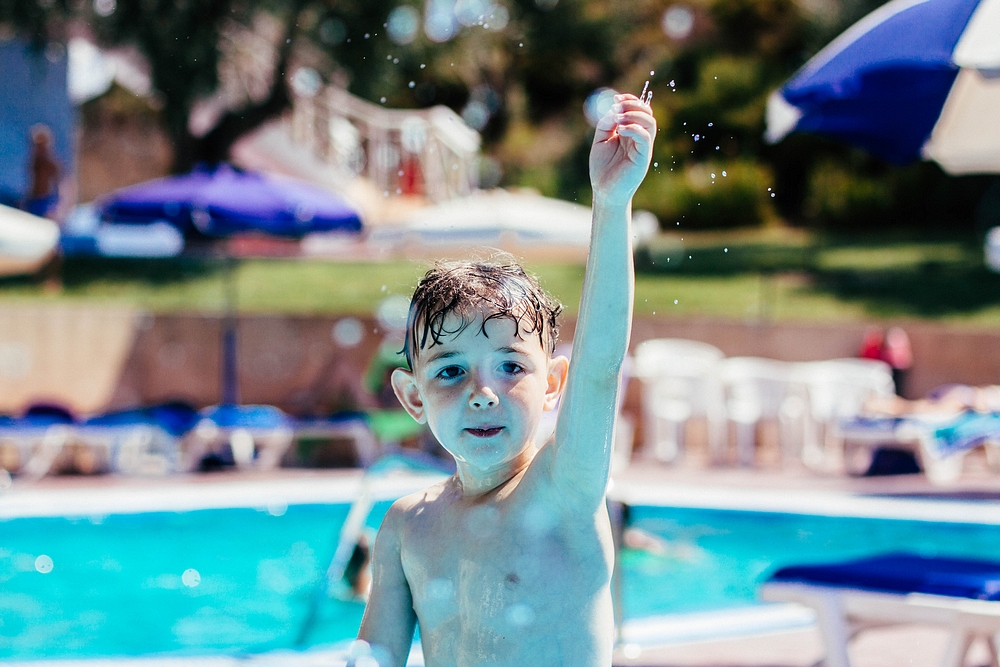 The People at Filoxenia
The best thing about Filoxenia undoubtedly is the people running it. I can't emphasis enough how welcoming and kind they all were, and how important this was to me holidaying alone with a small child. Husband and wife duo Nicos and Evangelia run the hotel with their son and a few other staff, and every single person there was amazingly friendly and warm, including the two family dogs. From our very first night Nicos and Eva learnt Dilan's name (and mine!), and remembered it for our whole week despite there being probably 10-15 other kids also there. At night the children spent hours running round and round, screaming and giggling and none of the staff ever minded at all.
I was genuinely sad to leave Filoxenia, especially after warm hugs from everyone. Nothing was too much trouble – they were very happy to answer my questions, help arrange taxis and point us in the direction of anything we might need. Evangelia also produces some gorgeous looking liqueurs, jams, olives and other things, and gifted us a lovely bottle of home made olive oil as we left.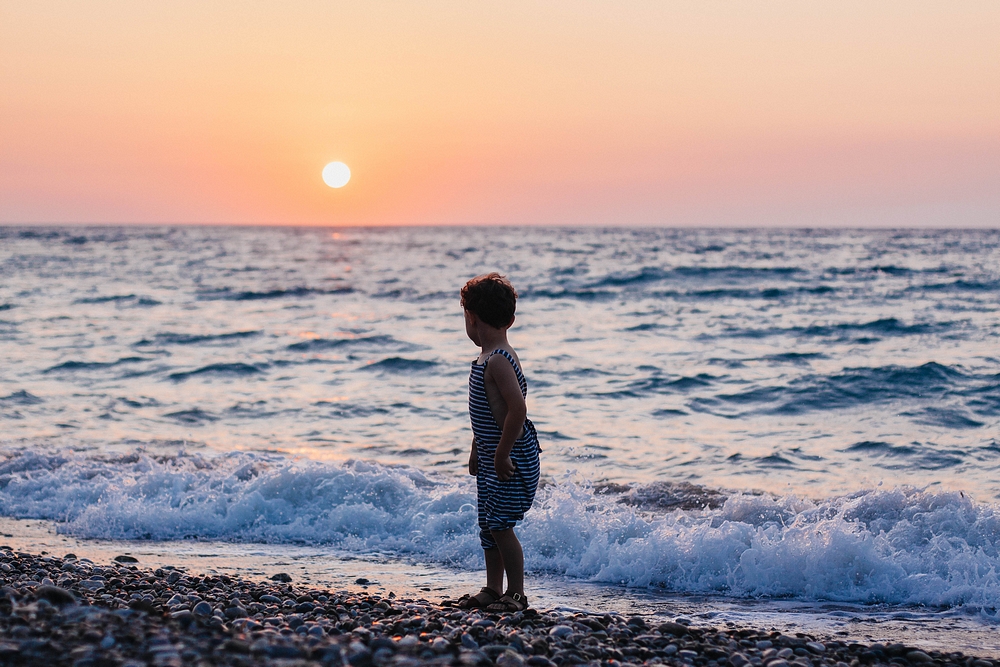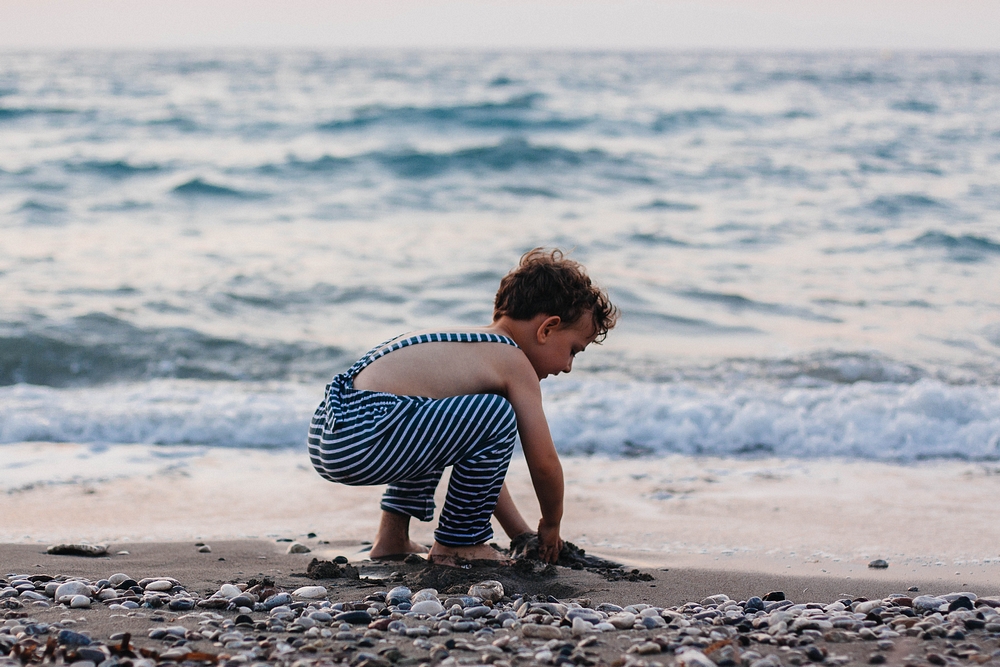 Filoxenia Location
Filoxenia is set on a main road, but you'd never know this as you lay by one of their pools. It is also along the airport's flight path, but that's never something that has bothered me. I only remember noticing a few planes a day, and mostly this was just extra entertainment for the kids who loved watching as they flew past.
Within walking distance (take a left as you come out of Filoxenia) you have several restaurants/cafes and a few supermarkets. Tholos beach is about a 10 minute walk away and seemed to offer a variety of water sports for those who fancy that. The sun loungers that we found were for guests of the different hotels only, but I'm sure if we had walked further down we would've found somewhere to sit. The beach is stoney which is something we are fairly used to but it might be disappointing for some. Rhodes has lots of beautiful beaches and coves to explore, but this would be easier with a car which we didn't have.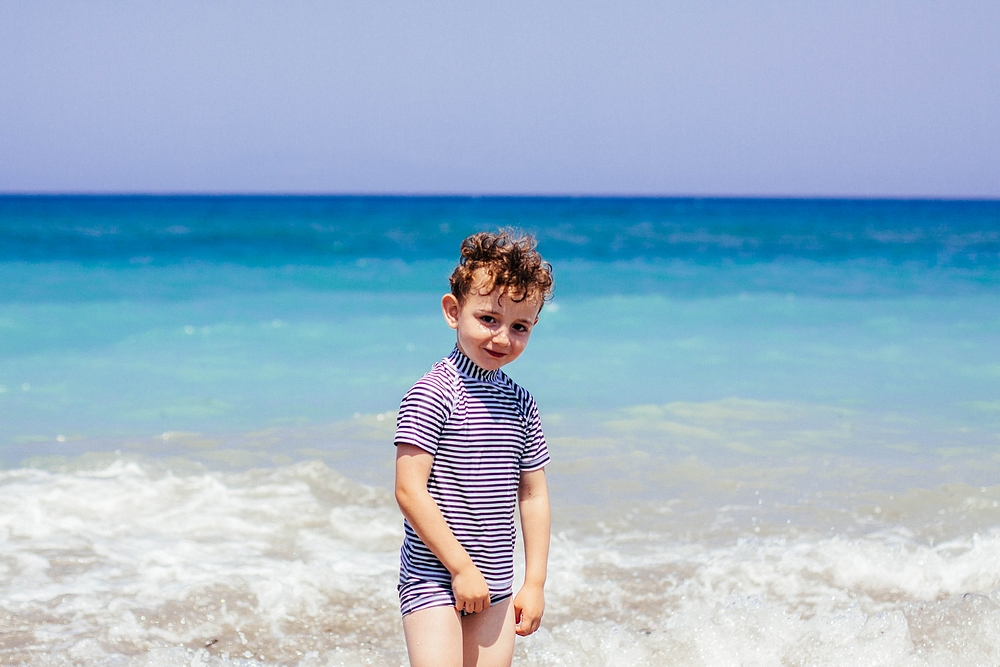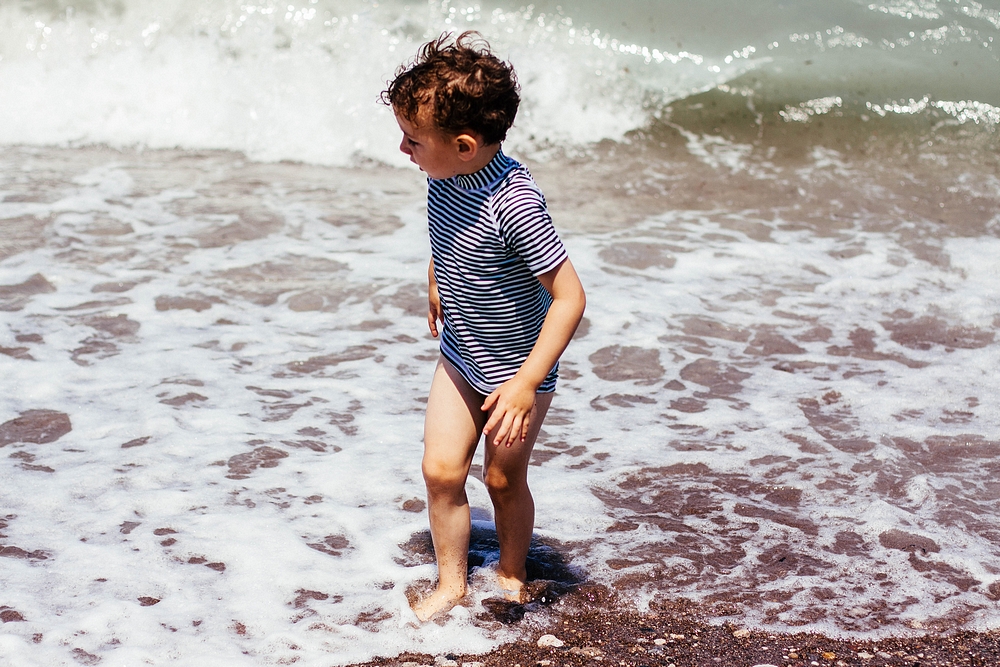 Right outside the hotel you will find a bus stop, which was really handy. We got the bus into Rhodes town one evening, and we also took the bus back to the airport on departure day so it was brilliant that it was so close. There is a time table posted at the bus stop, but be warned these buses run on Greek time so expect them to be a little late.
Also within walking distance was the meeting point for the train to Butterfly Valley – something we planned to do on our last full day. Unfortunately there seems to be a discrepancy between the train schedule online and the one posted at the pick up point, so we actually missed the last train (we actually watched it pull away from afar – oh dear!). The reviews seemed fairly mixed anyway, and even with the train ride I was worried it would be too much walking for Dil in the heat so maybe it's a blessing that we didn't go.
Things to do in Rhodes
When I planned to go on holiday solo with Dil I set myself zero pressure – if we ended up staying at the hotel all day every day then that was okay. I was too nervous to think about hiring a car so we were slightly limited to where we could go anyway, so the few little excursions we did were the perfect amount of adventure for us.
As above there were water sports nearby, and the Butterfly Valley which is a popular Rhodes attraction during the Summer months. We also found out about the Rhodes Ostrich Farm, which we visited by taxi one day – I'll post a full review of this soon. It was a fun place to spend an hour or so, but definitely not a full day.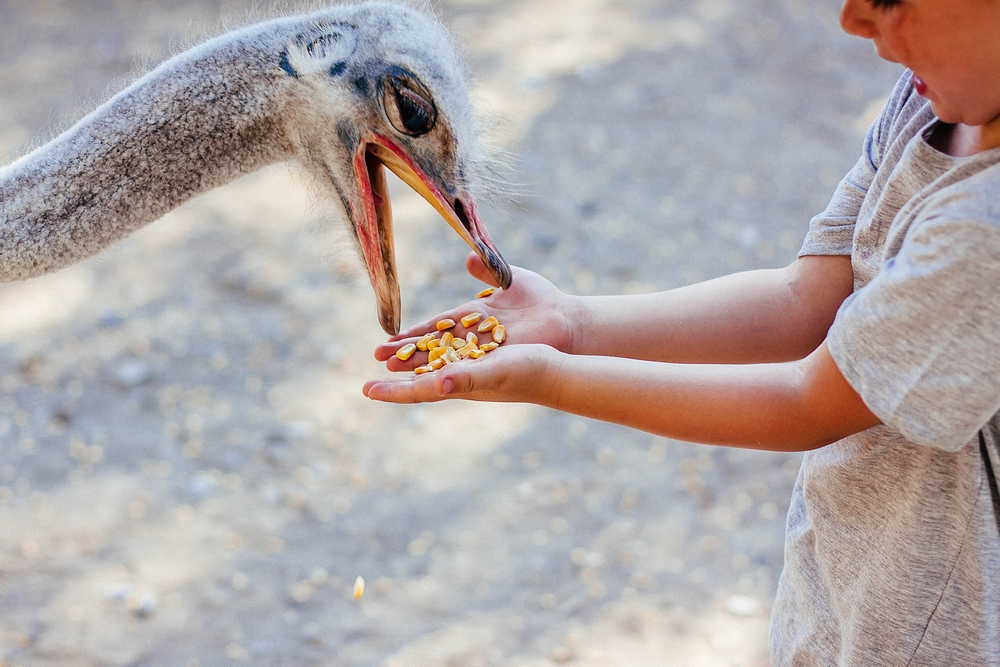 There is also a water park in Faliraki that many of the other families visited which sounded good, but we decided against it as Dil is probably a little too young, plus it was so hot and it sounds like the park doesn't have much shade. To get to the water park you get the bus into Rhodes Town, and then you can catch a free shuttle bus to the water park.
Rhodes Town itself was a very typical Greek town, with a beautiful harbour to walk along and admire the boats. There are lots of different boat trips you can take from Rhodes Town, but my sea sickness is so bad so we didn't attempt that. There are plenty of touristy shops within Rhodes Town, plus plenty of larger shops like Zara, H&M and United Colours of Bennetton, plus plenty of cafes and restaurants to grab food from. We happened to walk past a Crepa Crepa which served amazing vegan pancakes, so we really enjoyed that.
Some of the other families told us about some other beautiful beaches they had visited, so I've no doubt that there is so much more of Rhodes to explore and discover, but I think to do that it is essential that you have a car which wasn't something I wanted to do this time.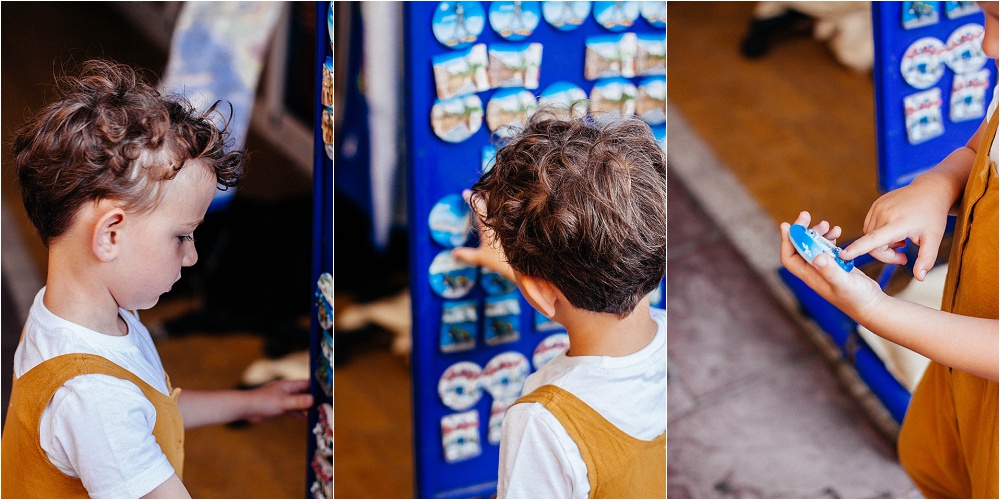 Overall we had a really brilliant time in Rhodes, and it was just the right amount of adventure for our first time travelling alone together. I would recommend the Filoxenia to anyone looking for a basic, friendly base to explore Rhodes, or anyone looking for a chilled out week at a really good price. They are the number 1 hotel in Tholos according to Trip Advisor, and number 14 within the whole of Rhodes. Prices currently start from £36 a night for September 2018 stays, and we paid £320 total for 7 nights in August 2018.
After searching for our flights on Sky Scanner we ended up booking through Opodo, who also had Filoxenia listed so we booked it all through them. The flight + hotel cost £640 – plus a little extra once I paid for adding bags etc. Not bad at all (I don't think) for a break in the summer holidays, but we did book super last minute – I booked Wednesday and we flew on the Saturday. Remember to always, always shop around for the best deal!