This post is a paid partnership with Coral Island Blackpool
If you follow us on Instagram then you will know that Dil (aged 5) is a pretty hardcore arcade fanatic, and it's not often that more a week will go by without us visiting a 2p machine of one kind or another. Living near the coast means we often head to the seaside and places like Cromer or Great Yarmouth have some lovely (read: delightfully tacky) arcades, or we'll head to another of our favourites inside Hollywood Bowl. When Coral Island got in touch I jumped at the chance to give Dil a day out in a new arcade, and I was really excited to visit Blackpool as I've never been before. We visited on a cloudy afternoon in the Easter holidays and had a brilliant day, keep reading to see how we got on, and check out my Instagram highlights for some more of what we got up to.
Coral Island Blackpool
Coral Island is Blackpool's largest indoor attraction with a huge amount of arcade games including 2p machines, skill and shooting games, electronic bingo, a camel derby (my personal fav) and a few rides and entrance is free so it's a brilliant for a full day out or just a quick visit while you're on the sea front. The whole venue is Pirate Themed – winner for my pirate fan, and they also have several different restaurants and a snack bar. It's located right along Blackpool's main strip making it easy to find and perfectly central if you plan on visiting more of the seaside attractions, and it's open pretty much all day every day meaning you can visit at any time (from 9am during the summer and 10am out of season). There is a large car park opposite which charges £7.50 for up to 6 hours if you're driving.
Coral Island Arcade Games
As soon as you enter Coral Island you take in that typical arcade loud and busy atmosphere, it is very big and there are a lot of things to do, see and go on! A map would've actually been useful, and since our visit I've spotted one on their website. Once we got some change Dil wasted no time and ran over to some of his favourite arcade machines. We saw lots of games we were familiar with like the bowling game, the piano key game (I made the leader board on this one!), air hockey (Dil's fav) and Deal or No Deal, plus some new ones we hadn't played before which was nice. Most of the games are pretty family friendly and suitable for all ages, although younger children may need a little help. The games range in price from 30p per play to £1 a go, plus the tradtional 2p machines, so having a mixture of coins with you is a good idea. There is a change machine inside so you can change your notes into pound coins, and plenty of machines to change your £1s into 2ps. Money goes fast in these kinds of places, so I always find it best to show Dil how much money he's got to spend, and make sure he understands that when it's gone there's no more. We were at Coral Island for 4 hours ish and spent about £35 between 3 of us (not including the free rides and camel derby we were gifted as part of our review).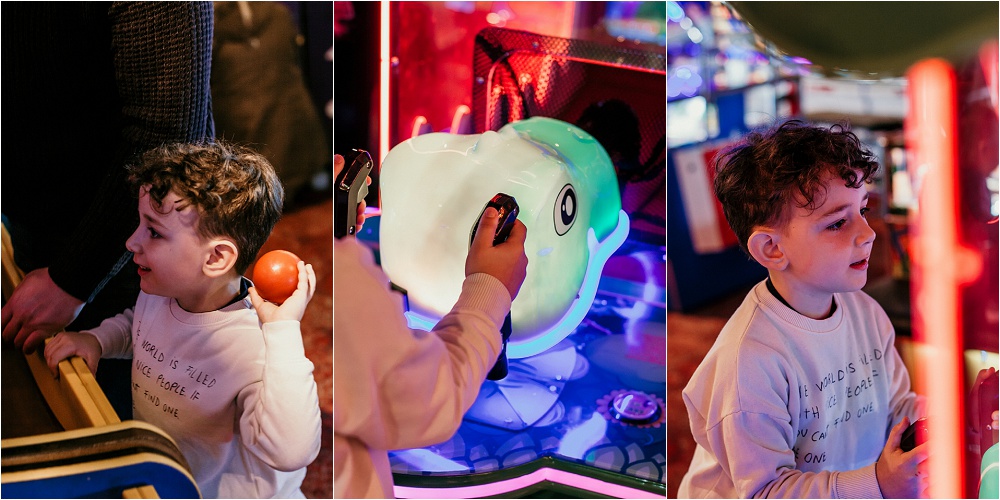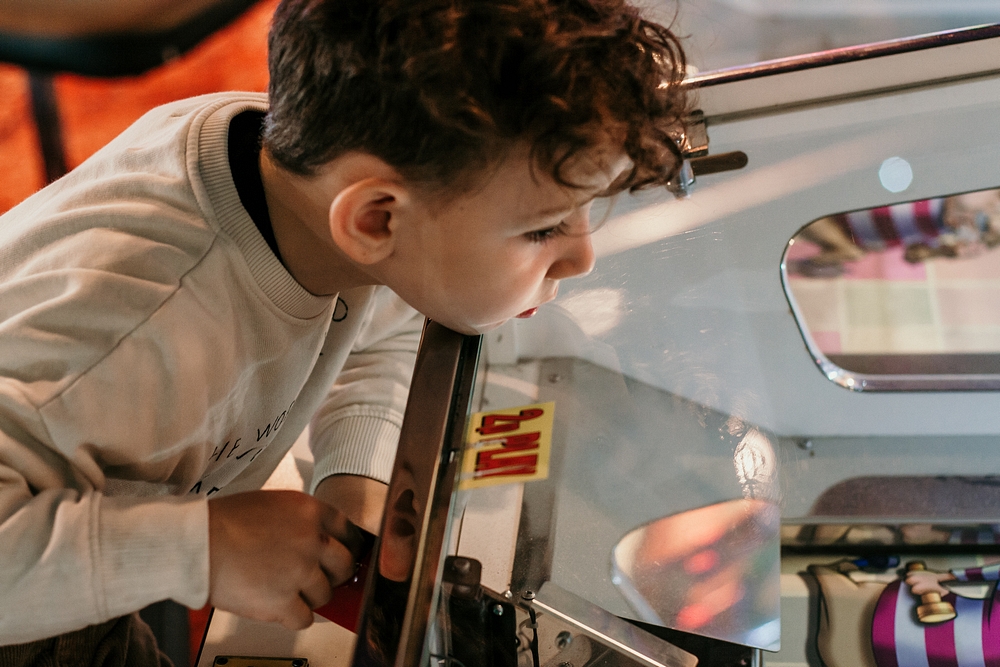 Camel Derby
If you're not familiar with the camel derby game then did you even spend your childhoods in tacky sea side towns!? It's one of my favourite games . The ideal is you roll your balls up into the holes which each have a score attached (0, 1, 2, 3) and when you get the ball in the hole, your camel moves that many spaces towards the finish line. The first camel to reach the finish wins! The best time to play these games (and my favourite thing ever as a kid) are when no one else is playing, so you guarantee that your family will win! For each win you get a little ticket, and you can trade this in for a small prize or win some more tickets which gets you a bigger teddy. We secured one win from our three turns, so Dil got a Batman teddy which he was thrilled with.
Ticket System
Coral Island operates a ticket system like most arcades – a lot of the games give out tickets based on how well you scored. You save these tickets up and feed them to a ticket counter when you're ready which then gives you a receipt showing how many you had. You then head over to the prize shop to see what kind of prize you can 'buy' with the amount of tickets you won. I thought Coral Island had a really great range of prizes for realistic ticket values – sometimes you find you need thousands of tickets to get a decent prize but Dil had 700 tickets by the end of the day and was able to get a nice mix of things. If you visit often you could opt to save your tickets and save up for a really big prize.
Top tip: If your aim is to get as many tickets as you can then make sure you go on a 2p machine that gives out tickets. If you aren't fussed about tickets then choose one that has prizes inside that fall out as you play.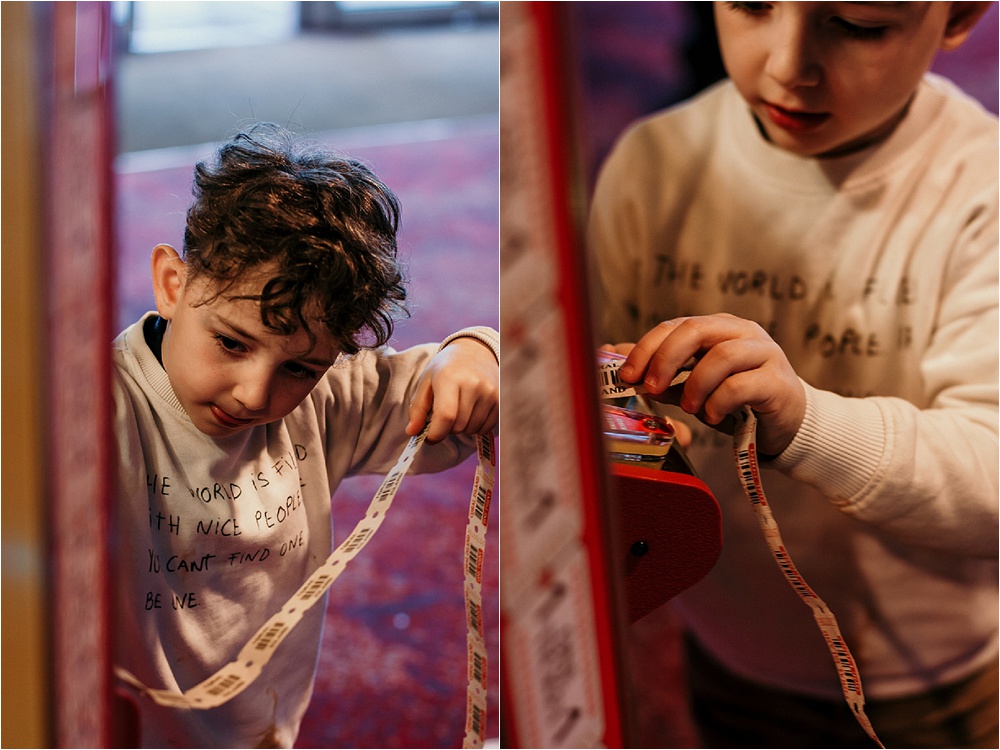 Coral Island Rides
Something that makes Coral Island a little different from other arcades is the addition of their rides. There is a small ride for children under 1.2 metres over by Captain Jack's restaurant, and for families/older kids there is the Pirates Quest Ghost Train and the Pirate Flyer which is an indoor monorail that travels above the arcade. I think these are really nice added extras and definitely something Dil enjoyed a lot. The rides aren't super high tech and the monorail does feel a little wobbly, but they weren't too bad. I was disappointed that the guns and targets on the monorail weren't functional – we have been on similar rides before where you get a score at the end which does make it a bit more fun but I don't think Dil actually noticed. The ghost train was a little on the scary side – there were lots of things jumping out at us and it did get very dark so possibly not great for younger children or ones easily frightened. Dil seemed okay and said he enjoyed it but he did cling on to me very tightly during the ride. We only did the Ghost Train once, but went on the Pirate Flyer 3 times.
To go on the games you have to purchase tokens from the machines below them which takes £1 coins. I read a few reviews before we went that mentioned how busy the rides can get, but luckily that wasn't our experience and we didn't actually have to queue at all which I thought was great in the middle of the school holidays. I suspect that on rainy days they do get pretty busy though. The staff on the rides were a little less than enthusiastic which was a shame, it would've been been nice for them to be a little more friendly and to explain the rides to us. Since our visit I read online that there's a buzzer to press every time you see a ruby on the Ghost Train but I don't remember even seeing a buzzer and no one told us about it whilst we were on the ride.
We also checked out the VR (virtual reality) ride whilst we were at Coral Island but Dil didn't fancy having a go. The ride costs £3, and involves wearing special goggles to get a completely immersive experience. While you're waiting you can watch what's happening on the ride on the screen above. We opted for a skiing game and it feels very real!
Food at Coral Island
As mentioned above Coral Island has several different places to grab a bite to eat including two fish and chip shops, a snack bar, Captain Jack's Bar and Grill serving ribs and burgers, and The Buccaneer Bar & Restaurant which serves family pub food including a carvery every Sunday. Coral Island has a fantastic Kids Eat Free promotion that is available in all of these restaurants, all day every day, offering one free kids meal (for under 10s) per paid adult meal.
Captain Jack's Bar and Grill
We ate at Captain Jack's and I was really surprised by how great the food was – the starters we tried were delicious (particularly the calamari rings – so good) and so were the adult burgers which seemed really good quality. We watched a lot of other food come out which all looked really nice. The kids meals were fairly basic, Dil had a hamburger with chips and beans but he devoured the whole lot so no complaints here! We were far too stuffed from our burgers to have one of the sharing desserts but the ones we saw on other tables looked yummy. Pricing seemed reasonable – our burgers were about £8 and you could double your burger for an extra £2.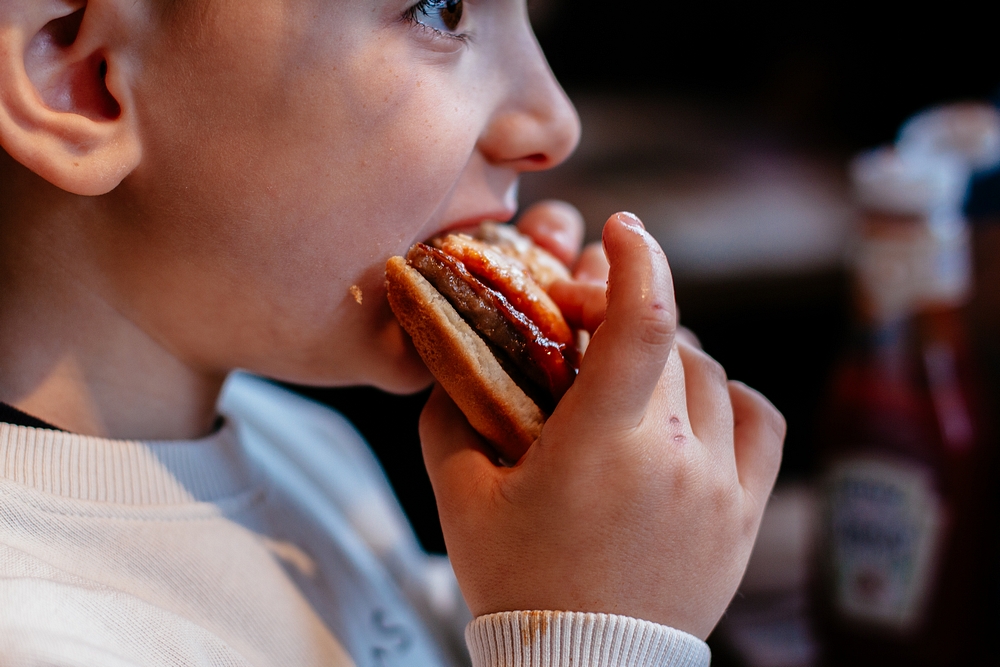 Food Allergies
Allergy wise the staff were able to hand me a folder containing some basic allergen information which was great, lots of you know how tricky eating out with food allergies can sometimes be! There were two different kids meals which were dairy and soya free (hamburger or fish fingers), and for dessert the only safe option was a fruit salad. It's a shame they can't offer an ice lolly or jelly for kids but being in Blackpool we promised Dil candy floss and rock later on! For adults there were quite a few dairy free meals options including the steak meals (top 14 free), chicken kebab (which looked really good! top 14 free without the salsa), blackened cod and the salmon fillet, no dairy free dessert options though. Once you're finished at Coral Island (or if you need a break) leave via the main entrance and turn left. You'll come to a shop with a ice cream parlour attached to it – they have two different flavours of dairy and soya free sorbet which Dilan enjoyed.
It was also a little disappointing to see that they were giving out free Easter eggs if you had signed up on their website, as they had no free from options. Luckily Dil didn't really notice but it's never nice to have to explain that he can't have something, and considering the increase in both dairy allergic and vegan children it would be amazing to see attractions offering an alternative of some kind.
Our Thoughts on Coral Island
We had a really brilliant day at Coral Island and I know that Dil would go back in a heart beat as a day full of arcade games is his dream day out. Coral Island was clean and felt very safe – there are plenty of staff and security around. We only came across one game which wasn't working properly and a member of staff had it fixed for us very quickly which was great. I was genuinely impressed with the quality of the food at Captain Jack's and would happily eat there again, and I thought the selection of prizes in the prize shop was way better than most of the arcades we've been to previously. Games wise they really did have something for everyone and catered for all ages and skill levels, and the rides added an extra fun thing to do which was great. I love a camel derby and the member of staff operating it was brilliant too, really kind and helped explain the game to younger kids.
I'd say that Coral Island is somewhere that could be enjoyed by kids (and adults) of all ages, but it is very loud with lots of flashing lights so a bit of a sensory overload for some. Since it's free entry you're welcome to pop in and out as much as you need, so great if your little ones do need a bit of a break. It's also pretty easy to get lost so keep an eye on little ones. We will absolutely go back to Coral Island next time we find ourselves in Blackpool, I think it would be the perfect place to head after a busy day exploring the other sights that Blackpool has to offer.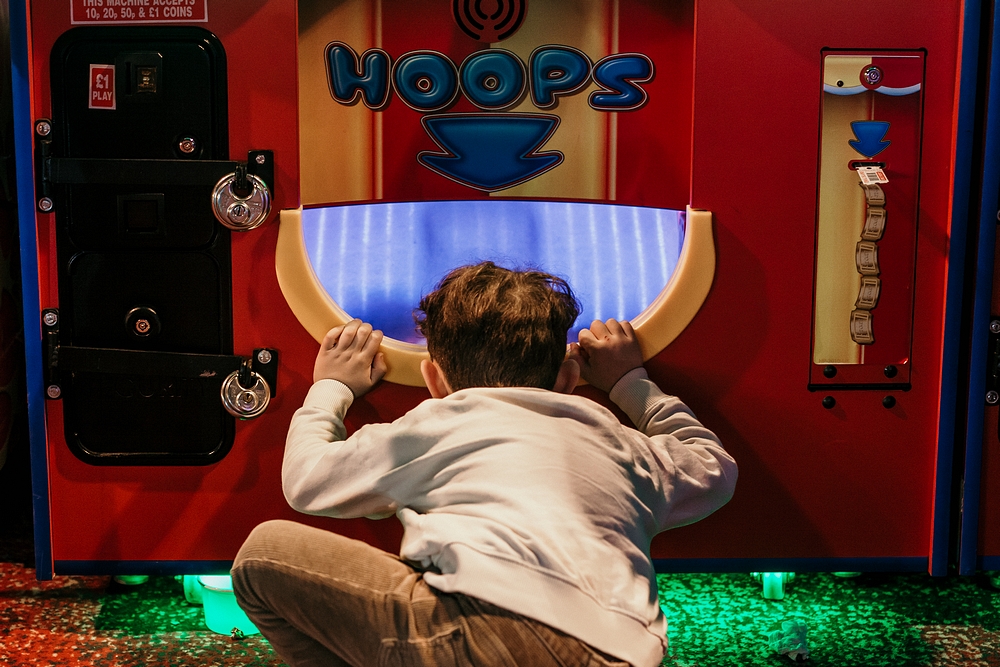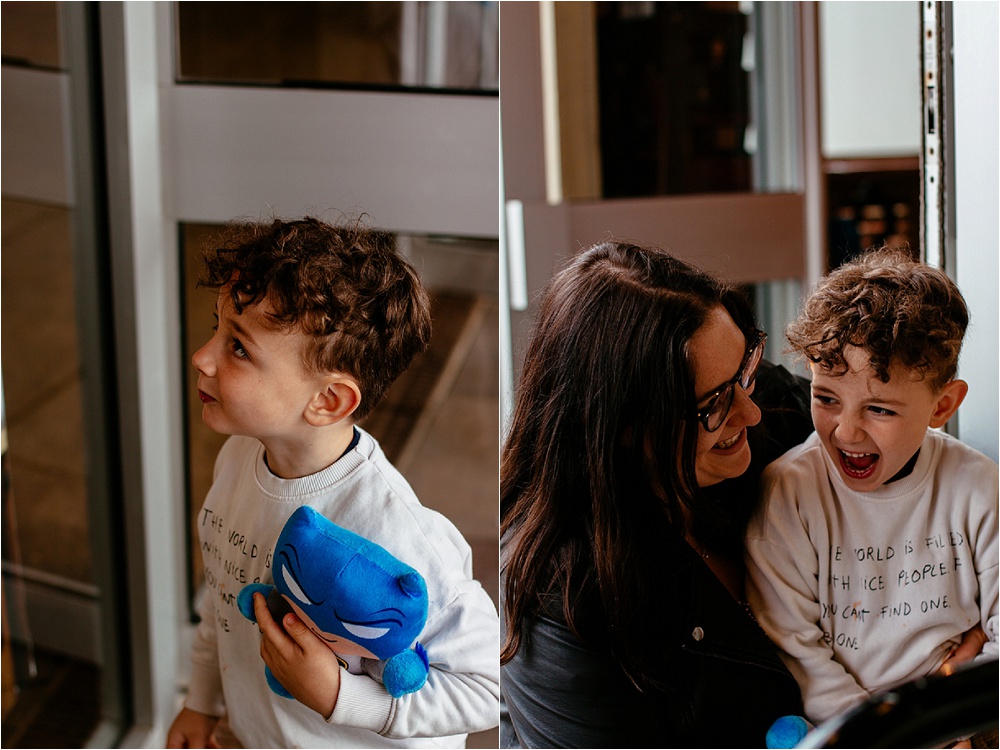 Other Things to Do in Blackpool
As well as Coral Island, Blackpool is full of other attractions to check out, including the Blackpool Tower, Sealife Centre, Madame Tussauds and the pier which has some lovely little rides on it. Blackpool is also home to the famous Pleasure Beach which I think is probably better suited to kids a bit older than Dil. After our day at Coral Island we visited Madame Tussauds because of their Superhero exhibit, but actually I was a bit underwhelmed by the whole thing (especially considering how much we paid!) and I think Dil would've enjoyed an extra hour in Coral Island much more.