Sharing some super cool gift ideas for all the mama friends in your life today, or for yourself because we all deserve a treat. Everything featured is made and sold by some equally cool females. Scroll down to the bottom for an awesome giveaway too!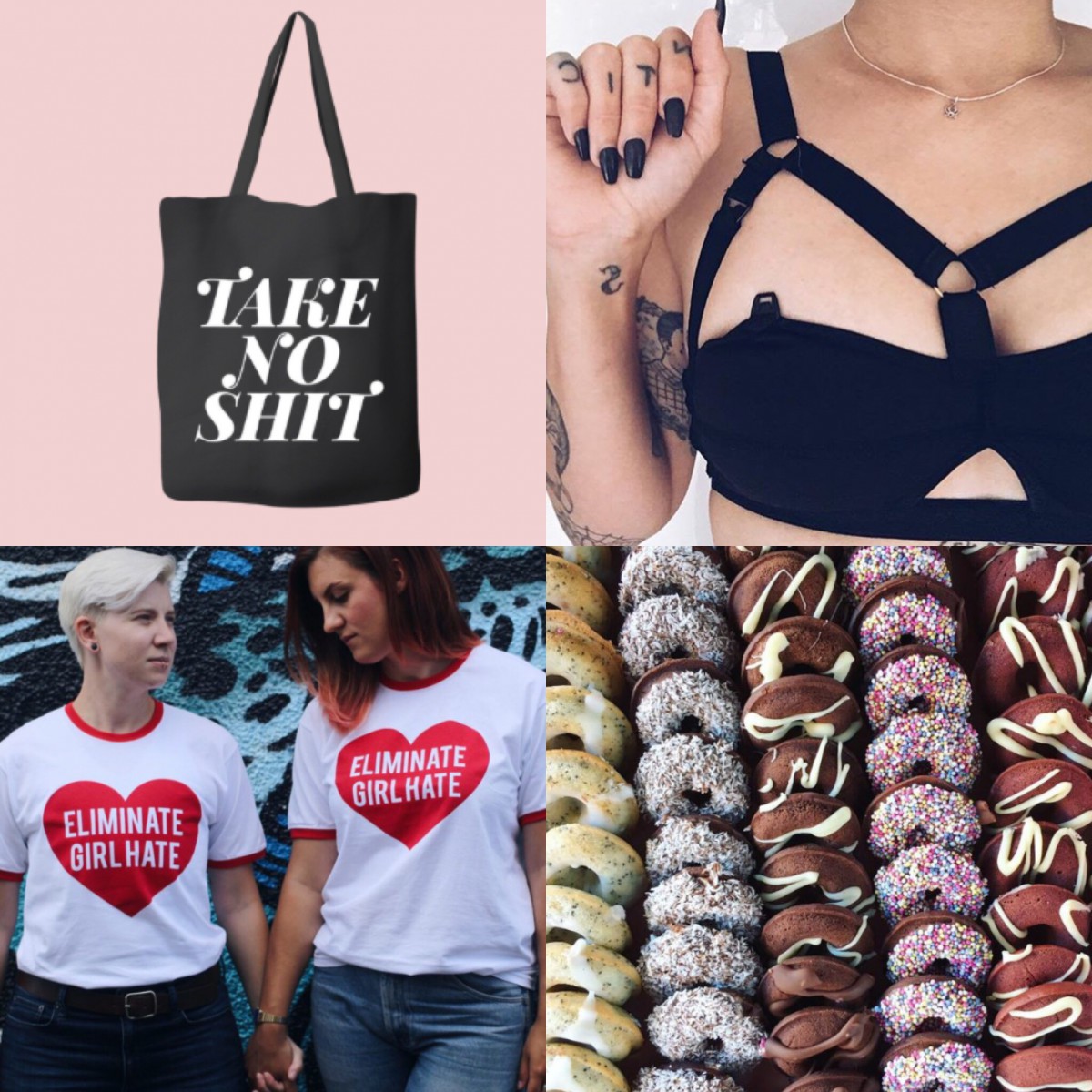 Haus of Mono Take No Shit Mega Bundle  and Festive Slay Mama Print are perfect presents for your mama pals. Alex has created such an awesome brand set on empowering women, and featuring positive and affirming messages printed on cool merch. The Take No Shit mug is a firm favourite for my morning coffee, and I bet it would be the perfect gift for a mama returning to work this Christmas!
Lucky Mutha Handmade Bad Ass Nursing Bras are the ultimate gift for breastfeeding mamas. Carly is reinventing feeding bras by making them fashionable, current and seriously cool. These bras are handmade which means they offer the perfect fit for ultimate comfort and support. I wish I had found these bras while I was still feeding – can't wait for next time! There's plenty of awesome Lucky Mutha badges and patches to choose from too, my favourite is the Mamas Lactate Patch.
Bloody Nora Pam is an awesome clothing and merch brand started by Adam and Emma in honour of Adam's brother Josh who tragically died from sepsis. Their Eliminate Girl Hate Tees are awesome gifts for any mamas in your life and promote the most important message – supporting other girls. They've also just released their Too Tired Pins – definitely a perfect mama slogan!
Is there any better gift than the gift of doughnuts? Well yes actually… There's A Kind Mama's beautiful boxes of 30 mini doughnuts, plus her chocolate Oreo brownies and mixed weekend treat boxes. Each of these delicious treats are lovingly made and also happen to be vegan. The wonderful Eve can cater for other allergies too so you're bound to find something yummy to have posted directly to all of your friends!
A new US based brand I've recently discovered is Fine & Dandy. Breanna stocks some really cool tees and pins, plus check out her Mother Pom Pom Beanie and matching Bebe hat. I love these vibes, the not your rival and society of motherhood designs are everything! She even stocks some awesome kids tees and has recently launched some sweatshirts. I love discovering brands like this, run by mamas determined to empower and motivate other mothers.
If the mama you're buying for is into cool iron on patches then check out Halfstitch Embroidery. Her etsy shop is loaded with awesome choices, you'll struggle to pick which ones to order. My faves are Don't Fucking Talk To Me, the Sweetheart set and Boss Bitch but there are so many more to choose from. I'm also totally in love with her Free the Nipple tshirt too, perfect Christmas presents for bad ass mamas and girl gang members.
If you're looking for cool slogan tees and other merch then head to Punky Moms UK. Punky Moms is an awesome community of badass babes kicking motherhood in the ass, and if you're not a part of it already then you're missing out! The Punky moms empower each other without any judgement and now there's a whole collection with the same vibes. The Girl Gang Sweat is a definite favourite for me and while you're there you'll definitely want to grab a Tiny Feminist T-Shirt for any littles in your life!
If you're looking for something more personalised or sentimental then take a look at Lucky Little Acorns. Maia creates beautiful pieces of jewellery personalised with names and dates. I love the Lucky Little Penny Necklaces and Bracelets which give you the option of selecting a penny from a year that is significant to you. The Acorn Keyrings would also make adorable personalised gifts, and represent luck, prosperity and growth. I really love the phrase "from little acorns, mighty oaks grow" and I think these would make adorable gifts for any mamas (or dads!) in your life.
A list of super cool brands for bad ass mamas wouldn't be complete without mentioning Carrie and the sisterhood that is Mère Souer. Every item supports, empowers and celebrates mothers everywhere, and I promise you will want to buy it all. You will find tees, pins, patches and mugs plus a recently launched kids range, something for everyone without a doubt. I'm not sure it would be fair for me to pick favourites but  the Mama Gang Tee and Girl Gang Pouch are probably the most used items I own. Special shoutout to The Art of Motherhood Colouring Book because it features some incredible female talent and supports Home Start which is a charity very close to my heart.
Giveaway!!
For your chance to win goodies from all the shops above head over to Instagram now! It's up to you if you share with some mama mates or keep it all for yourself! Giveaway closes Thursday 8th December at 8pm and a winner will be chosen at random. 
Up for grabs is:
One newly designed 'Take No Shit' mug from Haus of Mono
'Mamas Lactate' patch from Lucky Mutha 
'Too Tired' pin from Bloody Nora Pam
A box of delicious doughnuts from A Kind Mama
Fine & Dandy Mother tee in black 
A selection of awesome patches from Halfstitch Embroidery and a Free the Nipple tee
A 'Kicking Motherhood in the Ass' tote by Punky Moms UK
One personalised bracelet of your choice from Lucky Little Acorn
A Mère Souer 'Mama Gang' tee and pin
Open to UK entrants. Entry is via Instagram only. You must follow all the brands involved to be eligible to win. Competition is in no way sponsored, endorsed or administered by, or associated with Instagram.