I've never been someone who gets their Christmas shopping done early. I'm not sure I even want to be. I quite enjoy spending December searching shops for the perfect presents, and I've never understood how people know what their loved ones (especially kids) will be interested in/asking for months in advance.
Now that Dilan is four I am finding it harder to fight off his requests for plastic/character/all singing all dancing tat (you know all the stuff pre-child you swore you'd never buy…) but I do my best to include some nicer/more educational/not quite as loud things too. I already grabbed him a few things from Sportsdirect.com of all places, and here's a few more ideas for toys they'll love – and you will too!
Make sure you scroll down because there's a few discount codes as well.
What to Buy the Kids This Christmas
Magnetic Shapes Activity Box by Fiesta Crafts
I think this might well be my new favourite toy/activity, and Dilan definitely seems to agree. It's a simple concept but really well put together and a lot of fun. It's essentially a wooden box filled with different shaped magnets. which can be used to create all kinds of pictures or scenes. The lid of the box doubles as a place to create your masterpiece, and has two sides to choose from – chalkboard or whiteboard. The set also comes with a set of cards featuring some ideas and inspiration, plus a whiteboard pen and chalk so the creative limits are really endless. Dilan has loved finding the correct shapes and recreating the ideas on the cards, and I don't think it will be long before he comes up with his own designs and shape combinations. I love that it's self contained in its own box which makes it really easy to store and travel with, we took it with us on our recent trip to Bluestone and it provided a lot of fun.
The Magnetic Shapes Activity Box is available from Born Gifted (which also has a lot of other cool stuff by the way, lots of lovely wooden toys) and is £19.99 which I think is pretty reasonable.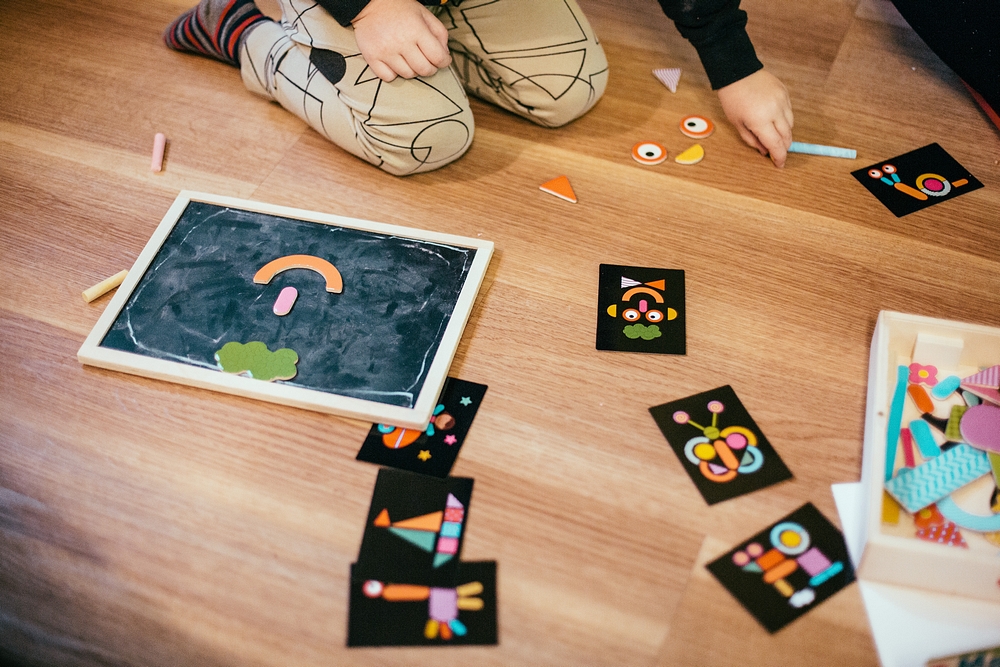 Playmags Magnetic Tile Play Set
I think they key to buying toys or gifts that will be used and played with for many years is to choose things that require creativity or imagination. Something that will become more fun as their skill level increases, or as they are able to build/create bigger and better things. The Playmags magnetic tiles are a perfect example of something that really does grow with your child. Recommended for ages 3+, I know plenty of adults who would have a lot of fun with these too.
We have the 60 piece starter set, which consists of really colourful magnet tiles in various shapes which you can use to build all kinds of items and structures. These are great for a whole host of skills including shape and colour recognition for younger children, motor skills, problem solving and engineering. This set also comes with a series of letters which you can click in to the 'window' pieces and use to explore phonics, letter recognition and spelling. The set comes with an ideas book, but we haven't even opened that yet because Dil has had way too much fun building his own castles and houses.
Playmags is available from Amazon, or for more details visit www.playmags.com. They are on the pricier side for magnetic tile toys (currently £49.98 for this set) but they do feel much sturdier and better quality than some of the other tile brands I've seen.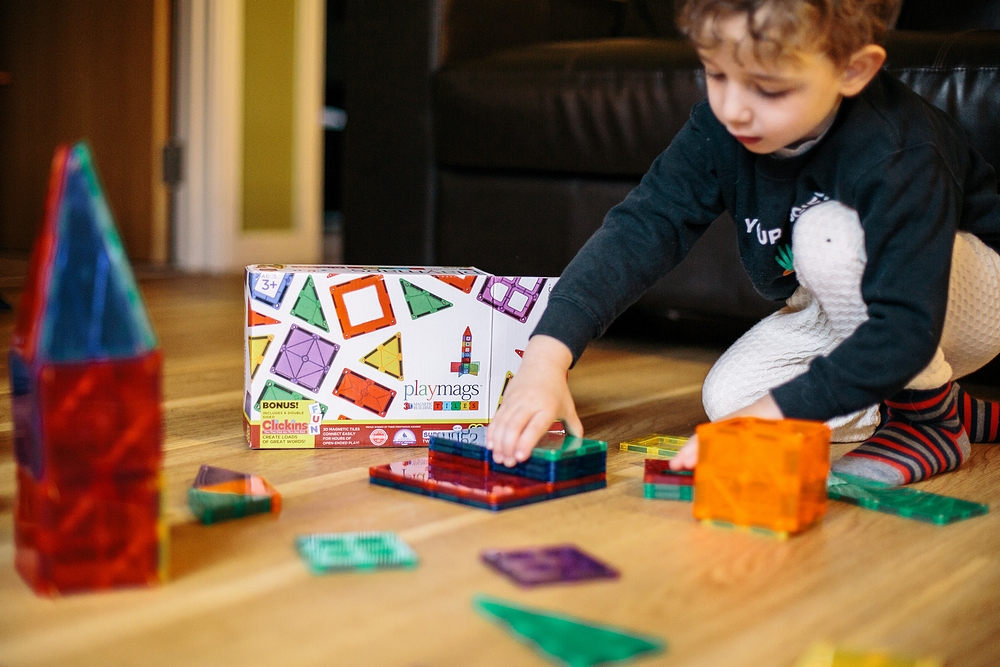 Personalised Books from Penwizard
High up on our book shelf I have a book that is really special to me. It's looking a little worse for wear now, obviously well read and well loved. It's a Christmas story, but that's not why it's special. Inside is a story, about a little girl called Lauren who lives in the town I was born in, who has friends with the same names as mine. It's a personalised book, featuring little details about me and it's something I truly treasure. I think it's kind of magical to be able to create a book including your little one in that special way, so I love the Penwizard range of books which can star your own child just like the one that I've had for years.
This year I chose their new Christmas book – The Snowman, as well as a personalised Paw Patrol book (can't escape the characters forever!). Whilst creating The Snowman I was able to include Dilan's name, as well as his hair style and colour, skin tone, and even the colour of his pyjamas. The Paw Patrol book includes his name as well as up to three friends, his date of birth and our home town. All really lovely touches that make Dil smile every time we read them.
Both books were really easy to create using the Penwizard website, and prices start at £14.99 for soft back versions. There are many other character versions available including Peppa Pig, Ben & Holly and Dora the Explorer, but I think The Snowman is the most special.
You can get 20% off any of the personalised Penwizard books with code DILAN20 – valid until midnight Wednesday 13th December 2017. Not valid in conjunction with any other offers or discount codes.
JD Bug Scooter
Not sure if it's just my four year old or not, but Dil has the ability to move at an absolute snail's pace if he wants to; or worse still refuse to move at all. Sometimes getting him to move anywhere quickly requires me to make it into a game or a race, anything to encourage him to keep moving! Something that will definitely help us get around quicker is a JD Bug Scooter. Available in a variety of colours, sizes and aimed at different skill levels the JD Bug Scooters are a great choice in terms of both quality and design, and my favourite bit about them is how easy they fold once your little one is done scooting.
Prices start at £34.95 for the Junior version which is aimed at ages 3-7.
Wise(ish) Words from The Book of Everyone
I've been a fan of The Book of Everyone for a long time, their classic book makes a great present for someone who 'has it all', so when I saw they had brought out a book aimed at kids I had to take a look. Described as being aimed at 8-16 year olds I think this book would appeal to younger children too thanks to the colourful illustrations and snappy words of wisdom.
Wise(ish) Words is a personalised book packed with short pieces of advice and words of wisdom. I think it's something that children would enjoy flicking through, and it offers some great encouragement and positive messages. The content is fully customisable, and you start with deciding what kind of balance you want between heartfelt and cheeky quotes. Once decided you get to preview the whole book before purchasing, and if you want to change one of the quotes you can do so very easily. Each page will give you a choice of three quotes, or you have the option to write your own.
The book is available as a digital copy (£7.95), softback (£23.95), hardback (£29.95) or as a deluxe copy (£39.95). All of the hard copies include a free digital copy also and the books are printed and shipped within 3 days so great if you have left it a little late.
Personalised Christmas Sacks from The Handmade Christmas Co
I'm a sucker for pretty gift wrap and other ways to make presents look appealing under the tree, so I adore the Christmas Sacks made by The Handmade Christmas Co. They are high quality hessian sacks, available in a wide variety of different styles and designs all personalised with your child's (or partner's/pet's – they have a specific dog sack!) name.
I went for the Robertson Christmas sack (obviously!) which has a lovely ornate border around the text. The sacks are all £22, but you can get yours for just £12 with free delivery using code HANDMADEDILAN.
The Handmade Christmas Co have also started stocking personalised wrapping paper which I think is a brilliant idea. I can't wait to see Dilan's face when he sees his presents from Father Christmas are wrapped in special paper with his name on. There are so many lovely designs to choose from, but I went for the Penguins in Jumpers design because I know he'll love it.
*Some items included in this post were PR samples gifted to us, but all opinions are honest and completely my own. Contains affiliate links*