Following on from my Gift Guide for Cool Mamas, here's my top choices for toddlers. Christmas is a great excuse to buy all the things you've been eyeing up all year and pass them off as presents. I've included some awesome ideas below for all the toddlers in your life, sold by some of my favourite independent shops and brands. Don't blame me if you want it all!
Maple + Pea leggings are a new favourite of mine. Comfy clothes in gorgeous prints are my go to for Dil and Joanna has created some really lovely items. I love the Hummingbird print and Bear Hunt leggings especially. Plus Jo is one of the most lovely mamas I've had the pleasure of meeting, so definitely head over to her etsy shop and take a look! Order by December 15th for Christmas delivery.
Jones and Parker Toys is an amazing family run brand who create gorgeous classic wooden toys with a modern feel. Dilan adores his Monochrome Hobby Horse and has had hours of fun with his Wooden Bi-Plane. They've already done their last restock so head over quick, this is your last chance to grab some presents before Christmas.
How cute are these tattooed Kewpie cotton dolls from LBC. I absolutely adore this vintage style design with a really cool and modern twist. I think these are such lovely toys to spark kids imaginations as well as being a bit different. I'll definitely be popping one into Dil's stocking and I know he'll have lots of fun with it. They are currently out of stock but I really hope they restock before Christmas! For older children I really love these Tooth Fairy Houses which come with a really lovely poem for children loosing their baby teeth.
Bebehound is a really fun unisex brand offering colourful and cool clothing for kids. I couldn't resist a Little Pickle Tee when they first came out, for my own little Dil pickle, and since then our Bebehound collection has grown. I adore the Eat Your Veggies and Apple of My Eye Sweatshirts – so comfy and perfect for keeping warm in the cold weather. The limited edition Polar Bear items are hard to resist too. Make sure you order by the 15th to get your items in time.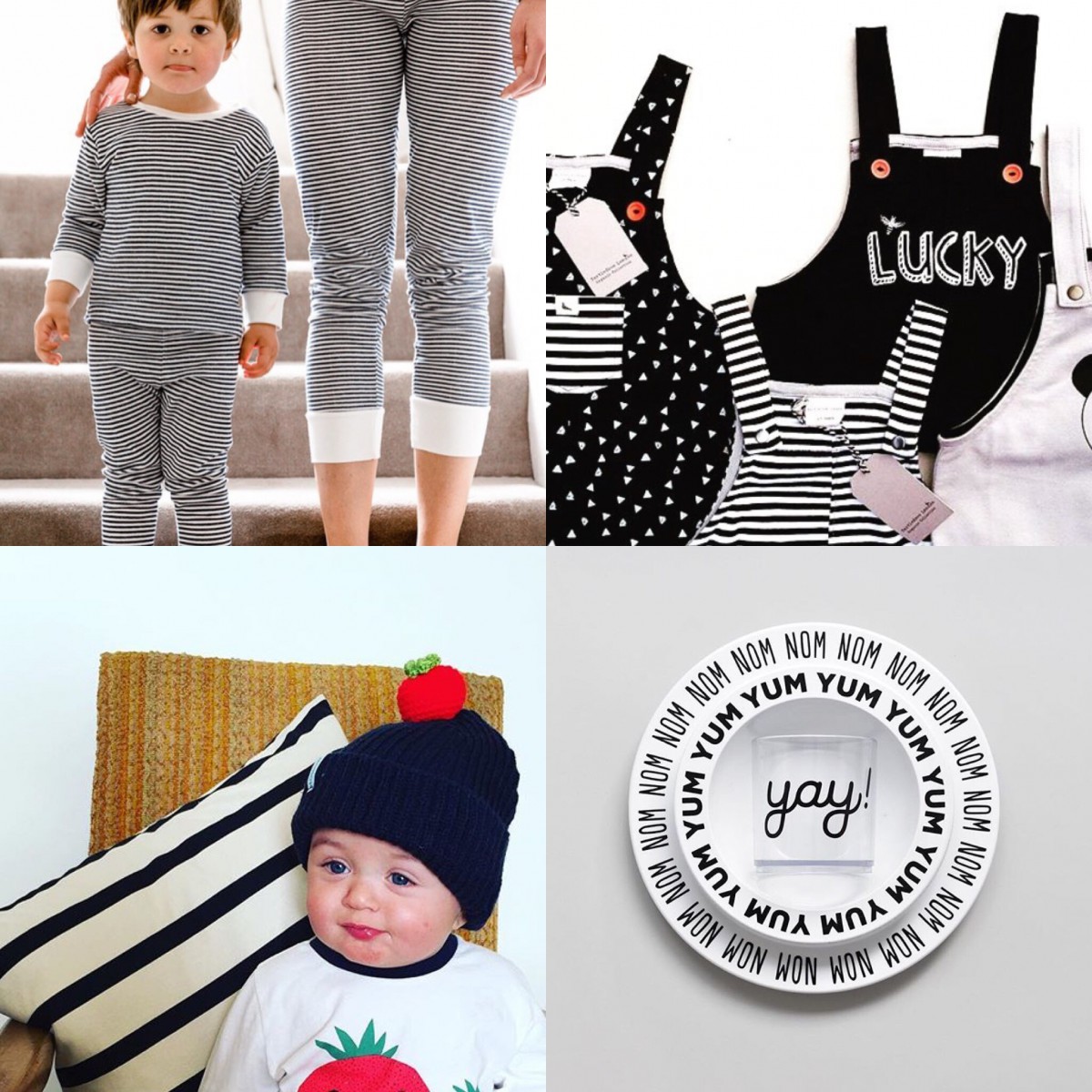 Pyjamas are my guilty pleasure and no Christmas is complete without a new pair. I'm really in love with the ones on offer from Sleepy Doe, an eco friendly brand with a strong emphasis on both comfort and style. I adore the classic Pulteney Striped Kids PJ Set and the matching Mumma Set is on my Christmas list for sure. Check out the Tiny Moons Duvet Set too which compliments the PJs perfectly. If you're ordering gifts make sure you order by December 15th.
Sometimes you come across a kids brand who just 'gets' you. For me that's Turtle Dove London. Comfy, stylish and practical unisex clothes in grown up colour palettes and organic fabrics; Emma has done a great job of ticking all the boxes for me. My favourites are the Geo Hive Playsuit (I so wish this came in Dil's size!), the Monochrome Honey Bee Top and the Geo Hive Easy Fit Dungarees but there's lots more I love and there will definitely be some under our Christmas tree this year! Place your orders by the 15th for Christmas delivery.
The Munch Store is a brand I've recently found and have a lot of love for. Each Knitted Bobble Hat is available in a huge range of colour combos and comes in both munch (baby) and mama sizes. Money from each sale goes to Bliss, a charity for premature babies so you're supporting a really worthwhile cause. I seriously can't commit to a colour yet but the Pumpkin Patch Hat is too adorable. You've got until the 15th to order in time for Christmas.
If you're looking for gifts that are stylish, well designed and practical then head to Buddy and Bear. I adore their cute tumblers and trays for meals and snack times, and the Ho Ho Ho plate is perfect for those mince pies you'll be leaving out on Christmas Eve. Everything is made of extra tough plastic so is microwave, dishwasher and toddler safe for your piece of mind. Plus it's all just a bit irresistible, especially the little bear egg cup. Order by the 21st to get your items in time to wrap!
So there you go, happy shopping! What will be under the tree for your toddler this year?