We love all kinds of messy play and activities. Dil loves to bake, to paint, and doing all kinds of crafts and projects. And we have ruined plenty of clothes in the process – trust me. So I was thrilled when Messy Me got in touch about reviewing a lovely Messy Apron.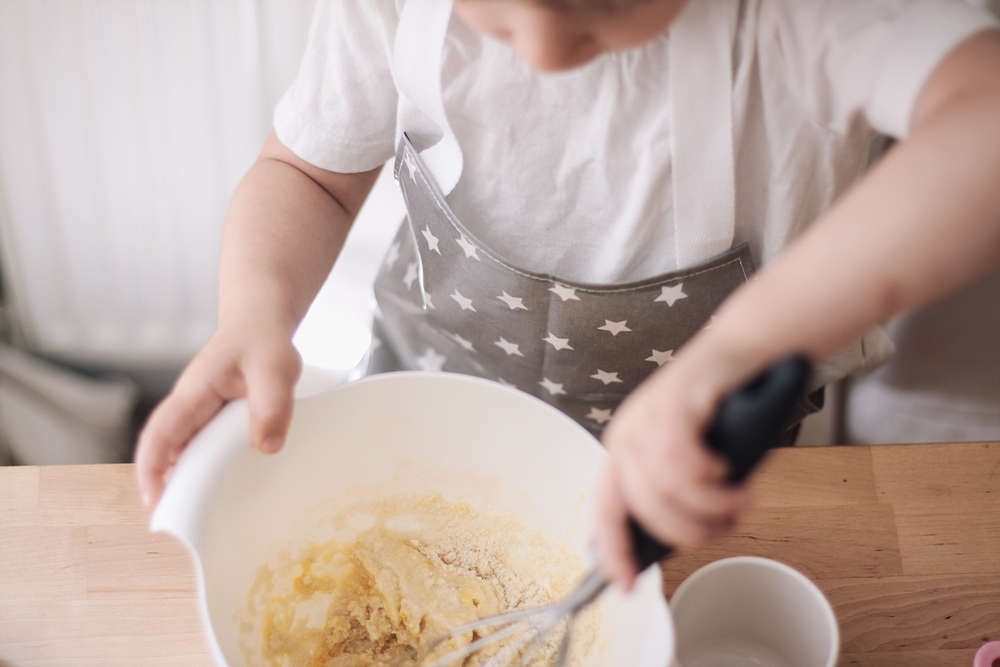 The Messy Aprons are stylish and practical, great for protecting children's clothes during all kinds of activities. They are made from oilcloth meaning they are durable and (most importantly) wipe clean. They are suitable for children aged approximately 3-5 years old and cost £12.50. We chose the soft grey stars colourway but they are also available in red, pink, blue and a floral design.
We put our apron to the test straight away by baking some cupcakes, which is always a pretty messy activity in this house. Dil loved wearing it. I think it made him feel like a proper chef which he really enjoyed. It was great not having to worry about getting his clothes dirty or having to strip him off which we sometimes do, naked baking is not ideal!
Afterwards I was able to give the apron a quick wipe with a cloth and it was as good as new!
Since baking we have used the apron for many other activities including some painting and gluing projects, and Dil likes it so much he's worn it to eat dinner a few times! Each time I've been able to easily wipe it clean and put it away for the next time we need it.
You can purchase your apron from Messy Me, and they also make a range of other oilcloth products including splashmats, bibs, and high chair covers – all perfect for messy activities or weaning/feeding. A great way to make the (unavoidable) mess more manageable!
Once you've got your apron why not try out one of our easy cake or biscuit recipes with your little ones? Try these easy peanut butter cookies, our favourite biscuit recipe, simple crazy cupcakes or these fun monster cupcakes – all delicious, easy to do AND suitable for children with food allergies.
*This product was sent to us to review, but all opinions expressed are our own*