As a Fertility Awareness Method user I was really intrigued when I heard about Natural Cycles, which is the only certified contraceptive app on the market. In theory it works in a very similar way to FAM, but the app is able to interpret the data on it's own which makes the method much easier to follow and more user friendly.
I was gifted a 6 month subscription to the app for the purpose of reviewing it, and I have been using it for 3 cycles now to avoid pregnancy. All opinions are my own.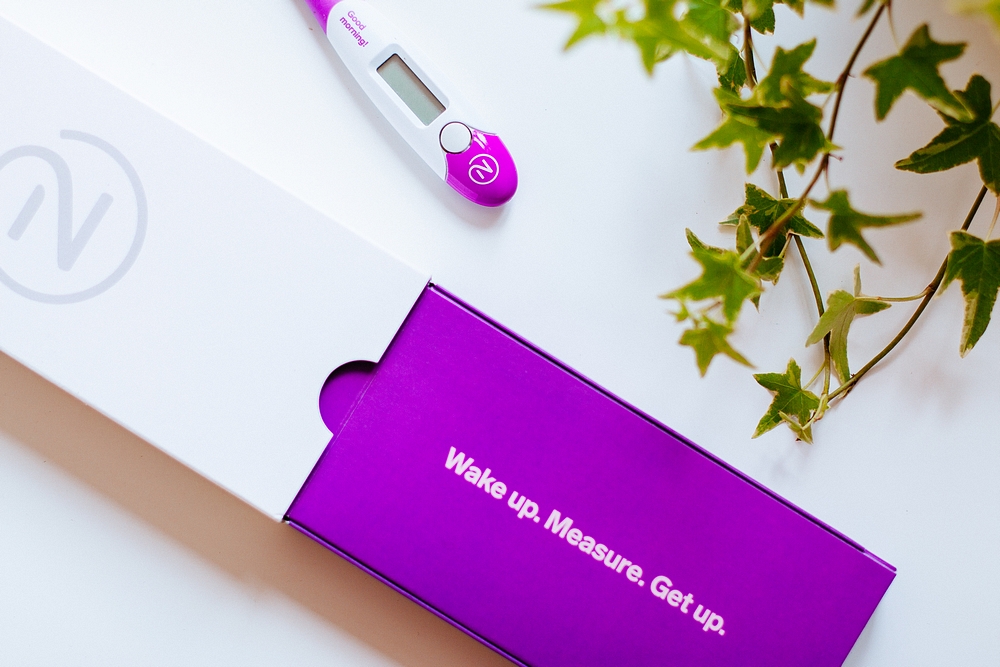 How Natural Cycles Works
The concept of the Natural Cycles app is very similar to Fertility Awareness Method so I'd recommend reading my post on that for a greater understanding of the theory. The app works by analysing your BBT (basal body temperature) which you input every morning, in order to pinpoint ovulation and determine your fertile window. During your cycle your temperature will naturally fluctuate according to your progesterone levels, and by measuring your BBT every day the app is able to calculate exactly when ovulation occurs, meaning you will know when you are fertile and when you are not.
To use the app you simply input your temperature every morning, as well as details about your period and sexually activity. You are also able to record the results of ovulation tests but this isn't necessary to use the app, and not something I have done.
The app operates a traffic light system for fertility, so you will either be given a green day – meaning you are not fertile and safe to have unprotected sex, or a red day – meaning you are/could be fertile and you should abstain or use another form of contraception. The app's algorithm takes into account various factors and is able to make accurate predictions for upcoming cycles. Whilst the app gets to know your cycle it may give you more red days than usual, but this will improve as you continue to use the app and input your information.
Benefits of Natural Cycles
The Natural Cycles app offers all the benefits of FAM, plus it makes it incredibly user friendly and much much easier to understand. Here are some of the benefits:
Hormone and procedure free
No side effects
Environmentally friendly/waste free
A greater understanding of your cycle
Ability to change from trying to avoid pregnancy to trying to conceive straight away
No need to be able to read or interrupt the data yourself
Certified as contraception
Efficiency – the app has been rigorously tested in order to become certified which is really reassuring as a user.  Natural Cycles has a perfect use efficacy rate of 99%, and a typical use efficacy rate of 93% – based on clinical studies involving 22785 women. This means during the studies 1 out of 100 women who were using the app correctly for one year became pregnant.
Drawbacks of Natural Cycles
In my opinion there aren't many drawbacks to Natural Cycles, and most are pretty easy to adjust to.
Requires you to measure and record your temperature each morning – sometimes this is easy to forget but once you're in the habit of doing so it becomes second nature, and takes seconds
Abstinence or another form of contraception will be necessary during fertile periods
No protection against sexually transmitted infections
Cost – the app does require a subscription which is £5.99 a month with no contract or £3.35 a month if you opt for for the yearly plan
How Natural Cycles Compares to other FAM Methods/Apps Available
Natural Cycles is making natural contraception methods more accessible to women by making it user friendly and simple to use which is great. They've made it very appealing to women who want to avoid hormonal contraception but still want something easy to interpret which really is brilliant. The only drawback about the app in my opinion, as someone who has some FAM knowledge, is that there is very little need to really learn about how your cycle works. Something I love about FAM is how much I've learnt about my body and about the method, and due to this app doing the calculation for you it's not really necessary for users to pay much attention to their cycle beyond if it's a red or a green day.
I also have found using FAM that charting cervical mucous is a great way to understand your cycle better and predict ovulation, so I wish that the Natural Cycles app allowed you to record this. Other apps also have space to record other symptoms or anything else you may want to track too.
Here's a screenshot of a completed cycle using the Kindara app to compare. I know it looks a bit overwhelming but if you understand how to analyse the data it's fairly easy to follow. You can see below that Natural Cycles gives much simpler information.
What I Thought of Natural Cycles
I've been using the app for three months now, which should be enough time for the algorithm to get to know my cycle. Below is a picture of my last cycle, and you can see that the app has clearly marked green days, red days (my possible fertile window) and ovulation.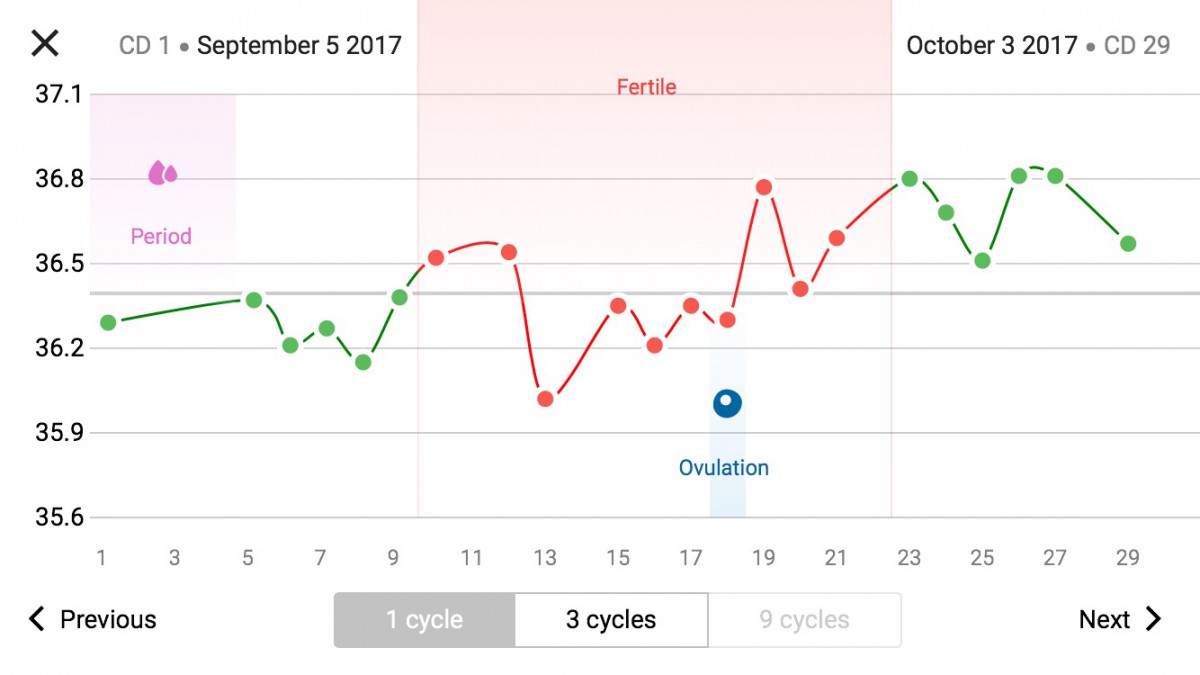 Here's a screenshot of my current cycle, and you can see that the app has predicted ovulation for cycle day 19.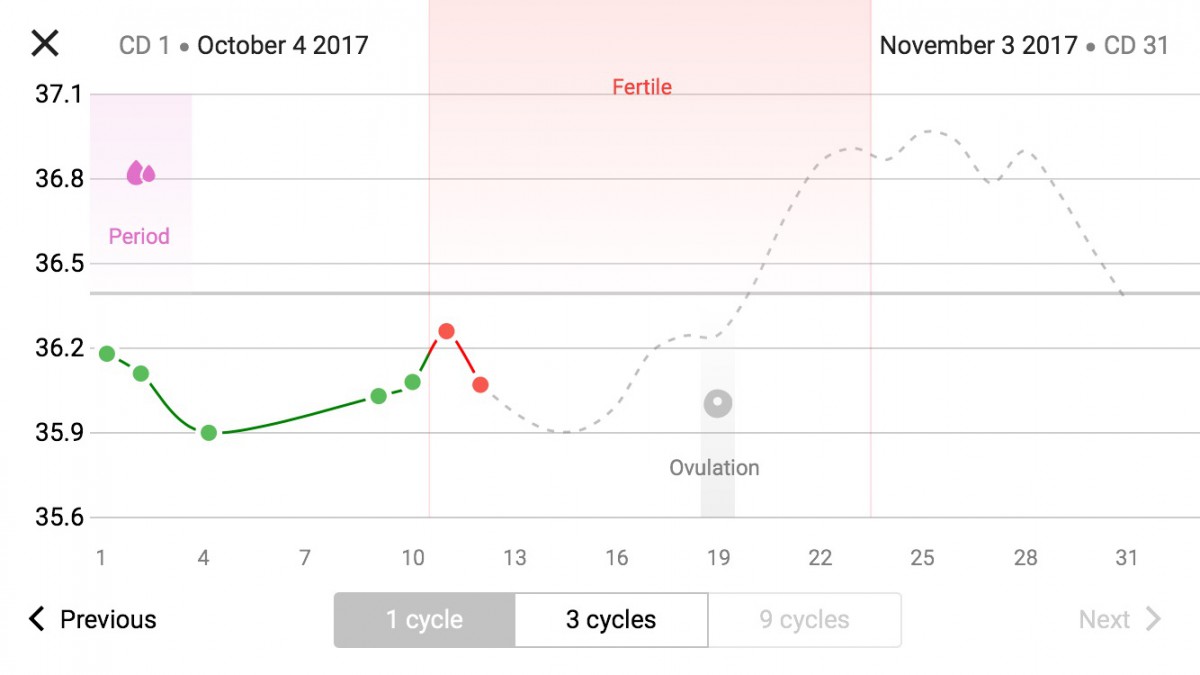 If I view the app in calendar mode you can see my predicted red/green days. The longer I continue to use the app the more accurate the predictions and therefore the less red days I will be given.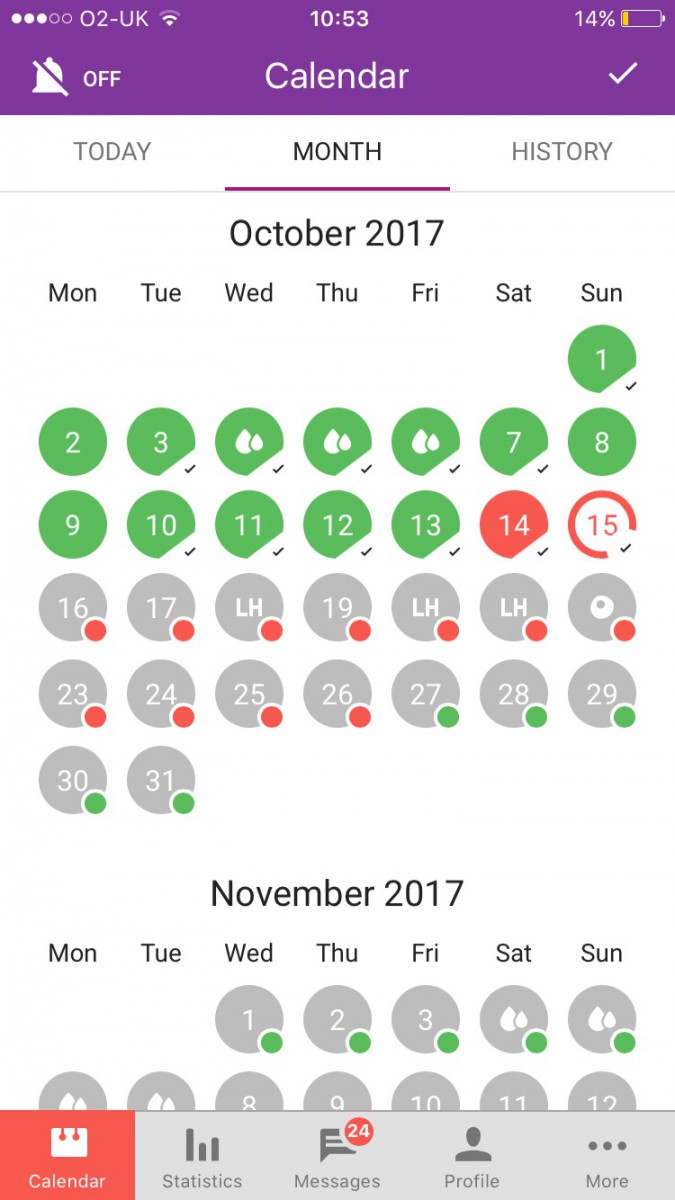 I'm really happy with the app and have enjoyed using it. It's so simple to use, as long as you remember to take your temperature you can't go wrong with it. It also gives some nice statistics about your cycle which I really like, and marking a temperature as deviating for any reason is easy. As someone already on board with the science behind it and with a basic understanding of how the algorithm works I've found it really easy to put my confidence in the app and we've been very successful with using it.
I would (and have) definitely recommend Natural Cycles to friends and family, and I think it's the perfect solution for those looking for natural methods of contraception, but who may be a bit overwhelmed at the thought of interpreting charts and analysing cervical mucous on their own. The fact that it's certified and so well tested really does give the user a good level of peace of mind.
What My Boyfriend Thinks of Natural Cycles
"I love that Lauren has opted for a natural method of contraception, and it works really well for us. It's great knowing exactly when we are safe to be more spontaneous, or when we need to use another contraception method. Not having to use condoms all of the time is great, and we don't have to worry about an unplanned pregnancy.

It's also great because we would be able to start trying to conceive whenever we want, rather than having to wait for a hormonal contraception to leave her system.

I think in the beginning Lauren was worried that I wouldn't 'get it', but having seen it in action and knowing how much it benefits her I think it's awesome"
Get Started With Natural Cycles
It's important to note that you can't use the Natural Cycles app alongside any hormonal contraception, so you would need to come off of these before trying the app. After you stop using hormonal contraception cycle irregularities can be common and it may take a little while for your body to regulate again.
Natural Cycles has a great 'Cyclerpedia' with tons more information if you'd like to know more.
The app is available to download from the app store, and after a one month free trial you can choose between the monthly plan or yearly. The yearly plan does offer a considerable saving and you will also receive a free BBT thermometer. You can get 10% off the yearly plan by clicking here.