Each week when I sit down to write this post, my first thought is always about how fast the week has gone. As time speeds past us it's so lovely to savour these little things, and have these posts to look back on. That's exactly why Jodie and I created this linky, and hopefully you all enjoy remembering the little things as much as we do. It's been a busy one for us this week, and sometimes the busier we are the easier it is to forget the little moments that really made us smile. Here's some of mine from the passed seven days.
It's The Little Things
Swimming Milestones – Dil has been swimming with Waterbabies since he was 12 weeks old and every week I watch on in total amazement at his ability and confidence. This week he managed to swim 5 metres on his own and I'm just so pleased that he loves and feels confident in the water. He adores the freedom of swimming with his float jacket on and I love how much fun he has during his lessons.
Child Friendly Touches – This weekend we travelled down to Swindon to see some friends and I booked a Premier Inn. When we arrived I was genuinely overwhelmed by the child friendly touches which made our stay much more enjoyable. There was free colouring pages and crayons in reception, and a lucky dip pile in aid of Great Ormond Street. The lady on reception drew Dil's attention to a large Mummy duck and told him she had lost her babies, and one might be hiding in our room. He was so excited to find the baby duck hidden in our hotel room and got a prize from reception for finding it! Such a simple thing made a huge difference to a three year old, he's still talking about it now!
Capturing Memories – Dil is growing so fast now, changing rapidly. I can hardly remember him as a baby, hardly remember the times before him walking and talking. I'm so excited, especially now that I've started vlogging, to have more of the memories frozen in time.
Last Week's Favourites
Mum of 2 point 5 joined us this week, linking up a great post with 14 simple things that her kids love to do, cardboard boxes, jumping in puddles and many more free and easy activities that children will enjoy. Sometimes the temptation to constantly come up with new and exciting things to do gets too much, and we forget just how much joy we can find in the small things.
We also welcomed Buzz With the B to our linky this week with a beautiful post and a beautiful blog. She's new to the parent blogger community so head over and check out how she's getting on so far.
JOIN IN
Over to you! What have you loved this week? What's made you smile? Link up your posts below, grab the badge and join the linky party to share the joy of your week.
RULES
Grab the badge below to add to your post, and link it up. One post per week please.
Check out some of the other posts and feel free to comment, like and share to spread the love and support the community
We'd love it if you could tweet your link using the linky hashtag #itsthelittlethingslinky – we'll retweet every post we are tagged in – @dilanandme and @dearlittledaisy
Check back next week to see which posts were our favourite! We will both share our highlights next week so don't miss that
Linky closes at 11pm the following Monday and re-opens every Tuesday at 9am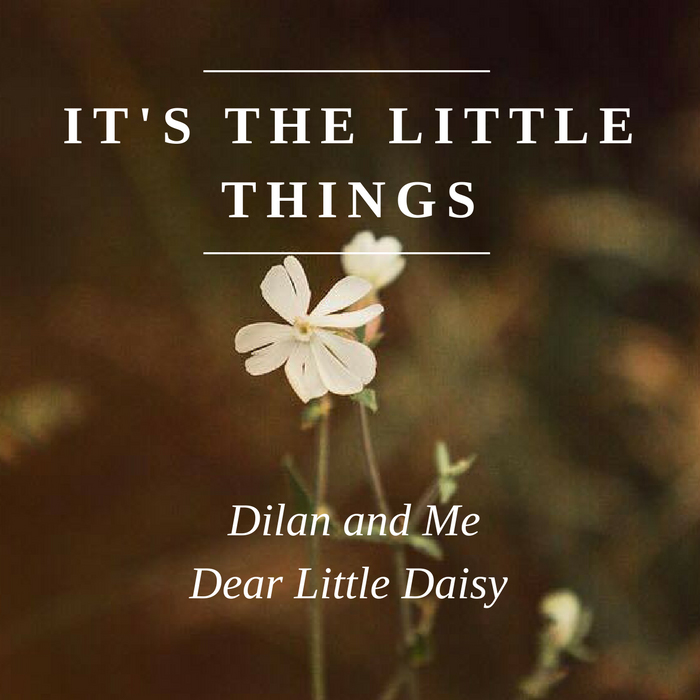 Loading InLinkz ...