Frenchic Furniture Paint is a chalk and mineral range of paints which are low VOC and solvent free. There are several different types, depending on your project or what you'll be painting. The Al Fresco range seems to be the most popular as it is durable, waterproof, can be used on a huge variety of different surfaces, requires very little prep work and doesn't need any kind of finishing coat. For composite or UPVC doors (and windows if you fancy!) you'll definitely want to choose a colour from the Al Fresco range, and believe it or not if you're just doing one side you'll just need a tester size pot of paint. This paint can also be used on wood, laminate, composite, metal and even children's toys as well
The Frenchic paint used was gifted to me as part of Frenchic's affiliate programme. If you'd like to use my personalised link to purchase Frenchic paint I will receive a small percentage of whatever you spend.
Last summer I took on the task of giving my old battered UPVC front door a make over after discovering Frenchic furniture paint. After sharing about it on Instagram I promised a blog post detailing how it could be done for just £6.95 (and how easy it was!) but haven't got round to it yet. Truthfully I was waiting to have an 'after' photo, and I still haven't actually got new hardware for the door so there is no after photo yet (I'm a starter and not a finisher unfortunately..), but I recently painted the inside of my door to match the outside as part of the stairway makeover, and I thought I'd how you how I got on with using the Frenchic paint.
When I first read that I would be able to transform my UPVC door with just a tester pot of Frenchic furniture paint (150ml for £6.95) I was pretty sceptical, but after seeing so many people get such good results in the Frenchic Facebook group I figured it was worth a go, and I was kind of shocked when I managed it. The colour I chose is Frenchic Al Fresco Dusky Pink, and one tester sized pot is the perfect amount for one side of a front door.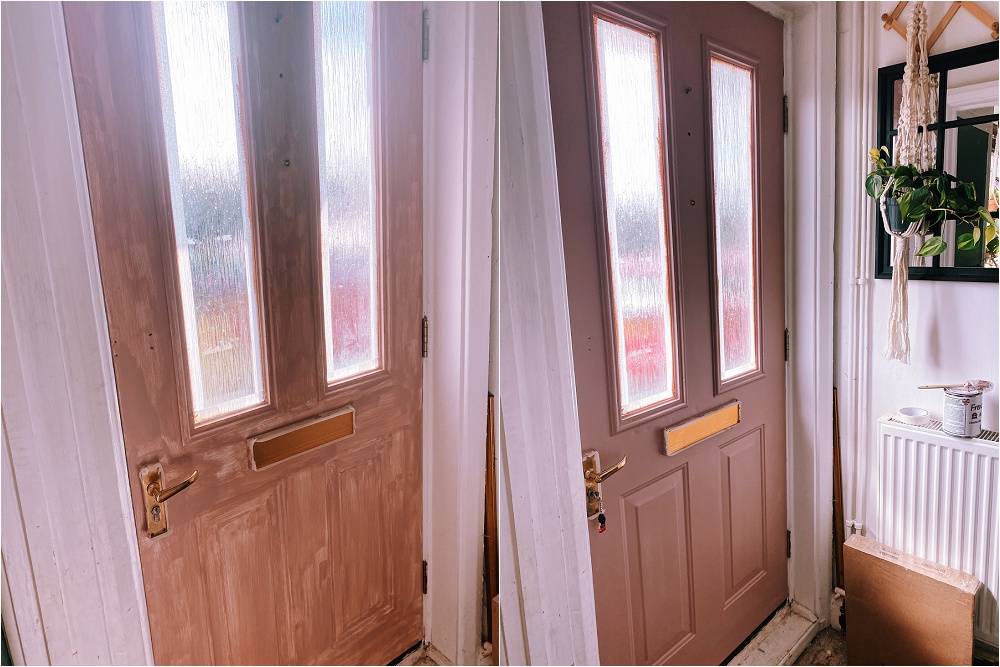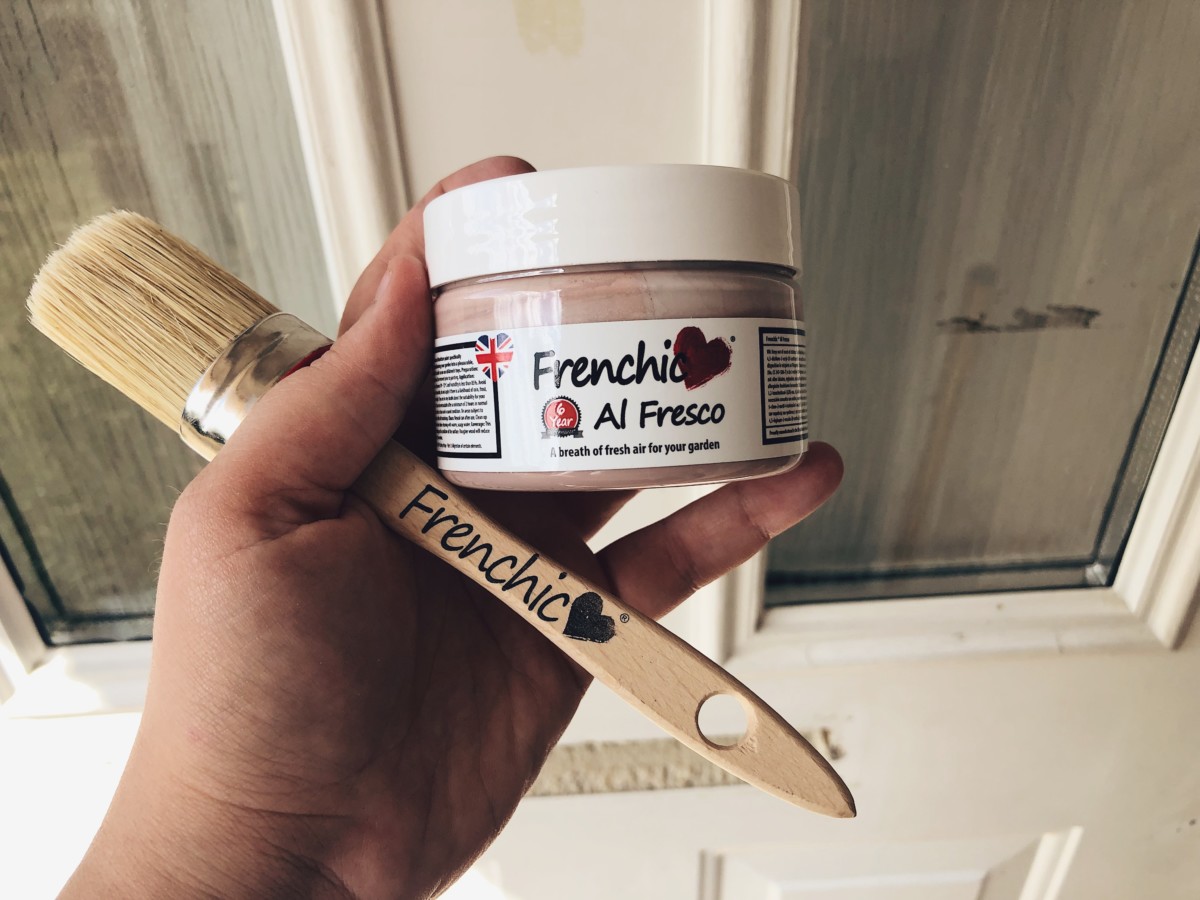 Transform UPVC Doors with Frenchic
Prep Work
Firstly you need to choose the right time to paint your front door. It's a job for the warmer months, ideally you want a few dry days with the temperature staying above 10 degrees (even at night) to allow the paint to cure properly. To prep your UPVC door you need to wash with sugar soap and then give it a gentle sand (just by hand with a little sand paper is fine) to give it a key, which basically means to make the door feel slightly rough instead of smooth to help the paint stick to the surface.
Frenchic recommend using their oval brushes, but I do think that other brushes would be fine to use too. If you're painting a door you can either remove the hardware (letter box, door knocker, handle etc) completely or use duct tape to protect it as well as any glass panels in your door.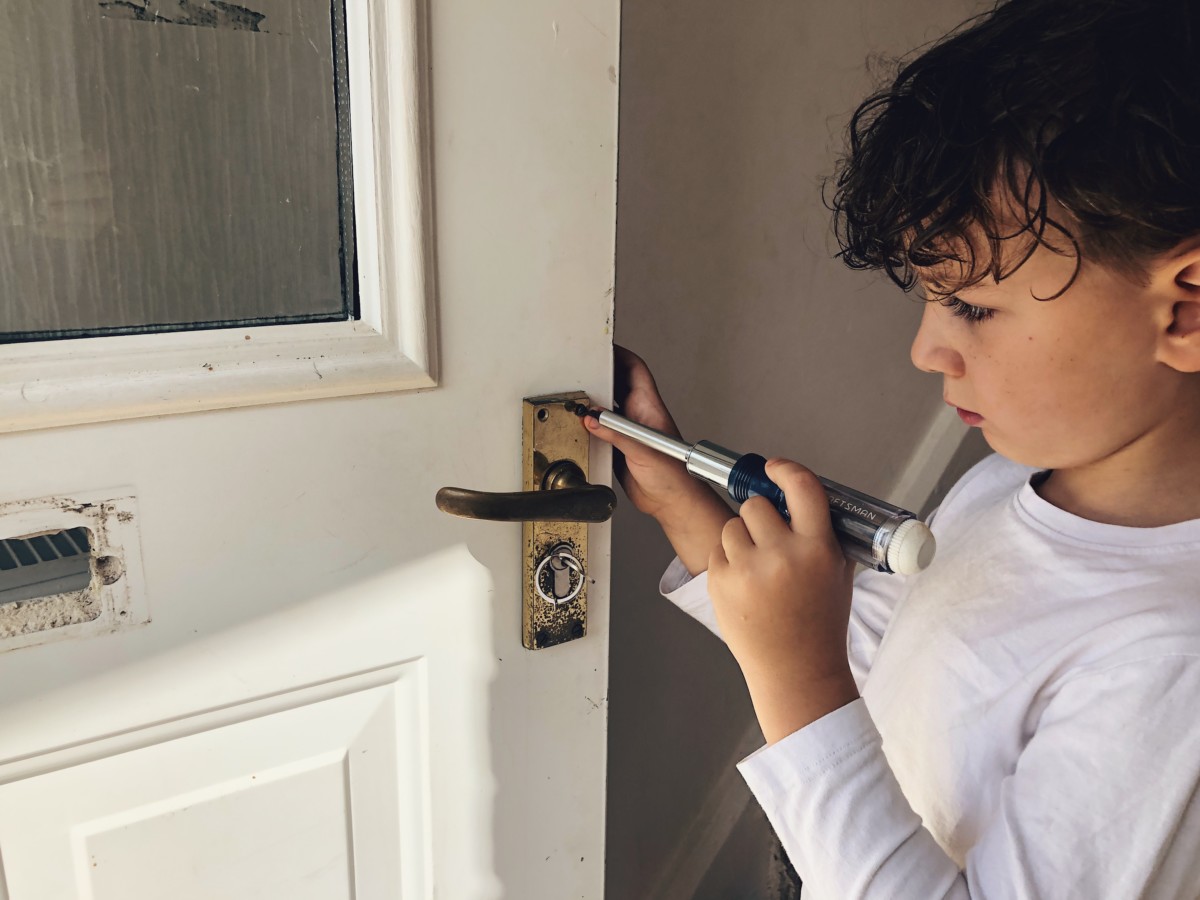 Painting With Frenchic Furniture Paint
Painting with Frenchic is not like painting with normal emulsion. The self levelling paint needs to be applied in very very thin coats, so it goes on with a dry brush and looks kind of awful at first. The general consensus seems to be that if the first coat leaves you thinking "oh no, what have I done??" then you're probably on the right track. By the second coat you will see it taking shape, and by the third coat your creation should be perfect. You should leave at least two hours between coats.
After a few days the paint will be fully cured and should be hard wearing and weather proof. My front door was painted about 7 months ago now, and it is still in great condition. I did notice a scratch recently which is probably to be expected in such a high traffic area, but it was easy to touch up just by giving it a light sand and then painting over. It's also easy to clean, and overall I've been really happy with the way it's turned out.
Future Frenchic Projects
Overall I found Frenchic furniture paint really easy to use – minimal prep really appeals to me and the finish seems to be really great. A quick browse of the Frenchic Facebook group shows the huge versatility this paint has – you'll see people painting everything from doors and window trim, upcycled furniture, flooring, tiles, outside projects, leather sofas and much more. Next Frenchic projects on the list for me are my staircase, and kitchen cupboards – so stay tuned for that!