For the most part I always tell people that you can make pretty much anything dairy & soya free. The alternatives out there currently are pretty good, and there are so many restaurants now who are able to really cater well for allergies and vegan diets. But there's one thing I've never seen a decent dairy free option for – afternoon tea. The main components of an afternoon tea are delicious dairy cream cakes, buttery posh sandwiches and warm scones topped with proper clotted cream. These things are not easy to replicate without dairy, and would require a restaurant to go to a huge deal of effort which many (quite understandably) aren't able to do. When mums ask in my breastfeeding with CMPA group about dairy free afternoon tea options I'm never really sure what to suggest.
Recently though I discovered that there was a local restaurant able to prove me wrong, and I am very happy to stand corrected. I was reading an article written by Richard Hughes, head chef at The Assembly House in Norwich, and he was discussing the order and systems that are needed when working in a large kitchen. He mentioned the importance of keeping up with allergen sheets, and how his two year old grandson suffers from cows milk and soya allergies which put diner's allergy requirements "into sharp focus" for him.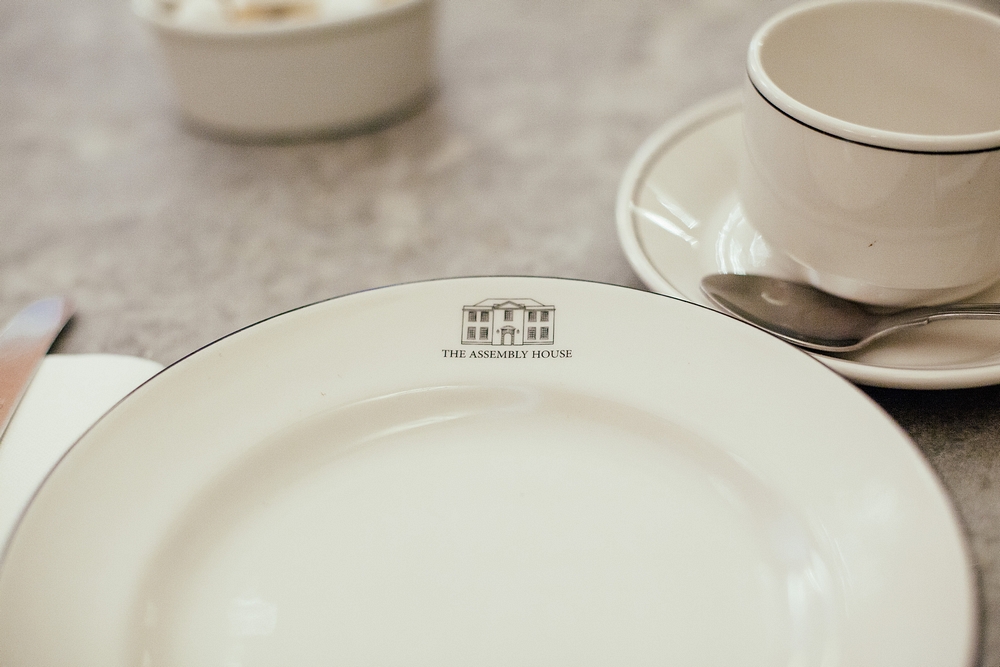 Obviously anyone working within the food and hospitality sector needs to have a strong understanding of allergies and intolerances, but  until you have experienced it (either personally or through a family member) it is very difficult to fully appreciate the severity of the consequences if you get it wrong. Thanks to Richard's knowledge of CMPA he is incredibly sympathetic towards guests with food allergies, and welcomes customers with a wide range of dietary requirements. The last lines of the article I was reading really warmed my heart, because truly it's all any allergy parent or someone dealing with food allergies can wish for.
"We took the decision very early on the embrace the changes in eating habits. An afternoon tea with no dairy, sugar, yeast or gluten? Given notice, we will produce it. It won't be the same as your 'we eat everything' companion, but will get you fed and watered, in some style in the most beautiful surroundings!"
I reached out to The Assembly House for more information as soon as I finished reading. A dairy free afternoon tea wasn't possible surely?! I wanted to find out! I got in touch with the brilliant Stacey who is Office Manager at The Assembly House. Stacey also happens to be Richard's daughter, so it's her son who has CMP and soya allergies.  Stacey mentioned that she was aware of my blog and had found my treats list really helpful – something that always makes me feel incredibly proud. We were invited down to The Assembly House to try their dairy free afternoon tea, and I felt confident and at ease immediately, knowing I was the hands of people who truly 'get it'.
At this point I have to make an important admission. Life has been a little challenging lately and I've not really had my head fully in the game. Stacey was kind enough to book us in for an afternoon tea on March 1st, and somehow (I really have no idea how) we turned up very excitedly on March 8th, one whole week late. I was completely mortified when I realised my error, but the staff at The Assembly House were beyond incredible and accommodated for us anyway. However, they do usually request at least 24 hours notice for a dairy free afternoon tea and due to my mistake the kitchen only had about 20 minutes warning. Because of this some of the items they usually prepare for a dairy free tea weren't available, and we were given a few items that were also free from gluten. Ordinarily gluten free items wouldn't be given for a dairy and soya free afternoon tea, and dairy free items wouldn't be given to those needing gluten free (unless requested), although as you will see they were some of the most amazing gluten free foods I've ever tasted, and we certainly had no complaints. 
Once we arrived at The Assembly House I was overwhelmed by how beautiful the venue is, and then became more than a little nervous that I had just brought an energetic four year old into this very posh setting. I needn't have been nervous though, because the staff were brilliant with Dilan and incredibly welcoming to us both (even with him waving his Paw Patrol umbrella all over the place). After we were seated Dil ordered a cranberry juice, and I selected the Assembly House Afternoon Tea Blend from the extensive list of teas available. Once the drinks arrived I was offered a choice of almond or oat milk for my tea, which really impressed me.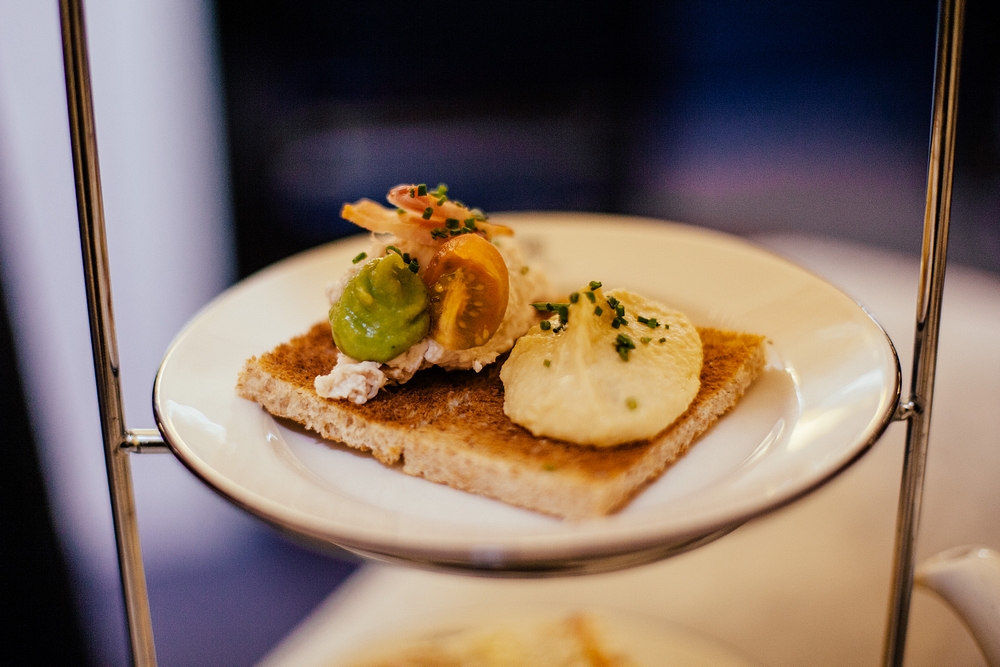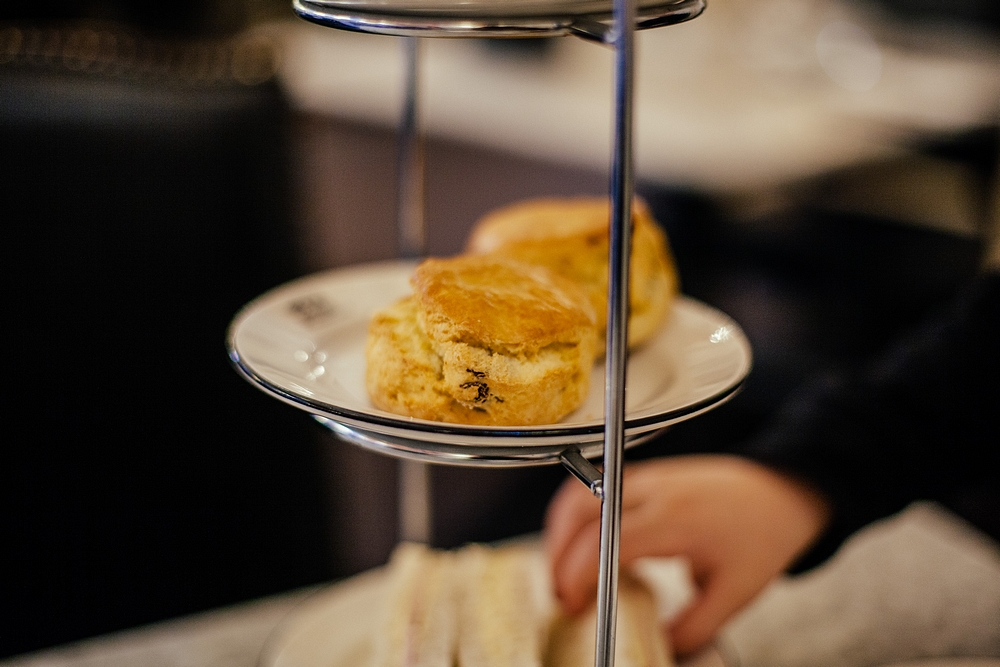 As the afternoon tea came out I watched Dil's face as his eyes lit up and his mouth opened. We had talked all morning about this special little 'Mummy and Dilan date' and I think it's safe to say he enjoyed it very much. The food looked so good that I had to ask the staff again to confirm to me that everything was dairy and soya free, because it was actually quite hard for me to believe.
My dairy free afternoon tea selection included: Norfolk ham sandwich, smoked salmon sandwich and a free-range egg and cress sandwich, smoked chicken and bacon on toasted bread, humous on toasted bread, then a variety of cakes and sweet treats including a raspberry jelly, macaroon, carrot cake and a chocolate and coconut tart. A plate of warm fruit scones with jam and dairy free butter came out once I was ready. Dil's equally beautiful selection included the same sandwiches, minus cress in the egg (very kid friendly!!), the same sweet treats and fresh fruit scones. He promptly stole my jelly which I suspect was his favourite bit.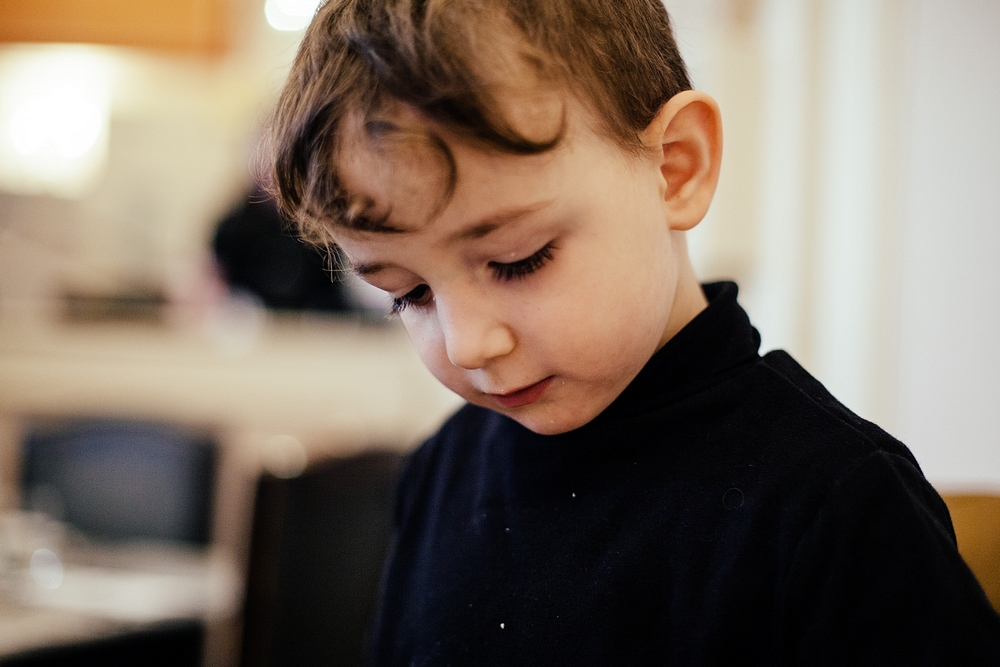 I was incredibly impressed with the standard of the food we were given, and it in no way felt like it was an 'alternative' option. Looking around at the food going out to nearby tables I certainly didn't feel that we were missing out in any way. The scones especially were delicious (I might've eaten three…) and I was shocked when Stacey later told me that they were gluten free because I genuinely never, ever would've guessed.
Dil tucked right in to his sandwiches and cakes, although he did manage to add some jam to his egg mayo sandwich which apparently is delicious FYI. He ended up with a face covered in raspberry jelly which is always a sign of a brilliant day out. Despite my best efforts I couldn't quite manage to finish all of the delicious cakes, so the kind staff boxed the left overs up for me to take home. I promise I had intended on giving those cakes to Adam once I got in, but if I'm honest I scoffed them as soon as I had a bit of room, they were too good to share!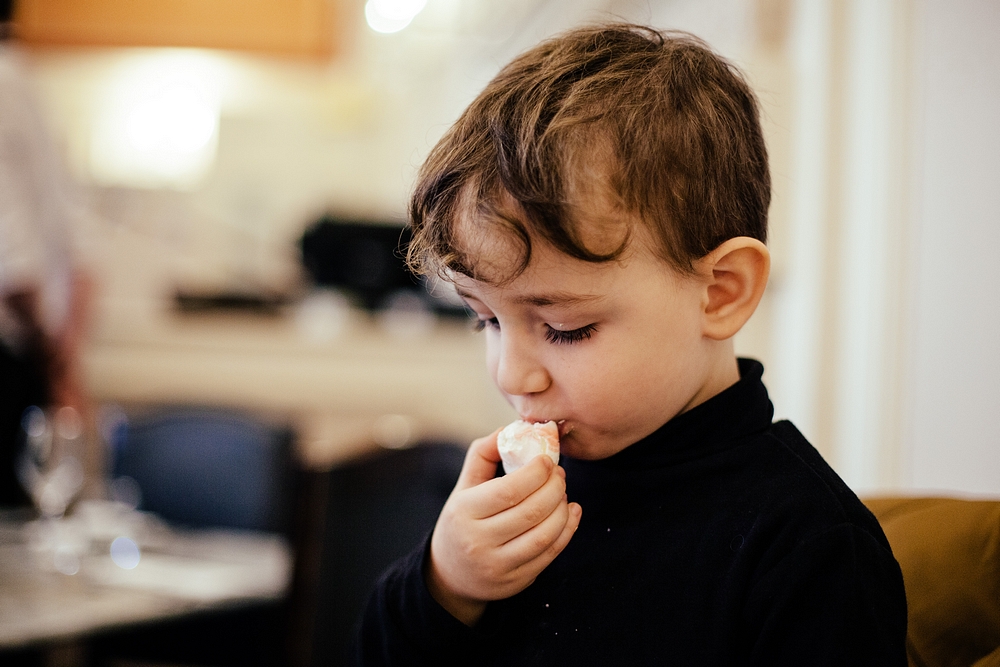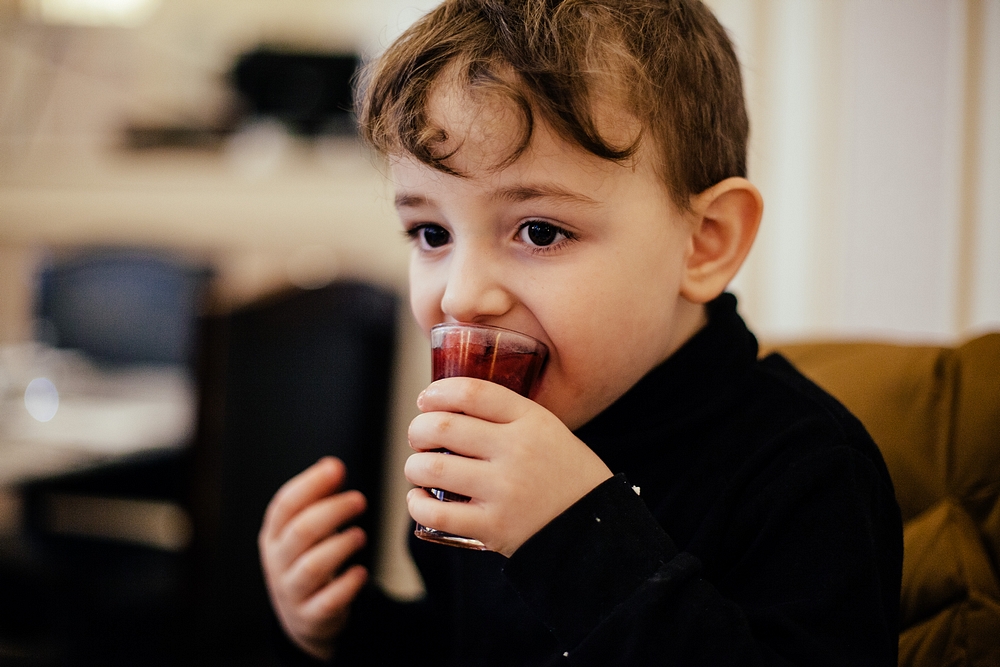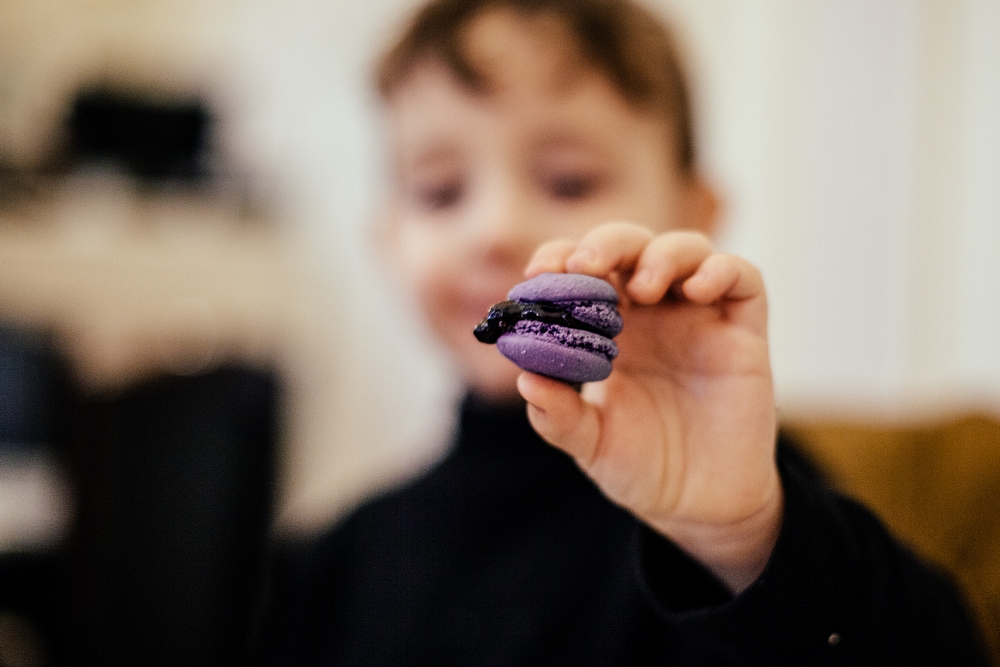 The Assembly House afternoon tea costs £20.95 for one or £40.00 for two, and the smaller child's version is £12.95. With prior notice they can cater for a huge variety of dietary requirements including gluten free, dairy free, vegetarian and vegan which I truly think is amazing. I would recommend their afternoon tea to anyone – allergies or not, but if you're dealing with food allergies and you're fed up with feeling like you're being difficult or causing a fuss, then The Assembly House is a perfect choice for you. To be catered for with no questions asked, to be able to trust the staff completely, and to be served delicious food without even a hint of feeling left out, that's pretty amazing to me.
For more photos and videos of our afternoon tea check out my Instagram story highlights.
The Assembly House also has several sister restaurants in Norfolk, and we've slowly been sampling them all since our move out into North Norfolk. All of them place an importance on inclusion and adapting dishes for those with allergies, so the chefs undergo allergy training with an external educator and have their own certificates to go with it!
The Pigs in Edgefield is incredibly child friendly with gorgeous inside and outdoor play areas, and the food is delicious. Although I haven't seen the allergen information yet (we visited without Dil last time) Stacey assures me that they are just as well educated on allergies and adapting dishes as The Assembly House chefs. Plus the spa suites look amazing…
Byfords in Holt is one of my favourites, if you watch my Instagram Stories you'll know that I'm there often! The dairy free menu at Byfords even includes two really lovely sounding desserts, neither of which is a fruit salad (sticky toffee pudding or lemon drizzle pudding incase you're wondering!). They also have dairy/soya/gluten free brownies in the deli and a wonderful little message about children's behaviour on their menus.
The Ffolkes in Kings Lynn is the only one I haven't been to yet, and they also have specific printed allergy menus. You can view their dairy free menu online, as well as find pictures of the incredible looking play area they have there. Wow. We'll definitely be visiting there soon.
You can receive a 10% discount off all food, drink and accommodation from any of these venues (and several more) with a Norfolk Passport which is free, so definitely sign up before heading to any of them.
The Assembly House kindly gifted us the afternoon tea in order to review it; but I genuinely was overwhelmed by the quality of the food and service, and by how committed they are to inclusion and adapting for allergy sufferers. As an allergy parent I find it really exciting that restaurants are willing to go the extra mile like this, and I will always be so very grateful to them for doing so. Many thanks to The Assembly House, and especially to Stacey, for allowing us to come try out their dairy free afternoon tea and for forgiving my terrible mistake. We will most certainly be back very soon, looking forward to it already.