Renovating a house is not something I thought I would find myself doing this year, but since moving in to the new house in February that seems to be what we've ended up having to do. In the beginning we spent quite a bit of time getting most of the house back to a 'blank canvas', before redecorating both bedrooms and the hall way upstairs. The living room was next on the list, and is (thankfully!!) almost complete now. Over the last few months I have found myself being consumed by all things interior and DIY related – paint colours, flooring options, shelving, light fittings, etc etc etc! My latest focus is windows – frames, blinds, curtains, and all the various options and combinations and decisions that go along with them!
Luckily the house already has pretty decent uPVC windows, because the double glazing cost can stack up when replacing multiple windows. If you are looking to replace your frames it's important to shop around and find the best window prices you can. New windows can be a great way to improve the look of your property, as well as lowering your household utility bills by improving your insulation. Once you've got your preferred windows installed, it's time to choose window dressings! There are so many options now in terms of how to dress your windows, and the decision really comes down to what you're looking for in your room.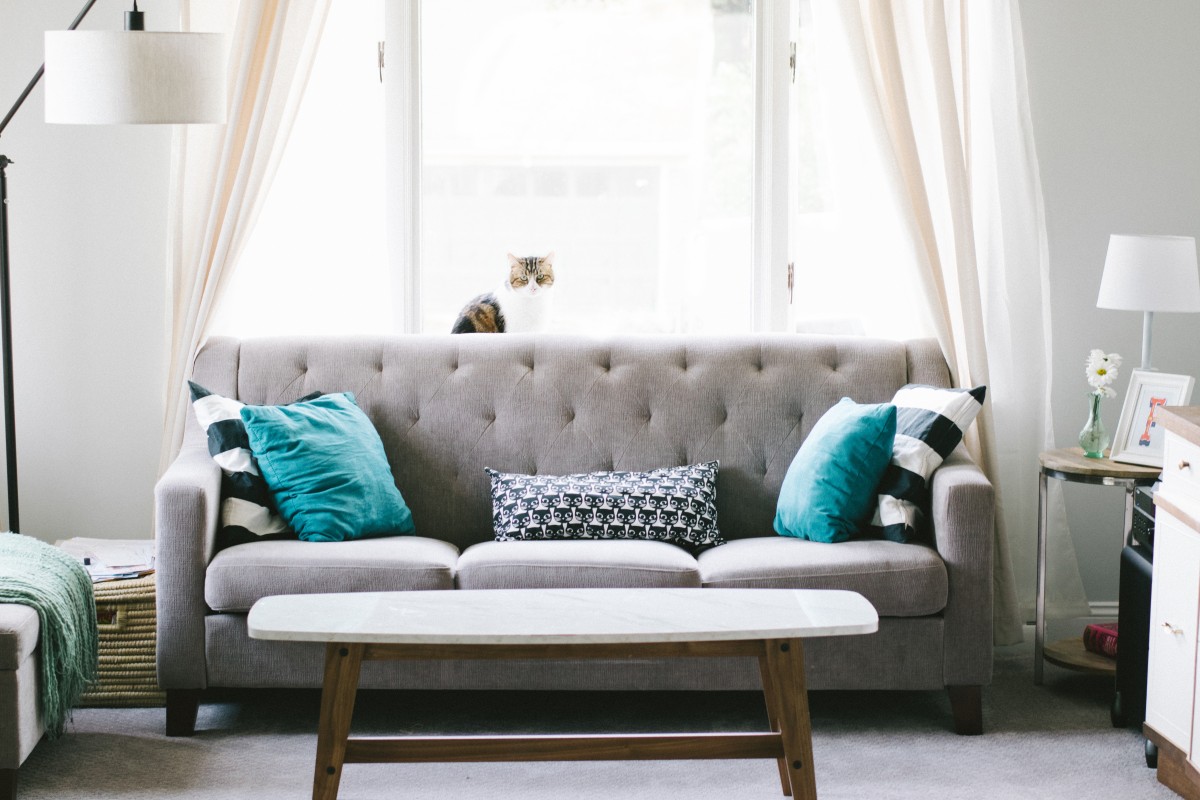 Photo by Nathan Fertig on Unsplash
Privacy
If you're looking for something that will create more privacy in your room – useful for bedrooms/bathrooms and houses that are close to the street, then you'll want to opt for something that completely blocks people's view into your house.
Blinds or curtains which you can fully close fulfil this need, but opting for something like a vertical or Venetian blind means you can still let some day light into the room while maintaining a level of privacy. Sheer or net curtains will also achieve this, or for something like a bathroom you could also consider frosted glass. You could consider laying curtains also – sheer curtains for privacy, then something thicker to block the light for a cosier atmosphere.
Light
Deciding whether or not you want to block out light completely is an important part of the decision making process. In rooms like bedrooms you may want to consider something which is black out – this will block out all natural light when closed which might get you a lie in! Conversely if your room is dark and you want something that will let light through then Venetian blinds or shutters might be a better choice.
Blinds are great for allowing a varied amount of light into your room. You can opt to have them up, down or at a specific point if you need to block out the bright afternoon sun, or if you opt for vertical or Venetian blinds you can allow some light into the room while gaining a little privacy. Blinds and thick curtains can also act as insulation, keeping your room warmed and your energy costs down during the colder months.
Decoration
If you're looking for a window dressing that really adds to the decor of the room then spend some time thinking about what best fits your style. Curtains are brilliant for bringing warmth to a room, adding texture and colour or pattern if that's your choice. Curtains are probably the most traditional choice of window dressing, and you will also need to choose a curtain pole, and decide if you want to go for a tab top or eyelet style.
If you prefer a more minimalistic look then you might opt for something like blinds which go inside the window frame and are less intrusive to the room. Blinds come in a huge range of different colours and materials meaning there are lots of options and you can find something that's perfect for your room. They are often either made to measure or designed to be cut to size for the perfect fit which is usually a more affordable option.
Shutters are another beautiful choice from a design perspective, but possibly the most costly so it may be budget dependent. Wooden plantation shutters come in a variety of styles, and can really add something to a room if you prefer the clean lines that you get with the shutter look. They give you the same options as blinds by being able to open or close the slats to let in natural light, and offer ultimate pricey when they are fully closed.
*This is a collaborative post*