*This post is in collaboration with Fine Art America*
Sometimes when anxiety is high or things feel difficult I get this insatiable urge to throw away all of my belongings and redecorate the entire house. I've mentioned it a few times on my Instagram and know that lots of people can sometimes feel this way. I used to endlessly move furniture around the living room or reorganise kitchen cupboards, and I think it comes from a need for some kind of control, a need to feel like I'm being productive or achieving something, and a need for that fresh and new kind of feeling. There's nothing better than transforming a room in some way, and having it feel like a whole new place when it's done.
Sometimes (most of the time) redecorating entire rooms isn't possible. Time restraints, lack of funds, lack of skill or confidence can all mean that you can't quite pull off a Changing Rooms moment every time you get the urge. But there are still some small, inexpensive and easy things you can do to get that fresh feeling. You can actually often transform a room pretty easily, and spending a little while doing this is a great way to use up some of that energy when anxiety or overthinking is taking over. These tips work in every home, but are especially great in rented accommodation where you may only be able to make limited changes anyway.
Declutter and reorganise
I am not someone who enjoys cleaning, or is very good at organising a house. Sometimes that means these tasks can feel really big and overwhelming, because I never know where to start. The first thing that I try to do when I begin feeling this way is find something small to declutter or sort out. Nothing too overwhelming, something that I can realistically do within the time I have – otherwise it just feels more stressful after I've inevitably created more mess. Taking one draw or cupboard, one section of your bedroom or wardrobe, or one pile of household stuff, and sifting through. Rubbish into the bin, stuff that is no longer needed into a bag to be sold or a bag for the charity shop. Items that already have a home can be put away quickly, and this will help you feel more positive about the progress. Even if all you can do is throw away some old bits and pile the rest up more neatly, or clear a few surfaces by putting things in boxes out of sight, it feels productive and it makes a difference to your space.
Change up the artwork
If you've ever seen inside my house then you'll know that a lot of the walls are lined with frequently changing artwork. I like to move things around often because it's such an easy way to make a space feel different and I find that my tastes and preferences change all the time. I also really like discovering new places to find wall art online, and it can be a great way to support your favourite small shops and artists. Sometimes you might feel like filling your space with motivational quotes and pictures of happy memories, or sometimes you might want to use art work and new posters to add a new colour into your room without having to repaint. Sliding some new prints into frames you have up, putting up a new frame or adding to a gallery wall if you're handy with a drill (it's not that hard – promise!), or just leaning some new frames up against the wall is a great way to change the room's look. Pick art that you love and it will make you smile every time you see it for the next few days.
Fine Art America have some really cool affordable wall art if you're looking for some new ideas and inspiration. At the moment I'm loving these vintage neon signs wall art.
Add more colour with soft furnishings and accessories
Other easy and inexpensive changes you can make to a room including adding new or different cushion covers, swapping out blankets/towels, blinds or curtains, or other soft furnishing type stuff. Throw a new bathmat in your bathroom after a quick tidy up and the place will feel brand new. Put a new blanket and cushions on your bed or sofa and you've added a whole new look to the room. Something like a new rug can make the room feel different, and if you can't buy new then mix it up by taking one from elsewhere in your home. Houseplants (real, or fake if you prefer) are also a great way to change the feel of a space, and you know I really like the 'living in a jungle' look.
Other fun ways to add colour or a new look for less – simple decorations like pom poms and fairy lights, placing a mirror or lamp somewhere new, displaying your favourite candles or ornaments nicely on a shelf.
Ideas that require slightly more effort
If you're feeling energetic and want to make some slightly bigger changes without pushing the boat out too much, what about painting a small graphic shape on to the wall. You could do this pretty inexpensively by using a tester pot, and the results can be really effective. You can also use wall stickers to make easy changes that have a big impact. Painting my UPVC door was a big one for me – it was easy and cheap (done with a tester pot!) but made a big difference to how the house looks, and I smile every time I see it now. I find that projects that I can finish in a day or in one go are best, because otherwise they can sometimes end up sitting unfinished for months and that makes me feel worse.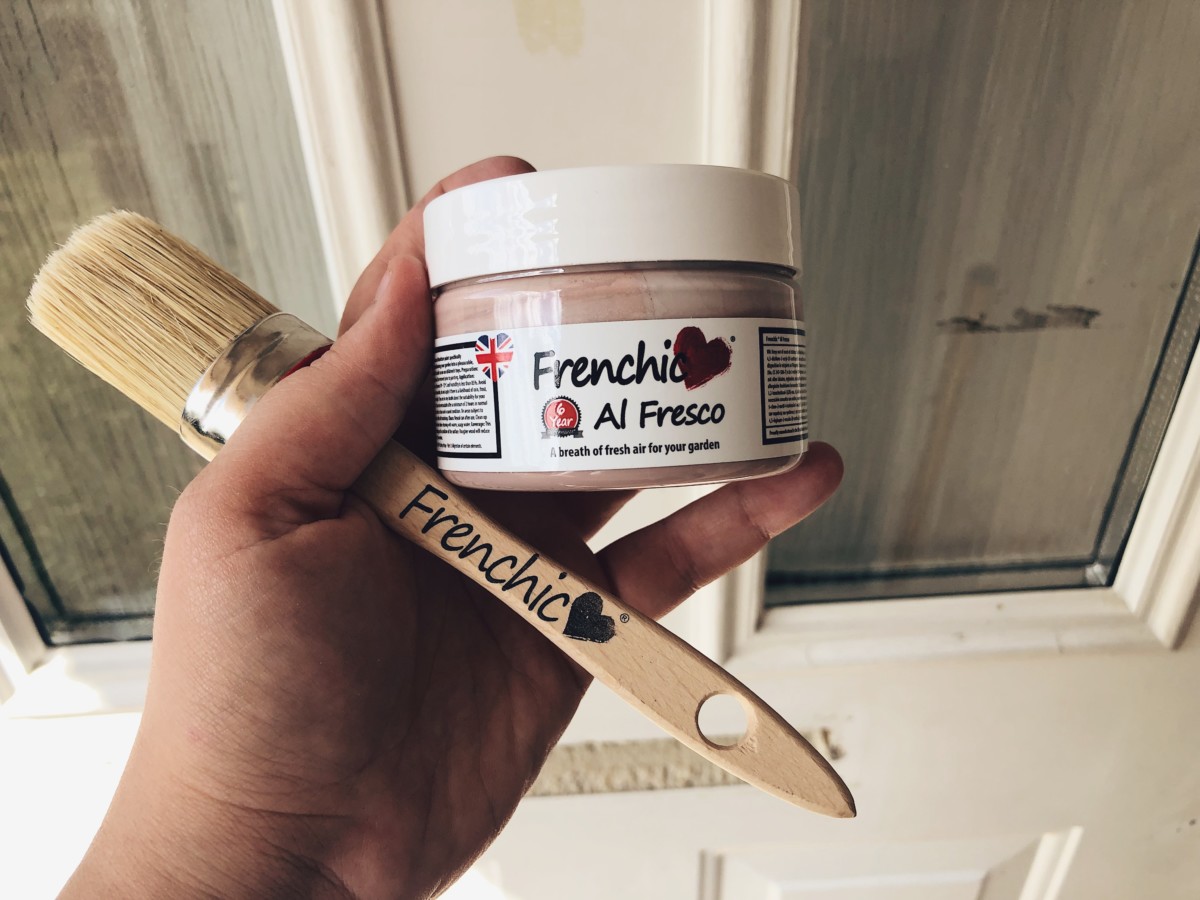 There are actually so many small things you can do around your home to make it feel new, exciting and more homely, and doing them can have such a positive impact on your mood and your mental health. Check out my other posts for more small ways to transform your home. Choosing small and achievable changes mean that you can sit back at the end of the day and admire your hard work, without feeling overwhelmed by how much more you still have to do. A few hours doing this can make you feel really good, and whenever you spot your new art work, your clear countertop or your freshly painted door you can enjoy that lovely feeling of being proud.